United Kingdom Beethoven, Liszt, Sweelinck/Emelyanychev, Mendelssohn: Benjamin Grosvenor (piano), Scottish Chamber Orchestra / Maxim Emelyanychev (conductor). Usher Hall, Edinburgh, 3.2.2022. (SRT)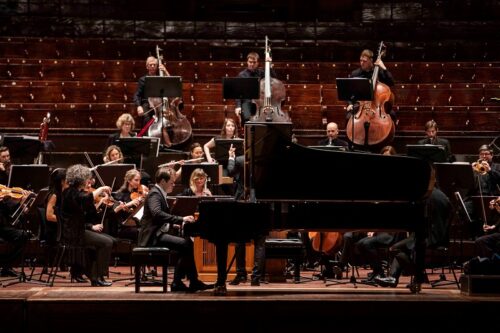 Beethoven – Symphony No.1
Liszt – Piano Concerto No.2
Sweelinck – Beati pauperes spiritu from Cantiones Sacrae (arr. Emelyanychev)
Mendelssohn – Symphony No. 5 'Reformation'
Polite company tells me I shouldn't, but I have a special corner in my heart for the music of Liszt. Showman he may have been, but don't dare call him shallow, let alone a charlatan! He is one of music's greatest innovators and finest colourists, and I will happily travel a distance to hear one of his orchestral works performed.
And I would definitely travel to hear Benjamin Grosvenor playing his music. Last year the young Brit released a well-regarded disc of Liszt's solo piano music (review click here), and I was super-excited to hear what he would do with the First Piano Concerto, especially when he was paired with the Scottish Chamber Orchestra and their boss, Maxim Emelyanychev, one of the few performers on the circuit who rivals Grosvenor for youthful looks!
Enough of such superficial observations, however: this team made the concerto sing. Most of their success came from a brilliant study of contrasts. The hammer-like opening sounded surprisingly weighty from a chamber orchestra, and Grosvenor answered it with fistfuls of muscular octaves; but almost immediately the music slipped into something altogether more tender and intimate, the piano singing gently alongside the orchestral soloists in a way that brought out the music's unusual lyricism. The second section sounded impossibly dreamy, and the finale was part triumphal march and part jolly holiday. Liszt sceptics take note: this is music of passion and poetry when it is played under the right hands.
Emelyanychev and the orchestra provided stellar support, as they did in another 'No.1' that looked forwards to new things. Beethoven's First Symphony might have lost its power to shock modern audiences, but here it sounded playful, light and admirably precise, full of colour and energy. Emelyanychev used extremes of dynamics, and changes of colour in repeats, to underline the music's freshness, and the last two movements sounded headlong while staying on just the right side of anarchy.
If there is a criticism then it is that the programme as a whole felt like a bit of a hodgepodge, four works played admirably but combined without much logic. The ostensible reason was works that look forwards and backwards, but couldn't you argue that case for nearly any orchestral programme? At least it gave an excuse for Emelyanychev to programme his own arrangement of music by Jan Sweelinck. Originally written for choir, Emelyanychev re-crafted Sweelinck's setting of the Beatitudes for six archaic instruments, including three trombones (or do I mean sackbuts?) a cornett and a serpent. It might sound like an odd idea, but the result was hugely atmospheric; haunting with a cold, austere beauty.
Mendelssohn's Reformation Symphony provided much more familiar ground, though. It is something of an SCO party piece: I am sure I have heard them play it three times in the last decade or so, but I have never heard it sound so period-inflected as here, with wiry strings, natural brass and timps, and throbbing wind chords. It suited the symphony's look backwards to Bach, and the serpent even made an appearance next to the contrabassoon. They played superbly, and Emelyanychev wisely oriented the whole piece towards the final movement when the chorale filled out majestically like the swelling of a sail.
Simon Thompson