United Kingdom Mozart, Così fan tutte (concert performance): Chorus (chorus master: James Davey) and Orchestra of Saffron Opera Group / Michael Thorne (conductor). Saffron Hall, Saffron Walden, Essex, 13.2.2022. (JPr)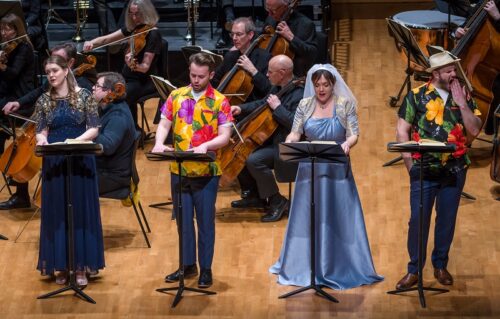 Performers:
Jessica Cale – Fiordiligi
Rebecca Afonwy-Jones – Dorabella
Marcus Farnsworth – Guglielmo
Liam Bonthrone – Ferrando
Fflur Wyn – Despina
Richard Burkhard – Don Alfonso
I never mind repeating myself and when writing about Così fan tutte a few years ago I began 'Looking back is never a good thing' and mused on how many times (surprisingly) I had seen Mozart's opera despite it not being the operatic territory I tend to be drawn to now. I first saw Così at Covent Garden nearly 47 years ago and then several times in the 1980s there and at English National Opera; though less so in recent years and the last two times I have seen it were cinema broadcasts in 2010 and 2016.
Early on I must have found something in those Così performances to make me see it so many times, but it is not an opera I have had the urge to return to until now. Perhaps 'back in the day' it was the singers that drew me to it, and I remember Stuart Burrows, Richard Van Allan, Thomas Allen, Benjamin Luxon, Anne Murray, Kiri Te Kanawa, Agnes Baltsa, Alan Opie, Felicity Lott, Della Jones, as well as conductors such as Colin Davis and Charles Mackerras. Looking back is a nasty habit I always strenuously try to avoid, but I can only reflect with the passing of the intervening years on how they must have brought something truly special to this opera then.
Mozart's 1790 Così fan tutte was his final collaboration with Lorenzo Da Ponte and involves the old philosopher, Don Alfonso, inciting two young men, Ferrando and Guglielmo, to challenge the fidelity of their fiancées (Dorabella and Fiordiligi, respectively) by adopting disguises as moustachioed Albanians and attempting to seduce each other's love interest. The plot is as simple as that yet unfolds – extraordinarily leisurely – over three hours of music. Ah but what about that plot? The title has been translated as either 'so do they all' or 'women are like that' suggesting something rather misogynistic and not appropriate for a post-#MeToo world. This is something Saffron Opera Group's conductor Michael Thorne considered in passing in an informative programme note and can be happily set it aside for further debate another time.
The advantage of a concert performance such as this is that we do not think about this too deeply because we are basically free of directorial intervention and just have Mozart's music and Da Ponte's words to concentrate on. However, this puts a heavy burden on the singers to bring what we are (seeing and) hearing alive. The best of these type of performances is when everyone is, as here, directly engaged and – while their music stands did hamper communication with the audience – none of the talented sextet of singers felt the need to hide behind their scores. There was a naturalness to all the recitative (here more like dramatic dialogue) and if someone was being addressed there was someone who could react. Also, there was a tremendous sense of ensemble in an opera that positively insists on it.
All it took to turn Guglielmo and Ferrando into two foreigners is that they swop their light blue suits for garish Hawaiian shirts, shorts and sun hat. Da Ponte and Mozart 's 'Albanians' were referred to late on in the opera by Jonathan Burton's often-amusing – and vernacular – surtitles as a Joe Bloggs and John Smith. (I wonder if that is to stop us wondering whether Così is xenophobic as well as misogynistic?) The women were in elegant concert attire and added a couple of veils for the hastily arranged double wedding at the end of the opera. It was Despina who as ever got to play dress-up the most, as a nurse (with a too-familiar mask on her forehead) and a large 'horseshoe magnet' to supposedly bring two spurned lovers back to life after they have taken poison; and then an extravagant judge's wig and robes as the notary officiating at the wedding.
Of course it is Don Alfonso and Despina who are the ringleaders of the shenanigans in Così and are there to move the drama – such as it is – on even in a concert setting such as this. Richard Burkhard's greater life experience was ideal for Don Alfonso and although he was manipulative, he appeared to be a mischief-maker engaged in a sociological study and someone who did not want to hurt anyone. Burkhard sounded worldly – yet not world-weary – and has a supple, authoritative baritone voice. Despina is actually the opera's moral focus constantly egging on Fiordiligi and Dorabella to accept her cynical view of male fidelity and her 'two can play at that game' attitude. As the quick-witted Despina, Fflur Wyn looked as if she was enjoying herself immensely and in various guises her singing was vivid and characterful.
The young lovers were astonishingly well cast and – crucial for this opera I suspect? – they generally had youth on their side. Fiordiligi is the character who is most conflicted by events and has the biggest arc – which Jessica Cale with her bright eloquent soprano created perfectly – from professing Fiordiligi's rock-like constancy in 'Come scoglio', her tenderly introspective 'Per pietà', to her succumbing to the impassioned Ferrando in their 'Fra gli amplessi' Act II duet. As a charismatic Ferrando, Liam Bonthrone had a lyric tenor voice of great potential. A highlight – as it should be – was his tenderly sung 'Un aura amorosa'. Rebecca Afonwy-Jones was a captivating and coquettish Dorabella, she has a sultry mezzo voice and used her expressive face to reveal very clearly what her character was thinking. Marcus Farnsworth's Guglielmo was charmingly enacted and solidly sung and while he looked happy to seduce Dorabella, his reaction to his beloved Fiordiligi's unfaithfulness was priceless and an example of how Farnsworth stood out in the comedic ensemble scenes of this Così.
As 'soldiers, servants and sailors' the chorus of 22 deserve special mention for their spirited singing. Michael Thorne's conducting was unobtrusive and sympathetic to his singers. Textures were a little heavy from the outset – this was certainly no period Mozart – but Thorne kept tight control of his valiant orchestra, set a sensible tempo and let the music breathe naturally to suitably reveal its emotional depths. (Kudos to Paul Jackson for his responsive harpsichord continuo).
Another wonderful achievement for Saffron Opera Group after their hiatus during the pandemic and their Tannhäuser in September is something to eagerly look forward to.
Jim Pritchard