Switzerland Richard Strauss, Elektra: Soloists, Chorus of the Grand Théâtre de Genève, Orchestre de la Suisse Romande / Jonathan Nott (conductor). Grand Théâtre de Genève, 4.2.2022. (ALL)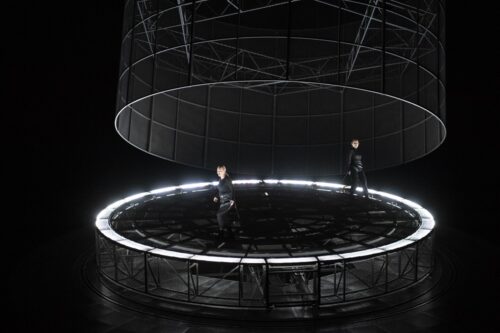 Production:
Director and Sets – Ulrich Rasche
Costume designs – Sara Schwartz and Romy Springsguth
Lighting – Michael Bauer
Choreography – Jonathan Heck, Yannik Stöbener, Justus Pfankuch
Dramaturgy – Stephan Müller
Chorus director – Alan Woodbridge
Cast:
Elektra – Ingela Brimberg
Chrysotemis – Sarah Jakubiak
Klytämnestra – Tanja Ariane Baumgartner
Orest – Karoly Szemeredy
Aegisth – Michael Laurenz
Orest's Tutor – Michael Mofidian
The Confidante – Elise Bédènes
A Young Servant – Julien Henric
An Old Servant – Dimitri Tikhonov
The Overseer – Marion Ammann
First Maidservant – Marta Fontanals-Simmons
Second Maidservant – Ahlima Mhamdi
Third Maidservant – Céline Kot
Fourth Maidservant – Julia Elena-Surdu
Fifth Maidservant – Gwendoline Blondeel
For this production of Elektra, the main character was neither the three principals, nor Richard Strauss's red-hot score, it was the complex machinery straight out of the imagination of German producer Ulrich Rasche.
At the centre of the stage was a complex machine with two rotating disks on which the characters kept walking, at the outside the secondary characters and on the inside, Elektra, Chrysotemis and Klytämnestra. This massive setting impresses at first. It is not without the ability to evoke fate and drama. The various components move without hiccough nor noise and presents a certain variety of perspectives which is not without interest
But after a few minutes, the obvious limitations of such a conception cannot but be obvious. There is no Personenregie, all what the singers do is limited to walking and singing. There is no attempt to illustrate the many subtleties of the text. Nothing really happens. This is a drama-less conception of what is Strauss's most intense work. This machine simply kills too many fundamental dimensions of this complex masterpiece. Rarely have so powerful scenes written in any opera of this quality feel so flat.
And this is a pity, the cast assembled here was vocally strong. In the title role, Ingela Brimberg had powerful notes although words did not come as strongly as they could. Sarah Jakubiak's Chrysotemis was very secure and found the musical line of her passages. Tanja Ariane Baumgartner and Michael Laurenz in the roles of Klytämnestra and Aegisth are two singers that were featured in Salzburg's recent production of the last two summers (review click here). They both made strong impressions and their German diction was excellent. Smaller parts were good, everyone being high on the stage, thus facilitating projection.
In the pit, the Swiss Romande Orchestra was under the baton of their musical director Jonathan Nott. Strauss is not a natural composer for an orchestra that is so much at ease in French music. There was a certain care for lighter textures and swiftness which shed light on certain moments like the arrival of Klytämnestra. There was also genuine concern to be attentive to the singers. But, as for the staging, the overall feeling was of an underpowered and under-characterised reading.
Elektra is such a powerful work that no performance fails to bring something. Singing was the strong point of the evening but the overwhelming feeling was of strong disappointment and an opportunity missed.
Antoine Lévy-Leboyer