United Kingdom Puccini, La bohème: Soloists, Chorus and Orchestra of English National Opera / Ben Glassberg (conductor). London Coliseum, 3.2.2022. (CC)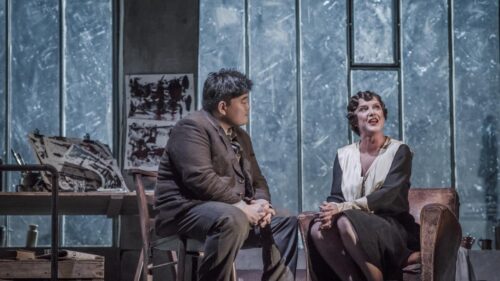 Production:
Original director – Sir Jonathan Miller
Revival director – Crispin Lord
Designer – Isabella Bywater
Lighting designer – Jean Kalman
Revival Lighting director – Martin Doone
Translation – Amanda Holden
Cast:
Mimì – Sinéad Campbell-Wallace
Rodolfo – David Junghoon Kim
Marcello – Charles Rice
Musetta – Louise Alder
Schaunard – Benson Wilson
Colline – William Thomas
Benoît / Alcindoro – Simon Butteriss
Parpignol – Adam Sullivan
Official – Andrew Tinkler
Policeman – Paul Sheehan
Can it really be a year since the Royal Opera put on a pared-down but incredibly successful La bohème? (review click here). So it seems – and no it is time to welcome back Jonathan Miller's famous 2009 staging for the fifth time at the London Coliseum, expertly revived by Crispin Lord. Full choruses this time – rightly, though, children wore masks, even when singing, to no obvious sonic detriment.
Miller and designer Isabella Bywater set the opera in Paris in the early 1930s. The visuals are influences by the photography of Henri Cartier-Bresson, Kertész and, especially, Brassaï. As Miller said, 'Puccini's operas are really like movies, and La bohème is the most natural and believable of them all'. As far as the actual characters are concerned, Miller found inspiration in the iconic movie Withnail and I ('shabby, chic upper-class boys who think squalor is very romantic', he said). The stage is expertly manipulated to move from the upper-storey garret to the Café Momus, for example (stagehands helping out). Jean Kalman's lighting significantly contributes to the somewhat subdued atmosphere – we feel the oppression of poverty at the same moment as we celebrate it.
With a stage that allows the audience to see around the buildings as well as what's happening on the stairs outside the lads' room, Miller is able to show is more subsidiary action, more of characters' responses to the unfolding drama, particularly in the heart-wrenching final act.
Heard in Amanda Holden's excellent translation, the evening has everything going for it. Holden, as many will now, sadly passed away in September last year, and how wonderful it was to hear her deft response to Puccini's Italian, beautifully rendered and with such richness of wit.
Before we get to the cast, a word on the conductor, Ben Glassberg, currently Music Director at Opéra de Rouen Normandie, France (he is also Principal Conductor of Glyndebourne on Tour and Associate Guest Conductor of the Orchestre de Lyon). The orchestra was a dream under his baton – responsive, light, lyrical. All of these and more. It is rare to have a seat in an opera house from which one can observe the conductor, but this was one such occasion. Glassberg's intimate knowledge of the score was never in doubt; and neither was the practiced clarity of his gestures. He must be a pleasure to play under, and one certainly felt that. Glassberg's somewhat hair-raising tempo for the opening scene paid huge dividends – it was alive and vibrant, and the 'lads' (Rodolfo, Marcello, Schaunard and Colline) not only had a ball but achieved each entry with superb precision. Glassberg knows to give singers space but not to let the singers space (Rodolfo's first aria to Mimì, 'Che gelida manina', traditionally 'Your tiny hand is frozen'). The sudden switches of mood of the final act were brilliantly managed; tempo relationships were consistent throughout, giving a marvellous sense of fluidity and, most of all, naturalness. Glassberg has clearly gone to Puccini's score from scratch, and how it shows.
Glassberg will be conducting Donizetti's Don Pasquale at Glyndebourne this summer and I for one will be putting my name in the hat for that one. That miraculous lightness he found in Puccini's score will surely pay off many times over in Donizetti's masterpiece.
As far as the singers go, there was something of a reversal between the pairs of lovers. There was little onstage chemistry between the Rodolfo, David Junghoon Kim, and his Mimì, Irish soprano Sinéad Campbell-Wallace, making her English National Opera debut in this run. It was wonderful to see Kim in a major role after having seen him so many times (too many to list!) over the road at Covent Garden. Vocally, he was very convincing, throwing himself into the role. Campbell-Wallace, too, is a fine singer, strong and clearly inside Puccini's musical world, perhaps taking a little time to fully warm into the role. But the problem was there was little to no chemistry between this particular Rodolfo and Mimì; and if the audience does not believe that a vital part of the opera's trajectory is simply lost. Mimì's final act death scene found Campbell-Wallace entirely convincing in her descent into death.  if not totally erasing memories of Mary Plazas's transcendent death scene in a previous ENO production many years ago now.
In contrast, sparks positively flew between the fine, confidently voiced Marcello of Charles Rice and the luxury casting for Musetta, Louise Alder. Alder's star has been in the ascendant for a while now, and her Musetta was enchanting and strong, her waltz ('Quando m'en vo' in Italian) a real highlight of the evening, beautifully phrased and full of the spirit of youth.
ENO does excel in consistency of casting, and the balance of the 'lads' offered two superb assumptions: Benson Wilson's strong Schaunard and William Thomas's Colline, this latter offering a truly touching Coat Aria.
Simon Butteriss portrayed Benoît, the landlord, as some sort of East End hybrid somewhere between – for those of a certain generation – Till Death Do Us Part's Alf Garnett and George from George and Mildred; absolutely captivating, and brilliant in both this and as Alcindoro (Musetta's 'companion'); the Parpignol, Adam Sullivan, was of a similar character level and both Paul Sheehan (Policeman) and Andrew Tinkler (Official) deserve more than the passing mention their roles traditionally receive. Part of ENO's all-encompassing care in casting, their contributions to the third (Barrière d'Enfer) act were perfect in miniature.
Puccini's La bohème never fails to touch the audience, and so it was here. Certainly, the positives far outweigh the negatives.  It would be fascinating, I am sure, to experience Nadine Benjamin as Mimì later in the run (see this review of her part in Mascagni's Isabeau at Opera Holland Park, for instance).
Colin Clarke