Sweden Gösta Nystroem, Herr Arnes penningar: Soloists, Chorus and Orchestra of Gothenburg Opera / Patrik Ringborg (conductor). Gothenburg Opera main stage, 19.2.2022. (NS)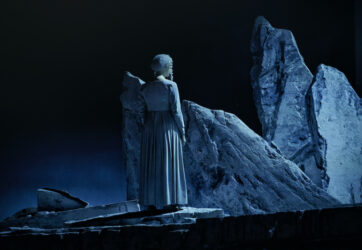 Production:
Director – Mattias Ermedahl
Set – Lars-Åke Thessman
Costume design – Ann-Margret Fyregård
Lighting design – Joakim Brink
Choreography – Annika Lindqvist
Cast:
Herr Arne – Anders Lorentzson
His wife – Annalena Persson
Elsalill – Julia Sporsén
Her foster sister – Sofie Asplund
Torarin – Tomas Lind
His mother / Landlady at Marstrand – Katarina Giotas
Sir Archie – Anton Eriksson
Sir Filip – Daniel Ralphsson
Sir Reginald – Erik Rosenius
Olof, a groom – Åke Zetterström
Landlord at Branehög – Kristoffer Töyrä
Landlady at Branehög – Mia Karlsson
Boatsman – Hannes Öberg
Skipper – Mats Almgren
A sailor – Henrik Andersson
Fish cleaners – Anna-Karin Simlund, Karin Hammarlund
Guests – Mikael Simlund, William Davis Lind
Voices – Daniel Hayes, Marcus Liljedahl
Soldier – Miklos Taliga
A woman – Yvonne Helander
The great Swedish author and storyteller Selma Lagerlöf wrote her novel Herr Arnes penningar (The Treasure in English) inspired by an event recorded in a chronicle from Bohuslän, the rocky and windswept coastal province north of Gothenburg on Sweden's west coast. The story concerns the murder of the wealthy priest Arne of Solberga and nearly all his household by three men, who steal his chest full of silver coins. In Lagerlöf's version the sole survivor of the massacre then unknowingly falls in love with one of the murderers, only to be pursued by the ghost of her foster sister and forced to choose between her love and her duty to see her family's murderers punished. Even nature seems to cry out against the murder, with the coast solidly frozen and the ship that is to take the murders out of the country stuck in the ice.
The Swedish modernist composer Gösta Nystroem settled in Gothenburg and Marstrand (one of Bohuslän's old port cities and one of the locations for the story) and was commissioned by Swedish Radio to write a radio opera based on Lagerlöf's novel, which was premiered to great acclaim in 1959.
The Solberga parsonage is an elderly household except for Arne's teenaged granddaughter (Sofie Asplund), and the orphan Elsalill (Julia Sporsén) who is fostered there. The two girls are inseparable (and look very alike), which is movingly portrayed in their duet in the opening scene. Musically the beginning of the opera immediately brings a sense of foreboding, with a haunting vocalise from the chorus and a disturbing vision from Arne's wife (Annalena Persson), who hears knives being sharpened at the neighbouring inn at Branehög even though it is two miles away.
The itinerant fish seller Torarin (Tomas Lind), a guest at dinner, leaves the dark atmosphere at Solberga to deliver some fish to Branehög, where he finds a raucous birthday party, a contrast vividly brought out in the music. Nystroem wrote a rollicking, risqué sailor's song (sung with roguish charm by Hannes Öberg) for the party but the music turns darker when it turns out that three rough-looking men had indeed sharpened their knives at Branehög earlier that day, after asking which was the wealthiest farmstead in the area. Immediately after this revelation Solberga is seen to be on fire. The gradual revelation of the horror within the parsonage is superbly done both musically and in the libretto, but was also heightened by Lars-Åke Thessman's sliding set design and Joakim Brink's lighting, both used very skilfully in this production.
Olof the groom (vividly played by Åke Zetterström) is mortally wounded and tells the shocked crowd of the three murderers before expiring. The only survivor is Elsalill, who hid behind the stove and is taken in by Torarin and his mother in Marstrand. Julia Sporsén's superb singing reflects her character's thirst for vengeance, but also her guilt at abandoning her beloved foster sister rather than joining her in death. This guilt then conflicts with her feelings for the elegant Scottish mercenary who falls in love with her in Marstrand, until guilt is overtaken by shock when she discovers that he and his companions were the three murderers.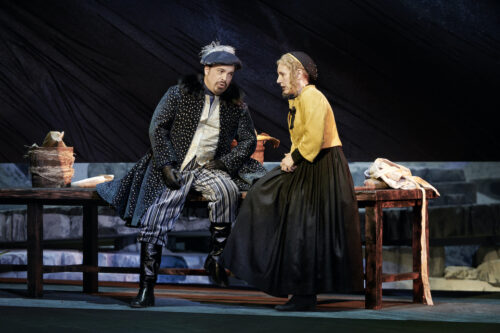 Elsalill's foster sister (Sofie Asplund) is a pivotal character, returning as a ghost to drive the plot forward by showing Elsalill the evidence that her beloved Sir Archie is a murderer, and as a disembodied voice tormenting Sir Archie with guilt. Asplund's hauntingly beautiful soprano captures the character perfectly. Sir Archie (Anton Eriksson) is a complex character, troubled by the crime he has committed (unlike his carefree partners in crime) and capable of powerful emotions, for good and ill. He tries to justify his love for Elsalill as a way of redeeming himself from his sins of murder and greed. The libretto gives room for alternative interpretations, that of Eriksson and director Mattias Ermedahl is of a man torn between different impulses rather than a wily manipulator.
Tomas Lind gave Torarin a moving and sympathetic character of a rather simple man, but also a kind one. He is also haunted by guilt for not taking the priest's wife's vision seriously, feeling that had he done so he could have prevented the tragedy. The fine performance of Torarin's (animatronic) dog Grim also deserves a mention. Torarin's strongest scene is when he passes Solberga and – to his terror – is invited inside by the ghost of Olof the groom, to find the ghosts of the murdered family sitting at their table, demanding to know if their murderers have been punished.
Bertil Malmberg's libretto kept the qualities of Selma Lagerlöf's writing, a few – though well-chosen words – creating a vivid atmosphere. (It is sung in Swedish with English surtitles and the title in English is Sir Arne's Treasure.) The final confrontation between Elsalill and Sir Archie and its tragic aftermath are particularly dramatic and moving. Lars-Åke Thessman creates a breath-taking backdrop of a ship trapped in an icefield, which dramatically parts in the tremendous final scene, with the chorus (and an offstage Sofie Asplund) singing a swelling vocalise leading to a magnificent musical climax. Patrik Ringborg conducted with a superb sense of the architecture of Nystroem's music and brought out vivid orchestral colours from a Gothenburg Opera Orchestra which was clearly in great form.
This new production is only the third time the opera has been performed on stage, and both previous productions (in 1961 and 1975) were also in Gothenburg. In one way this is natural given the very strong local flavour of the story, but it is also a shame that such a powerful and beautiful opera should be effectively unknown outside Sweden. All the more reason to come and see this superb production while you can, because both visually and musically Gothenburg Opera should be proud of this whole magnificent ensemble effort!
Niklas Smith
Playing until 13 March 2022, for more information and tickets click here.
An English Translation of Selma Lagerlöf's novel The Treasure is available in the public domain if you click here.