United Kingdom Dessner, R. Strauss, Mussorgsky/Ravel: Kirill Gerstein (piano), BBC Symphony Orchestra / Semyon Bychkov (conductor). Barbican Hall, London, 11.2.2022. (CC)
Bryce Dessner – Mari (UK premiere)
Richard Strauss – Burleske
Mussorgsky/Ravel: Pictures at an Exhibition
Part of a weekend celebrating the centenary of the BBC, it seemed fitting on one level that a premiere was included in this Friday evening experience. It was perhaps less of a fit that the piece is question was the UK premiere of: Bryce Dessner's Mari, an almost wholly unmemorable 18 minutes of music. Dessner (born 1976) works across genres (he is lead guitar in an Indie rock band The National). His Mari is a Covid baby, the fruit of long walks in the oak forests near his home on the Basque coast of France (he is a Semyon Bychkov's neighbour there). Dedicated to Bychkov, Mari is named after the Basque Goddess of the forest.
Talks of walks in forests brings in thoughts of fairy tales and 'Once Upon a Time'. Once upon a time, the BBC Symphony Orchestra played contemporary music with substance and bite, but that appears not to be the case today. In Dessner's piece, a (Richard) Straussian opulence of scoring met stock, cinematic gestures as the music moved towards its first climax. Quotes and semi-quotes joined the work. Apart from the Dvořák references (one oh too obvious 'New World', plus various allusions) and a nod to Mahler, there is surely a Britten 'Sea Interludes' (Peter Grimes) moment 14 minutes in, unacknowledged in the BBC's commentary. Minimalism creeps in from time to time and its deliberately neutralised surfaces seem all too fitting in a work that is itself neutral in a decidedly non-deliberate way. The piece is indeed well scored; there is much expertise in that area. If only it could be put to more memorable use. Dessner certainly has previous experience of Minimalism: a piece of his (Murder Ballades) turns up on a Çedille disc on which he plays on a performance of Glass's 1968 Two Pages. But there is little appeal to his populist, magpie approach in Mari. All credit to the musicians of the BBC SO for such a fine performance.
We were due a major 35-minute piece for piano and orchestra by Thomas Larcher, a major contemporary composer with whom Bychkov has a long-standing association (his conducting of the UK premiere of Larcher's Symphony No.2, 'Cenotaph' [review click here] was a 2016 season highlight). Sadly, Covid regulations meant the orchestra could not fit on the stage and maintain social distance between players for Larcher's new piece, hence the substitution of Richard Strauss's Burleske.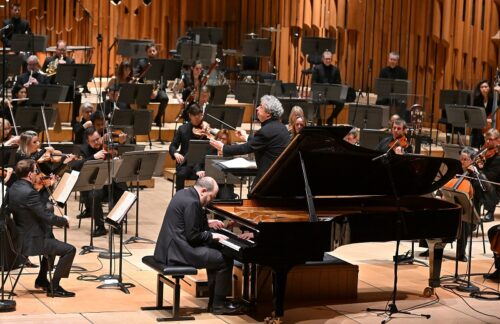 The gap between Dessner and Strauss was so long the BBC broadcast of this concert (I later caught up on) found time for a choral piece, plus various interviews (one of which was with the present soloist). Gerstein is possessed of a huge virtuoso technique, and that is certainly required by Strauss's remarkable Burleske, written at the age of 21 but sounding for all the world as if from the pen of a man drenched in life experience. Gerstein refers to the heart of the piece being in the coda, full of nostalgia and melancholy. For the most part, Lisztian writing meets Strauss's glorious harmonic twists and melodic facility in a piece that should surely come out to play more.
The performance itself was fabulous, a dialogue between piano and flute on a teasing appoggiatura figure utter delight. The only caveat is that the BBC SO's upper strings sounded markedly rawer and shriller in the hall than they do during the broadcast. And as for Gerstein, it is difficult to know whether to admire his legerdemain or the textural clarity more: a moment of left-hand clarity at speed was jaw-droppingly impressive. Strauss's writing is magnificently quirky at times, and Gerstein brought out every bit of character, including the underlying spirit of the dance that permeates the composer's score. And one thing that the microphones did pick up was Gerstein's glorious sound, lush and burnished when required, gossamer elsewhere.
Aficionados of historic piano playing might wish to seek out Claudio Arrau's performance of the Burleske, incidentally. It is one of the ages (it is on Naxos Historical), but do try to hear Gerstein's performance on BBC Sounds.
Post-interval, a performance of the Mussorgsky/Ravel Pictures (the orchestration took place in the same year as the founding of this orchestra). Bychkov's interpretation is individual, and full of detail. A clear rethink, it includes the odd, unexpected break between movements which felt somewhat interruptive to the flow. But the level of detail one could hear was staggering. It is a measure of this that one is tempted not to mention individual movements, though I will, beginning with a lead-in: that to the 'Ballet of the Unhatched Chicks'. A wall of brass crowned the 'Great Gate'; there was a multiplicity of fine individual contributions: Principal Horn Martin Owen's fine solo 'Promenade' was but one, while the handover and subsequent interactions between Emily Hultmark's bassoon and Martin Robertson's saxophone in 'Il Vecchio Castello' offered multiple moments of magic. Bychkov's care in rehearsal showed in the marketplace movement and in the frantic 'Baba Yaga'. A fine performance.
A fascinating concert overall then, but what a shame about the absence of the Larcher and, frankly, the presence of the Dessner.
Colin Clarke