United Kingdom Schubert, Louis Couperin, Hahn, Fauré, and Franck: Pavel Kolesnikov (piano). Wigmore Hall, London, 3.2.2022. (MB)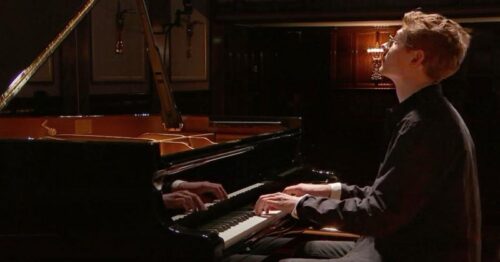 Pavel Kolesnikov has never shied away from imaginative programming, connecting small pieces and movements from larger works so as to provoke fascinating encounters and transitions. In this case (full details below), he wished explicitly to pay tribute to Marcel Proust in his centenary year, intriguingly playing with conceptions of musical time — and what could be more apt for this of all novelists? I confess to having felt a little scepticism toward Kolesnikov's claim, cited in the programme note, that Schubert and Proust would 'merge miraculously' in an 'art of stretching time and communicating poignant intensity through what is intimate and even miniscule,' but was quite won over by what I heard in practice.
Schubert's G major Sonata, D 894, opened and closed the recital, indeed stretching time in ways quite unexpected. The first movement, heard at the opening, was spacious and highly, subtly flexible. In some ways, it felt slow, in others not at all; I honestly have no idea how long it took, nor did I feel any desire to find out. It spoke with wounded nobility, without ever tending to the lachrymose or anything otherwise sentimental. It had all manner of colours, whilst only rarely raising its voice. Kolesnikov may have looked as if he were lost in reverie, but this was throughout a directed as well as highly imaginative performance. And then, Schubert transformed into Couperin, Louis Couperin that is, in one of his Unmeasured Preludes, G major transformed into its tonic minor — sort of. I say 'sort of' because the use of tonality is as different as other aspects of the writing. One might have spoken of improvisatory 'style', but in reality, it was more a matter of creating music out of what had been left, the pianist revelling in apparent weirdness, in clashes of melody and harmony. Whose music, whose memory, is it anyway?
The rest of the first half sequence was given not only to Schubert and Louis Couperin, but also to Reynaldo Hahn (Proust's lover) and Gabriel Fauré (greatly admired by Hahn and Proust). Hahn's 'Les deux écharpes' emerged from within that Unmeasured Prelude, or so it sounded. Kolesnikov captured flow, chiaroscuro, glitter, and fleetingly something darker below. A Schubert dance, in many ways similar to a waltz — think of Mozart's various 'German dances' — and an actual Schubert waltz, more wistful and refined, danced on and off stage. New moods, new vignettes, new boundaries to be blurred — until the subtleties of a Fauré Nocturne were heard, not slowly, yet supremely un-rushed. If I find Hahn's music charming whilst it lasts, yet always struggle to remember a note of it thereafter, that says its own thing about time, or me, or both. A closing Louis Couperin Sarabande evinced quiet dignity, speaking of a past (real or imagined) from a similar past and present.
César Franck's Prélude, choral et fugue opened the second half, in more improvisatory fashion, yet convincingly so, than one might have expected. Whether that were on account of the specific context, or because that is how Kolesnikov hears it anyway, is rather beside the point; it made sense here, interior subjectivity the thing. An appealing, 'after-dinner' pedal haze sustained harmonies without loss to purpose. Not that the machine à modulation (Debussy) failed to make that aspect of his presence felt, especially in a 'Choral' as Romantic as a 'Fugue' that favoured harmony over counterpoint. Hahn offered a wandering interlude, less still than evoking stillness.
And then, back to Schubert. It felt like a shift to another plane, as if a flashback were over (oddly, given much of the chronology, yet it did not feel odd). The Andante received a lovely, unsentimental reading even before its sterner turn. The Menuetto had a fine spring in its step, more forthright than its sister dances earlier on, enabling its trio to take us once more to a dreamworld, albeit a different one. The finale united and set against one another those twin tendencies. Taking its time, it and we enjoyed both the route and diversions from it. It sounded very much like the finale to an evening, not only to a sonata, though Debussy's 'La cathédrale engloutie' made for a strikingly Parsifal-ian encore, reminding us of two further Proustian enthusiasms.
Mark Berry
Schubert – Piano Sonata in G major, D 894: 1st mvt
Louis Couperin – Unmeasured Prelude in G minor
Reynaldo Hahn – Le rossignol érpedu: 'Les deux écharpes'
Schubert – Atzenbrugger Tanz in A major, D 365/30
Hahn – Premières valses: 'Ninette', 'Valse noble'
Schubert – Waltz in B minor, D 145/6
Hahn – Premières valses: 'La Feuille'
Schubert – Atzenbrugger Tanz in A major, D 365/30
Hahn – Le rossignol érpedu:'Narghilé'
Fauré – Nocturne No.12 in E minor, Op.107
Louis Couperin – Sarabande in A minor
Franck – Prélude, choral et fugue
Hahn – Le rossignol érpedu: 'Ouranos'
Schubert – Piano Sonata in G major, D 894: 2nd, 3rd, and 4th mvts