United Kingdom Stravinsky: Patricia Kopatchinskaja (violin), Budapest Festival Orchestra / Iván Fischer (conductor). Royal Festival Hall, London, 17.2.2022. (MB)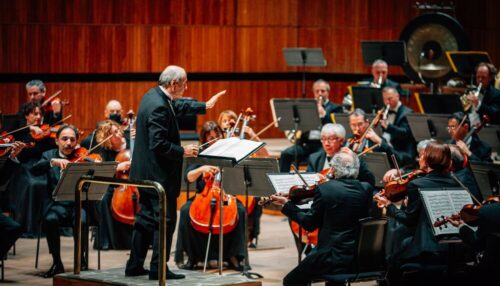 Stravinsky – Jeu de cartes; Violin Concerto; Petrushka (1947 version)
I think this may have been the first visiting orchestra (from outside the United Kingdom) I have he ard in London since the before-times. The twin viruses of 'Brexit' and Covid have both played their part and will doubtless continue to make their baleful presence felt. At any rate, to have the Budapest Festival Orchestra at the Royal Festival Hall playing Stravinsky seemed like a good sign that musical life in London was regaining a little lost ground. (Alas, as I type, I learn that Storm Eunice has done for this evening's ENO premiere of The Cunning Little Vixen, but let us hope that will prove merely to have been postponed.)
The orchestra and Iván Fischer made as strong a case as I can imagine for Jeu de cartes (which, a little improbably, received its European premiere from the Staatskapelle Dresden under Karl Böhm). The three introductions to its three 'deals' were colourful, angular, motor rhythmic: just what one would hope for from neoclassical Stravinsky. The first offered especially fine woodwind playing, for instance in the principal flute's solo. (She would also shine in Petrushka.) The second offered deceptively amiable chugging, just as the doctor ordered. There was, moreover, undeniable charm to be heard in the trapping of neo-Tchaikovskian melodies in Stravinsky's unpitying straitjacket. Greater dramatic intensity came in the third, a reflection of work more than performance. Throughout, one could hear this was a ballet, and almost see the dancers, as if this were Prokofiev. There was a winning parade of 'characters' too. I cannot say it dispelled my suspicions of ultimate emptiness, but such is the quicksand of (some) neoclassical Stravinsky.
Patricia Kopatchinskaja joined the orchestra for Stravinsky's Violin Concerto. Her incisive, often aggressive solo playing seemed to bring back this neoclassical work to Russian roots many of us might never have suspected were present — certainly not to this degree. In that, the BFO and Fischer seemed more than willing partners. The two inner Arias proved surprisingly close in some respects to the Violin Concertos of Prokofiev, albeit — like those moments of Tchaikovsky in Jeu de Cartes — imprisoned within a polemically heartless cage of metronomic precision. Bittersweetness was to be heard from violin and woodwind soloists alike, the second Aria's fuller sadness bringing the music intriguingly close to the final act of The Rake's Progress. Bright, often balletic exuberance characterised the closing 'Capriccio'. Certainly capricious, it offered a characterful opportunity for more 'conventional' virtuosity, finely taken. It was an intriguing performance, which took nothing for granted, and certainly had me rethink much of what I thought I had 'known' about this polemically strange work. As an encore, Kopatchinskaja offered us two of Bartók's Duos for two violins, the excellent István Kádár her partner.
Fischer made the strongest case I can recall hearing for the 1947 revision of Petrushka; or, so I initially thought. I do not mean to imply this was not a fine performance; it certainly was. Rather, I was increasingly unsure whether what I was hearing with surprise was down to Stravinsky or to Fischer. Perhaps it is better to say that the version of the score Fischer chose played to his strengths and to how he hears the work. The Shrovetide Fair music came across bright-eyed and bushy-tailed, full of colour and rhythmic bite, above all full of expectation. The musicians' often extraordinary precision truly brought it to life. Again, there was no doubt this was a ballet (perhaps ironically, given the version concerned) and, in this case, both purged by the fire of intervening neoclassicism and brought back to life in knowledge of what had gone before. Perhaps that gave extra poignancy to the particularly icy murder of Petrushka. Characters danced before the mind's eye and, most startling, rhythms pounded more remorselessly than in any other performance that springs to mind. This was worlds away from the very different post-Romanticisms of Gergiev and Boulez, perhaps closer to Stravinsky's own way with the score. At any rate, what we heard was both animated and animating, blessed by splendid orchestral playing, and above all highly enjoyable.
Mark Berry