United States Bernstein, Bernstein Dances: Dancers of the Hamburg Ballet, Tai Murray (violin), Sebastian Knauer (piano), members of the Los Angeles Opera Orchestra and other artists / Garrett Keast (conductor). Dorothy Chandler Pavilion, Los Angeles, 13.3.2020. (JRo)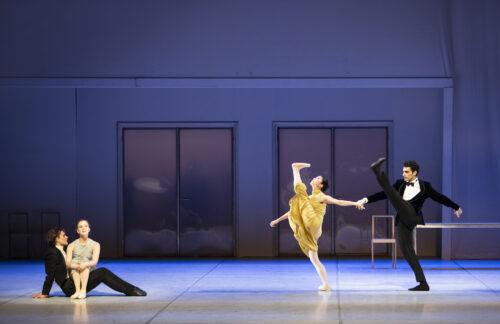 Production:
Choreography, Stage design and Lighting concept – John Neumeier
Costumes – Giorgio Armani
Cast:
Principals and Soloists of Hamburg Ballet – Alexandr Trusch, Hélène Bouchet, David Rodriquez, Emilie Mazoń, Madoka Sugai, Jacopo Bellussi, Karen Azatyan
Female Voice – Dorothea Bauer
Male Voice – CJ Eldred
In Bernstein Dances choreographer John Neumeier traces the life of Leonard Bernstein, scored to an assortment of his music. Subtitled Ballet Revue, the program feels more like a hard-to-follow biopic (or biodance in this case). Though not as melodramatic and robust as Boris Eifman's portrayals of the lives of artists – I'm thinking, in particular, of his Rodin (review click here) and Tchaikovsky (review click here) ballets – Neumeier dips into Eifman territory.
At its best, the ballet celebrates the music of Bernstein, from the buoyant chords of Candide to the brooding lyricism of Plato's Symposium. At its least appealing, it attempts to dramatize Bernstein's relationships and successes. On this account it fails to offer more than a patchwork of the composer's life, creating a narrative arc that is simplistic and difficult to follow.
Bernstein's path was a rigorous one, from his musical studies at Harvard under Arthur Merritt and Walter Piston to the Curtis Institute under Fritz Reiner and, famously, with Serge Koussevitzky at the Berkshire Music Center. A year after moving to New York in 1942, he was appointed assistant conductor of the New York Philharmonic. Instead, Neumeier presents the cliché of the fresh-faced, wide-eyed boy who comes to the big city wielding a suitcase like Gene Kelly in a Hollywood musical. There are even mimed keyboard finger movements by principal dancer Alexandr Trusch as Bernstein, indicating the composer's sudden creative impulse to compose a piece of music.
The ballet opens with huge images of Bernstein projected on a hanging screen that immediately create the feeling of a gala tribute rather than a full-length ballet. Trusch is seated at a piano, making a childish attempt to play. He is soon replaced by noted German pianist Sebastian Knauer, whose poetic performance adds gravitas to the evening, as does the playing of violinist Tai Murray in Serenade after Plato's Symposium. Characters emerge from under the piano as if exiting the womb, including the pleasing singers CJ Eldred and Dorothea Baumann. They share the stage with the dancers (often to awkward effect) when singing songs from Wonderful Town and West Side Story, among others.
The ballet was most successful when eschewing literal mindedness for pure movement. 'A Simple Song' and 'Meditation No. 2' from Mass enhanced Bernstein's music in a poignant reminder of the composer's activist politics. Humor erupted in 'Something's Coming,' as dancers, dressed in sweats, trotted merrily across the stage like prancing ponies; and in 'Wrong Note Rag,' as female dancers in purple attire by Armani jazzed it up like chorus girls on the town.
In Bernstein's hauntingly beautiful Serenade after Plato's Symposium, Neumeier takes a different tack from Alexei Ratmansky (review click here). Ratmansky used the symposium (speeches at an all-male dinner party in ancient Athens on the varieties of love) as the reference point for his more abstract choreography for male dancers. In Neumeier's version, it is the variety of love found between couples at a sophisticated New York cocktail party, presumably hosted by the Bernsteins, that forms the backdrop for the dance.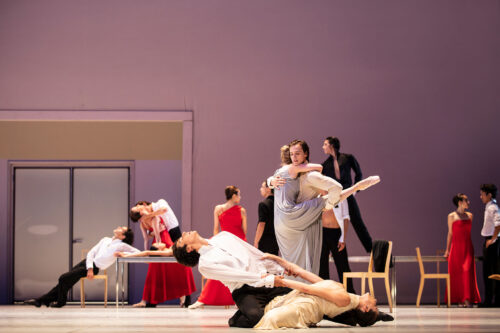 The women in slinky red Armani gowns and the men in tuxedos weave and meander across the set, sometimes in postures of compatibility, sometimes in fitful argument. The movements of Bernstein and his wife display love, hate and pain, particularly when he embraces another man at the party, and Trusch and Hélène Bouchet as his wife do a dramatic turn as the beleaguered couple. There are two additional main couples and the three pas de deuxs for the group open up Neumeier's narrative and allow the choreography to breathe. The second couple is danced by an engaging Emilie Mazoń and Jacopo Bellussi. The most dynamic pair in the piece are male dancer Karen Azatyan and the lovely Madoka Sugai. Azatyan is a charismatic performer with both strong technique and innate sensuality and was exciting to watch throughout the evening. Sugai has a lovely line and an economy of movement that enhances the choreography.
Trusch's characterization of Bernstein is understated, an admirable interpretation since it keeps the ballet from veering too fully into soap opera. His dancing is cool and clean, exploding with force when needed. Unfortunately, he is directed to change clothes onstage and is often left standing in his shorts, adding a degree of unnecessary silliness. Another odd decision was the creation of a character called 'Love', danced by David Rodriguez, who appears intermittently. His presence is difficult to fathom, though his role is the only one defined in the program notes. I suppose he is acting as muse or guide, but his presence confuses rather than clarifies.
The corps shines and the orchestra, composed mainly of LA Opera musicians, plays Bernstein's diverse work with the right balance of sensitivity, sparkle and power under the direction of Garrett Keast. It is sheer pleasure to hear Bernstein's music in such capable hands.
Jane Rosenberg