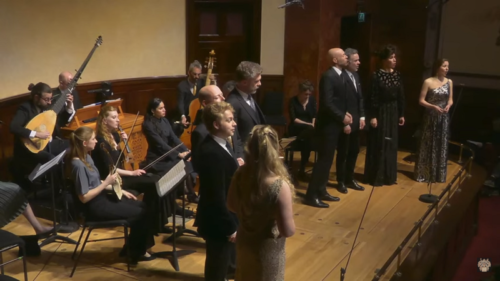 United Kingdom Solomon's Knot – Bach Brothers: Wigmore Hall, London, 6.3.2022. (CC)
Johann Christoph Bach (1642-1703) – Mit Weinen hebt sichs an
Johann Michael Bach (1648-1694) – Ach bleib bei uns, Herr Jesu Christ
Johann Christoph Bach – Ach, dass ich Wassers gnug hätte
Johann Michael Bach – Herr, ich warte auf dein Heil; Ich weiss, dass mein Erlöser lebt; Unser Leben währet siebenzig Jahr
Johann Christoph Bach – Herr, wende dich und sei mir gnädig; Wie bist du denn, o Gott
Johann Michael Bach – Nun hab ich überwunden; Nun treten wir ins neue Jahr; Sei lieber Tag willkommen; Herr, der König freuet sich
Johann Christoph Bach – Es ist nun aus mit meinem Leben
The Bach family dynasty is the most famous in musical history; and yet relatives of JSB inevitably remain in his shadow. Here, in their latest concert in their Wigmore Hall residency. Solomon's Knot gave us music by two of Johann Sebastian's first cousins once removed: Johann Christoph Bach and Johann Michael Bach, brothers born in Arnstadt to their father Heinrich (for half a century the organist of two churches there, the Liebfrauenkirche and the Oberkirche). Indeed, both were taught by Heinrich, with Johann Christoph taking up the post of organist of Arnstadt's castle chapel in 1663 and later the Georgenkirche in Eisenach. Johann Michael succeeded his brother at the castle in 1665, later taking up an organist's post in Gerben, where he remained until his death. In 1707, the youngest of his five daughters, Maria Barbara, married one Johann Sebastian Bach (a distant cousin).
Both Johann Christoph and Johann Michael's formative years occurred during the Thirty Years War (1618-48); The Lutheran church and its doctrine of obedience to Jesus dominated – and services included a strong musical component. This concert was little short of revelatory: it is what concertgoing is all about, discovery of fresh repertoire in performances of the utmost excellence. Amazing to consider that all singers performed without music throughout.
The concert began in darkness, with the antiphonal funeral aria Mit Weinen hebt sichs an (It begins with weeping) by Johann Christoph. It was a powerful gesture, the responses between the choral groups supremely calibrated. Johann Sebastian himself referred to Johann Christoph as 'a profound composer', and so it seemed. Fascinating to contrast that with the lively violin exchanges (Magdalena Loth-Hill and Gabriella Jones) in Johann Michael's Ach bleib bei uns, Herr Jesu Christ (O stay with us, Lord Jesus Christ) and the later vocal counterpoint around 'Dein göttlich Wort' ('Your holy word'). While JSB described Johann Christoph as a 'skilful composer', Solomon's Knot seemed determined to convince us the musical penetration was just as deep as that of his esteemed brother. Extreme beauty around 'Dass wir dein Wort und Sakrament' ('That we keep your word and sacrament') only enhanced the impression.
A solo cantata, Johann Christoph's 'Ach, dass ich Wassers gnug hätte' ('O, that I had tears enough') is the most remarkable piece for countertenor. Hugh Cutting, a name new to me, was the astonishing soloist in this tale of religious longing, music brought almost unbearably to life, its dissonances searingly visceral. It is clearly the work of a Master, and this performance showed it in the finest light possible. The piece was preserved in the Alt-Bachisches Archiv (Archive of the Elder Bachs), a collection owned and possibly compiled by JSB himself.
In contrast, tutti singers (in two groups of four, soprano-countertenor-tenor-bass and soprano-alto-tenor-bass) were used for Johann Michael's Herr, ich warte auf den Heil (for translation, see the final paragraph of this review). The interchanges between the two groups were supremely managed again, imploring statements of 'O komm' leading to the second part of the line, 'und hole mich' (together, 'O come and take me').
Fascinating to watch the speed at which the singers reorganised themselves for the second of three Johann Michael pieces, Ich weiss, dass mich Erlöser lebt (I know that my redeemer liveth), an unaccompanied piece complemented by theorbo-accompanied (Josep Maria Martí Duran) Unser Leben währet siebenzig Jahr (Our life lasts seventy years – or eighty at most, the text corrects itself!). This funerary motet, whose text leads to an awakening from death with a bargaining plea from the mortal that if Jesus hears their prayer they will praise him for eternity, is a piece of the utmost imagination nowhere more so than in its final throwaway gesture, which seems to float upwards.
Closing the long first half, Johann Christoph's Herr, wende dich und sei mir gnädig (Lord, turn unto me and have mercy upon me), its many solos allowing the individuals of Solomon's Knot to shine: soprano Zoë Brookshaw, mezzo-soprano Kate Symonds-Joy, tenor Thomas Herford and, on the other side of the stage, bass Alex Ashworth. It moves from the lachrymose to the markedly celebrational 'Frisch auf, mein Seel, verzage nicht' ('Revive, my soul, be not altered') in which the two violins, to coin a modern phrase, go nuts.
The second part of the concert began with Johann Christoph's Wie bist du denn, o Gott (Why are you then, O God), Jonathan Sells's almost vibrato-free bass plaintive and beautiful. Johann Christoph's use of dissonance was the harbinger of much beauty held within pain; the piece has a significant solo violin part, beautifully delivered by Loth-Hill. This is a substantive piece, and its spell remained intact throughout. A sequence of four pieces by Johann Michael followed: the double-choir Easter motet Nun hab ich überwunden (Now I have overcome), its tender exchanges and easy counterpoint leading to the more dramatic Nun treten wir ins neue Jahr (Now as we enter this new year) with its punctuating statements of the word 'Nun' and a very J. S. Bachian way with the word 'Amen'. In contrast, Sei, lieber Tag, willkommen (I bid you welcome, dear day) was livelier, three ladies pitted against three gentlemen across the stage. The music almost danced, and so did this performance. Pure joy, only shaded by the (inevitable) arrival of the word 'Tod' ('death'). And yet it is joy that prevailed, in the last piece by Johann Michael: Herr, der König freuet sich (Lord, the King finds happiness), its rhythms dancing, only brought to a pensive moment by Sells's 'Denn du gibtest ihm seines Herzens Wunsch" ('For thou givest him all this heart's desire'), initiating a chain of alternating moods. A fabulous piece.
It was Johann Christoph that had the last word though, his Est ist nun aus mit meinem Leben (Now my life is ended), aptly enough shot through with repetitions of the line, 'Welt, gute Nacht!' ('World, good night!'). A beautiful four-stanza chorale, it is the subtle changes in harmonisation that marks Johann Christoph's mastery. Each stanza seems more impossibly beautiful than the last; and with the re-introduction of fading light and then eventual darkness, the concert came full circle.
An amazingly educational, but also unbearably moving evening.
There was, parenthetically, a rather odd aspect to the programme, which translated the title 'Herr, ich warte auf dein Heil' as 'How to be Nice' (the translation of the first line in the complete text – identical German – was a little closer: 'Lord, I wait upon your salvation').
The concert was livestreamed and is available to view in its entirety on YouTube (click here).
Colin Clarke