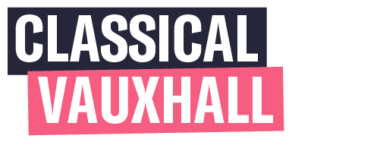 Classical Vauxhall – 10 to 13 February 2022 
The third Classical Vauxhall Festival had already given their first concert (of five) at St Mark's Kennington when I received information about their imaginative and appetising programmes. After the end of the festival they were able to let me have a recording of the concert of 10 February which I had missed, but the recording unfortunately had moments (especially of the spoken introductions) which were inaudible. My own sound system is admittedly aged and not too reliable. For all that, I have been able to cobble together a review of these exceptional musicians (see below please). As always, I give a brief note on the music, as well as the cultural clutter which I brought to it. That information comes under readers' rights. Equipped with that, most readers will hopefully be able to arrive at their own assessments. Over to you!
Anyone familiar with Jane Austen – or further back, Samuel Pepys – will be aware of the greatly popular Vauxhall Gardens, which flourished most impressively with the Victorian art of dispensing higher musical culture to what they saw as the lower orders. Some of that art is now being explored by a gifted team of young musicians. But without the Victorian air of patronage. On the contrary, today's young players are attempting to create a dialogue between performers and audience. The dialogue is sometimes not much in evidence. But as they say, Rome wasn't built in a day.
Classical Vauxhall is the brainchild of the hugely gifted Fiachra Garvey. He was born in Wicklow, Ireland, in 1987 and his music education was at London's Royal Academy of Music, the Paris Conservatory and elsewhere.
Verdi, Chausson, Hahn, Britten, Puccini, R. Strauss – Snapshots of Romance: Elizabeth Lewellyn (soprano), Simon Lepper (piano). Classical Vauxhall Festival, St Mark's Kennington. 13.2.2022.
A kindly elderly lady in the audience, more or less my own advanced age, was chattering with me like there was no tomorrow. I'm a chatterbox myself but the good lady enjoyed the competition. Except that's the wrong word. There was no competition. Our exchange was too cordial for that. This took place at the end of the final day's recital of Elizabeth Llewellyn (soprano) with Simon Lepper (piano).
Llewellyn sang the opening soprano aria – Lo vidi, e'l primo palpito from Verdi's early and shamefully neglected opera, Luisa Miller. My neighbour said she too had been to Parma, where Renata Scotto had sung the title role – the first to be staged in modern times.
(I didn't add that I only heard two thirds of that aria because I was driving from Rome, in a pea soup December fog, where for the last mile or so, a friend walked in front of the car, to ensure that we didn't drive off the road! We made the quickest change of clothing in the hotel and hastened to the theatre, where we were greeted like royalty. My aunt who was in the party and around ninety years old, was puzzled by the theatre's greeting. At the first interval I was booked to interview for RAI [state radio and tv] Peter Maag, conductor of the opera. [Maag later recorded the opera with Montserrat Caballé in the title role.] My aunt was thenceforward chortling for weeks, saying she wouldn't be signing any more autographs!)
There really are lots of things to admire about Elizabeth Llewellyn's voice. It is rich with a remarkable ability to cross various registers seamlessly. However, she appears to be a born worrier. And there are moments when the worrying causes her to question her own delivery. She would do well to listen to Maag's recording with Caballé: an artist who always approaches her unforgettable high notes from above – which means taking the voice over the top of the note before you float down upon it. This is not easy. It requires intelligence. And application. But Llewellyn is not short on either. Has she forgotten the lesson which Helen Watson would almost certainly have demonstrated when she was her student at the Royal Academy of Music?
(At her request, when I tried to explain my reservations to my neighbour, she then very gently suggested that I should mind my own business!)
Llewellyn had the great good fortune of having one of today's finest accompanists as her pianist. Graham Johnson apart, there is today, perhaps no one finer than Simon Lepper, whose outstanding musicianship informs every phrase he plays. Richard Strauss very much took the pianist into account in his lieder. They can easily become piano solos with voice accompaniment. Something like that happened on this occasion.
I try to inform readers of the cultural clutter which I bring to the job of a critic. In this case, it was a DG recording of the Strauss lieder with Margaret Price and Wolfgang Sawallisch: hard to know who was best. When I congratulated Dame Margaret for this performance, superior to Elisabeth Schwarzkopf's – with Simon Lepper now vastly superior to Gerald Moore – Margaret said that Sawallisch was the most bullying man she had ever met! (Margaret was the most bullying person I had ever met!) Now it is true that Margaret's enormous voice does indeed need time to give of its best. But Sawallisch had said I will be the judge of the tempo for all these lieder. And to my ear, the maestro was right to assert those choices. The fast numbers take your breath away, which is what, I guess, Strauss wanted.
Elizabeth Llewellyn knows all about the power of projection in dramatic singing. But I'm sorry to report that she sounded underpowered in Strauss. Or was she distracted by the magic coming from Lepper's fingers? She wouldn't be the first to fall for that seduction.
Her most moving contribution was her opening Willow Song and Ave Maria from Verdi's Otello. Margaret Price conceded that her voice was too big for Desdemona. Though I was once at Covent Garden when her pianissimos in the final scene brought the house down with applause. Llewellyn was superior tonight. She has learned that all important lesson that in the opera house, there are occasions when less is more. Up with the projection and down with the volume.
Llewellyn clearly enjoys chatting to her audience. She is exceptionally good at this. And besides, this is one of the objectives of Classical Vauxhall – to make the audience feel part of the performance. Grace and charm are something she has in bucketfuls. I am only sorry to report that her native grace and charm seemed to more or less desert her in her choice of Chausson and Hahn salon numbers. She was struggling with the French language. Getting all those nasal sounds across as music can be an unreasonable skill to expect of someone not French. An important exception is Maggie Teyte. Hahn actually wrote some of his songs for Dame Maggie. France looks to her for her pronunciation. (Another bossy woman, by the way.) There is a delightful recording where she introduces in English some of her salon numbers. Friends she begins in a threatening voice, this is Maggie Teyte. 
Lepper rather successfully turned the Fazioli piano he was playing into an orchestra while Llewellyn made a less than successful effort to turn her voice into Ellen Orford's extended aria at the end of Peter Grimes: Embroidery in childhood was a luxury of idleness. What went wrong here? I would have much preferred her to give us some of Britten's witty folksong arrangements. The lady has a wonderful sense of fun and had shown she can deliver on that.
Puccini's salon music is not without its charm but along with the rest of the audience (they were vocal on this) I would have preferred Britten's wit. Lots of choice there too.
The magnificent Fazioli piano was hired from Jaques Samuel: when I play on a Fazioli I sound like an outstanding pianist. Give me a Steinway or Bechstein and you will hear that I am a rather indifferent pianist. The truth is out. The fact remains that it is pretty well impossible to make an ugly sound on a Fazioli. Through experimentation of over forty years and changing materials, Paolo Fazioli – to give him his Italian title L'ingegnere – has said he has got close to the sound he only dreamed of, in making his pianos SING like bel canto and so sound uniquely Italian.
Beautiful Brahms: Leonard Elschenbroich (cello) and Alexei Grynyuk (piano), 11.2.2022. (JB)
Brahms – Sonatas for cello and piano: No.1 in E minor, Op.38; No.2 in F, Op.99; Four Serious Songs (arr. Daniil Shafran); Scherzo from FAE sonata (arr. Shafran)
In the programme called Beautiful Brahms the Ukrainian pianist Alexei Grynyuk stabbed the keys of the Fazioli as though in an attempt to destroy the devil himself, in whom he strongly believed. Poor Beautiful Brahms! Those two cello sonatas are indeed beautiful. They look backward as well as forward in musical history. I was once a would-be (lousy) cellist myself. I recall my teacher Paul (I've forgotten his surname but he played in the Hallé) saying Would you repeat that passage, trying to make it sound more like Pablo Casals and less like Sterling Moss!
We will probably never hear again the sheer magic of the two Brahms sonatas as well as the recording of Jacqueline du Pré and Daniel Barenboim. Their marriage was at its peak. But the horrendous outbreak of du Pré's multiple sclerosis which spread fast, with Barenboim's eventually abandoning her, and which led to Margot Fonteyn giving over her London flat to Jacqueline. That was characteristic of Margot's dignified humanity.
I could see and hear that Leonard Eischenbroich, who is from Germany, was playing on an exceptional cello. It turned out to be the ex-Leonard Rose, of luthier, Matteo Goffriller in 1693. He was stretching the Brahms phrases – especially in the F major sonata – as though they were made of a flexible steel. Turmoil surfaced dramatically. But this was not the destructive hammering of the pianist. Four Brahms lieder were also played in the second part. More cello lyricism, still with threatening piano stabs. How fortunate that Paolo Fazioli was not present to witness the desecration of his bel canto instrument.
The Essence of Life: Barbican Quartet, 12.2.2022. (JB)
Beethoven – 'Razumovsky', Op.59 No.2
(Programme also included: J. S. Bach's Five Fugues (arr. by Mozart KV 405) and Bartók's Quartet No.2)
For Covid reasons, the programme with the piano trio had to be cancelled and replaced by the Barbican Quartet – an ensemble originally put together at the Guildhall School who tour in the UK and Europe, also giving courses in schools on the art of the quartet. Bulgarian cellist, Yoanna Prodanova, is an excellent compere/guide. Energetic Amarins Wierdsma is first violin, Tim Crawford second violin and Christoph Slenczka cello.
In these last years, the quartet has been tutored in Madrid, by Günter Pichler, first violin of the aristocratic Alban Berg Quartett. Prince Andrey Razumovsky of St Petersburg was a gifted violinist himself and while he was ambassador to Vienna, he established a permanent string quartet to entertain what many regarded as the then capital of music. He commissioned Beethoven to write four quartets, two of which were to contain a homage to Russian music, as publicity to that art, within the influential, aristocratic Razumovsky palace.
(With such support, this prompts the question as to why, around this time, Rossini was emboldened to take up a collection for the performance of Beethoven's music, which was indeed being universally ignored.)
There are four movements in the quartet. I was seated on the front row, with the extraordinary impression of being a participant in the music. Inclusiveness is one of the joys which the Barbican Quartet serve up. And how! For the first movement, in E minor, Beethoven simply asks for allegro, but these four musicians give a great deal more. The second movement calls for Molto adagio and was gentler, the third is marked Allegretto (with the second section marked 'Maggiore – Theme russe' and is the scherzo. It is the movement everyone has been talking about and the deaf Beethoven seems to be struggling. Please help him. Give him your ear. With the Barbican Quartet, how could you not? There is some kind of hypnotism at work here. New territory to be experienced.
Love and Loss: Rosanne Philippens (violin), Ben Goldscheider (horn), Fiachra Garvey (piano)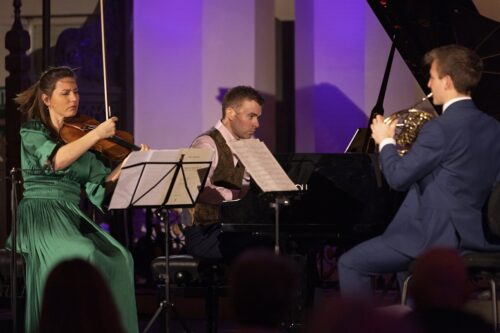 Franck – Sonata in A major for Violin and Piano
Brahms – Horn Trio in Eb major, Op.40
(Programme also included Robert Schumann's Adagio and Allegro in Ab major, Op.70 for Horn and Piano and Huw Watkins's Horn Trio.)
Don't let anyone tell you that a composer is someone who can write a good tune. Any dilettante can do that. A composer is someone who knows what to do with a good tune. Music's structure is the name of the game. This is how a major organist became a major composer. César Franck (1822-1890) though born in Belgium, had a tortured (on account of a bullying, sadistic dad) career in Paris, famed for his improvisations on the organ, and the influences of Liszt (obvious) and Bach (less obvious until you look deeper) and much enjoyed, if puzzled by his own students of composition: the latter understandable when you remember the antiquated teaching of the Paris Conservatory. Use your own unique ears and minds and leave the rest was Franck's slogan to his students. It was criticised by Franck's contemporaries but later greedily adopted by Debussy and Ravel.
Franck's violin and piano sonata was written in 1886 for the wedding of violinist Eugène-Auguste Ysaÿe and dedicated to him. Franck conceded some slight changes of tempo indications. Ysaÿe continued to perform the sonata to great acclaim, for the remaining forty years of his life.
There are four movements. The first is Allegretto ben moderato. You guessed! The last two words indicating well measured were added by the violinist with the composer's approval. And notice not allegro but its gentler, more intimate cousin allegretto. Franck, like Liszt, had an enormous hand span. And as I would have expected, Fiachra Garvey (like me) does not. The only solution is to role the left-hand E major chord so that the thumb may land on the G sharp. Sorry if this sounds like a Donald Trump truth.
The lion's roar that opens the second movement (Allegro) with the piano alone in its bass register, is none other than the dominant ninth of the opening, stormed with dramatic chromaticism, which like the dominant ninth itself, can find no resolution or resting place. The violin enters this no-resting place with its own ferocity. The race is on! You must have kissed your Fazioli, dear Fiachra, during this licencing.
The third movement (Ben moderato: Recitativo-Fantasia) gives a wonderful 'reposing' place for the violinist. Reflection. Somewhat like changing train at Clapham Junction: when you are on the dominant ninth, you can pretty well go anywhere and it will all sound very natural. (This was an enormous gift to many scores of Debussy's music.) Rosanne Philippens is one of the most expressive violinists you will ever hear whose heart is nevertheless made of steel. Magic steel. This is much aided by her 1727 Barrère Stradivarius thanks to the generous support of the Elise Mathilde Foundation.
The fourth movement is everyone's favourite: Allegretto poco mosso: a gracious rondo finale to be played without hurrying (the two added words). Vera Kantrovich used to tell her students at Trinity that she had cut up a score and pinned strips to her wall of all the tricky passages which she worked on daily until they felt like a natural part of her fingers. Vera is no longer around to ask (she recorded the sonata for the BBC with Joseph Cooper) but your very audible security dear Rosanne, sounds like you had your own strips to make the awkwardness all sound natural.
The finale fairly romps home on a forte f with not exactly a smooth landing. The two players have been chasing one another in a rondo-like canon. I used to breathe afresh when I arrived here with a thanks to the gods who had got me there. Even with the help of a Fazioli, I would not be able to play the sonata today in any way which could be considered professional.
The Brahms Horn Trio in E flat, Op.46 (1865) is a curious anomaly. At the same time it is irresistible for players and audiences. Brahms had moments of being a romantic. Somewhat guardedly. But in the case of the Horn Trio, the guard was down. Especially as we heard it at Vauxhall.
Young horn player, Ben Goldscheider, gave a lucid talk/demonstration, on the difference between natural horn and the more sophisticated valve horn, which was widely used in Brahms's day. The latter has many more possibilities. But Brahms specifically calls for the natural horn. Why? This is an occasion when Brahms openly recognised himself as a romantic. Moreover he tells us that the opening theme came to him while walking in a forest. Goldscheider shows us how while the natural horn is more limited it is also more demanding to play. Yet the demanding has to be inaudible: the aim is as nature intended. 
Goldscheider takes his audience on that forest walk. Brahms would have hugged him. And the magic theme haunts the rest of the sonata. Not exactly the academic cyclic form of the Franck sonata, but all the same, a strange, delightful yearning after that format.
By far and away the most entertaining and meticulously professional of these Vauxhall concerts was the recital of countertenor, Kangmin Justin Kim (aka Kimchilia Bartoli), and Fiachra Garvey (piano) titled Late Night Drag: The Royal Opera House is burning (12.2.2022).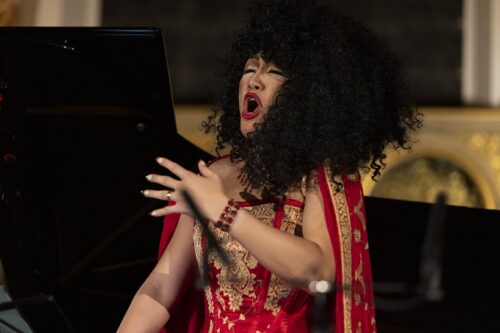 For reasons I have been unable to fathom, the music world is suddenly flooded with outstandingly able countertenors. Korean-American, Kangmin Justin Kim (Kimchilia Bartoli is when he switches into impersonations of Cecilia Bartoli, with that lady's enthusiastic support) must be among those many sought after for his specialist repertory of Baroque, musicals and Mozart trouser roles like Cherubino at Covent Garden with John Eliot Gardiner. His voice is wonderfully relaxed with expert breathing so perfect that it appears to cost him no effort at all. There is much to learn from him for all singers. Critics too. Whenever a critic is not learning, he or she is a bore and disgrace to his profession.
First, two Carmen pieces: not the usual exaggerated junk, but this Carmen is quick-witted, matter of fact and willing to meet her audience on the other side of the footlights. We go through Close to the Ramparts of Seville (sung partly to him/herself) to the flirtations of the Habanera.
Ahead of that was Vivaldi's Agita da due venti then the celebrated Caro mio ben (a nearness to Brother Lawrence's practice of the presence of God, as you will ever hear) and Dido's Lament (Purcell/Britten) which conveys us to beyond-this-life. Kathleen Ferrier watch out. Performance copyright. Fiachra Garvey's right foot on the Fazioli was also a major contributor in this.
Space too for Saint-Saëns's Dalila aria, Mon coeur s'ouvre à ta voix addressed to Samson. Neatly handled those repeated chords, Fiachra; I was never able to get them all in!
For the three musicals, Kangmin Justin showed himself a master of artifice, tingling through I Dreamed a Dream (Les Misérables), Don't Cry for Me Argentina (Evita) and Defying Gravity (Wicked). And Fiachra, you're an admirable pub pianist: you pulsate with all the artifice the composers' demand. Sorry Paolo Fazioli could not hear your versatility! I hope the concert has been recorded.
(You probably know, Fiachra, that Shura Cherkassky (1911-1995) a Jewish, Ukrainian-American, proudly declared that he never played the same piece of music twice in the same way. Invention was the name of his game. At the end of his life, he lived in London but still toured, including Japan. Improvisations sometimes took over the music when his memory betrayed him in old age. I was once at Rome's Teatro Ghione when he had a memory lapse, but he continued to improvise on a few chords until he was back onto the written score. A distinguished, respected master of piano teaching, Guido Agosti (1901-1989) was sitting next to me: his blood pressure visibly rising. He threw his hands in the air and left the theatre! You can visit Cherkassky's remains in Highgate Cemetery.)
I discovered I had been sitting next to the creator of the magnificent gowns for Kangmin Justin Kim's alter-ego diva, all of them supremely apt for many changing circumstances (tear a bit off here; add a bit there). And all of them (often subtly) understated, along with wigs and makeup. Vulgarity was there, but it was a contributor – not a dominatrix – of the show. Congratulations to Jennifer Garside who was that inspired costume designer and dressmaker, with the most tasteful imagination. Talking wasn't easy as at that moment, Fiachra was trying out a very loud passage on the Fazioli, all ready to serve up second helpings. How the audience enjoyed those! Any Dowager Duchess would have been proud to flaunt Jennifer's gowns.
Jack Buckley