United Kingdom Liz Dilnot Johnson: Gabriella Liandu (mezzo-soprano), Rupert Jeffcoat (organ), James Keefe (piano), Kadialy Kouyate (West African kora), various performing groups, Ex Cathedra Choir & Academy of Vocal Music / Jeffrey Skidmore (conductor). Coventry Cathedral, 26.2.2022. (CP)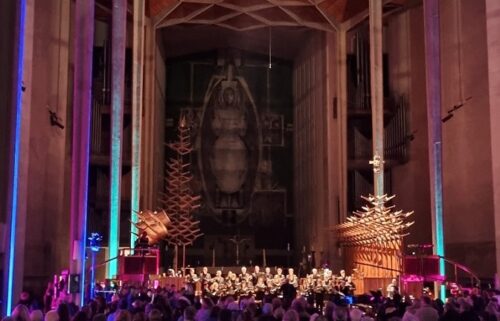 Liz Dilnot Johnson – When a Child is a Witness
How poignant a moment to launch a new Requiem for peace and reconciliation at Coventry Cathedral, some sixty years after Benjamin Britten's War Requiem was premièred in May 1962 at the consecration of the new cathedral. Who could have imagined the invasion of Ukraine would be uppermost in everyone's minds at the world premiere of Liz Dilnot Johnson's Requiem for peace – When a Child is a Witness. Fittingly, the new work, which has reconciliation at its heart, was performed in the Cathedral which has a partner church in Odessa in Ukraine. Graham Sutherland's magnificent tapestry was bathed in sunshine as the work began and that same sunshine flooded through the six John Piper-designed glass windows, installed by Patrick Reyntiens, which act as signposts throughout the two-hour work.
Producer, Clare Edwards performed a masterclass in organisation as she coordinated the contributions of six distinct groups, including the forty-strong Ex Cathedra Choir, the fifty-strong Ravensdale School Choir and the several refugee and migrant organisations. First class organisation requires commitment by the many carers, teachers and parents responsible for their respective charges. All can take credit for producing one of the most significant and poignant contributions to Coventry's City of Culture celebrations. In short, the work empowers performers from a diverse range of backgrounds, cultures and experiences to create a distinguished artwork designed to make this a better world for all.
Archive material from David Fanshawe's collection of music from his travels in the Middle East transcribed for piano, violin and kora served as a prelude to the work in the form of a meditation on a beautiful building born directly out of war and conflict.
Mezzo-soprano Gabriella Liandu, currently a Graduate Scholar with Ex Cathedra, led the choir's opening 'Requiem aeternam'. The first of several photographs by the composer of the Piper windows was displayed on monitors surrounding the actors as part of a collaboration with visual artist Fion Gunn and her creation: Age of Exploration. Carriers of Hope took charge of Window 1 with their powerful depiction of how Coventry built its remarkable reputation for providing a warm welcome to refugee, asylum and migrant families. Ravensdale Primary School pupils and the charming young members of Ex Cathedra's Academy of Music stole the hearts of the large audience with their playing of tubular bells, their unison clapping and their jump, jump, jump antics. The excitement encouraged one or two very young performers to take unscheduled short runs towards the sun blazing through the west window! This celebration proved successful in involving many of Coventry's diverse communities working together in the pursuit peace and reconciliation. Rebecca Ledgard, Ex Cathedra's Director of Education deserves more than a medal for the calm, organised manner in which she supervised, conducted and encouraged these young stars as temperatures in the nave plummeted once the sun dimmed.
Windows 2 and 3 tell the stories of refugees once lost, being found and given the opportunity to prosper in a different country, no matter what the circumstances of their arrival in that country. Sharing Cultures with Belgrade Theatre support rendered their version of Amazing Grace, former slave trader John Newton's plea for forgiveness and redemption. Kadialy Kouyate, playing his West African kora, sang to remind us of the importance of rain for a fecund sub-Saharan country from where many potential refugees are making tracks for more prosperous European countries.
Ex Cathedra's most telling contribution, 'Lacrimosa', was followed by the violin meditation – 'Falling Tears'. Then Orlando Gibbons's hymn, Drop, drop slow tears was the chosen opportunity for the audience to sing, which they did with gusto. Ravensdale Primary School Choir, Gabriella Liandu and the European Youth Music Refugee Choir manoeuvred the work through Windows 4 and 5 as Liz Dilnot Johnson's interpretation of the refugee journey through words and music unfolded. Inevitably, as so happily occurs when young children are in the spotlight, one outshines her peers. And so it was with Ravensdale student Peace Akerole from a Yoruba family taking the lead to develop the central motif, 'When a Child is a Witness'.
As the floodlighting of the Cathedral in the national flag colours of Ukraine was underway, Akerole, with one of those heavenly soprano voices, helped transport the work towards a sense of unity with the song, 'Lighten Our Darkness', in which the last line, 'Give us that peace which the world cannot give' was repeated three times. There was still time for a Kurdish poem 'Fly, Dove, Fly' before Ex Cathedra beautifully brought When a Child is a Witness to an end with Liz Dilnot Johnson's setting of 'Lux Aeterna'.
With more than two hundred artists representing the many Coventry-based organisations, it will be an enormous challenge to repeat the event. Those present will remember this poignant day.
Clive Peacock