United Kingdom Various: London Symphony Orchestra / Sir Simon Rattle (conductor). Presented by Cal Performances, Zellerbach Hall, University of California, Berkeley, 20.3.2022. (HS)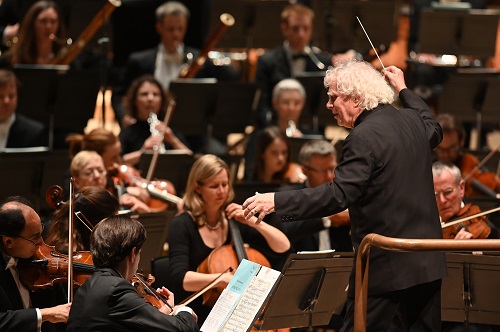 Berlioz – Overture from Le Corsaire
Hannah Kendall – The Spark Catchers
Sibelius – Symphony No.7 in C Major
Bartók – The Miraculous Mandarin (Suite)
Ravel – La Valse
Sir Simon Rattle and the London Symphony Orchestra came to the University of California in Berkeley Sunday afternoon with a high-octane program. Regretfully, aside from a few glorious moments, the machine did not hit on all cylinders often enough.
The musicians filled the stage at Zellerbach Hall for all five pieces. About 100 strong, they made a robust sound. Rattle aimed for fast tempos, but too often that just led to gummy textures.
In the opening measures of the Le Corsaire overture by Berlioz, Rattle fired the starter's gun and the strings responded with zingy playing, only to have the woodwinds repeatedly enter late on the beat and fuzzy in inflection.
A nagging sense of impenetrable denseness kept much of the music from coming through clearly. The spaciousness necessary to let contrapuntal passages come through was elusive, and thick balances between the sections seldom allowed key lines to show themselves, especially in the centerpieces – the Sibelius Symphony No.7 in C major and Bartók's The Miraculous Mandarin.
The symphony, a wondrous example of intertwining musical lines and delicately framed tempo control, felt more like fudge than fine chocolate. The hard Nordic edges of the Finnish composer's sound were missing. When the hymn that anchors the work arrived and returned, the dense orchestral sound buried it instead letting it emerge gloriously, despite superb playing by principal trombone Peter Moore.
In the Bartók, clarinetist Chris Richards distinguished himself with the lovely theme in a softer moment, but the precision of the composer's canny use of dissonance and rhythms was lost in the orchestra's thick sound.
The second piece on the program, British composer Hannah Kendall's colorful The Spark Catchers, fared particularly well. The 2017 tone poem, based on a tragic poem about women working in match factories in turn-of-the-twentieth-century England, teems with heartfelt passages, and the fast sections use punchy brass. All of that was well articulated, the best musical execution of the afternoon.
La Valse, Ravel's essay about the old world of music breaking down in the twentieth century, hit the right buttons when it got to the chaotic final page. Unfortunately, it never quite managed along the way to make the reminiscences of the traditional waltz actually lilt. As a result, the ending, good as it was, lost its contrast to what came before.
Rattle alluded to the massive weight of all this music when he introduced the encore. After all these amped-up pieces, he told the audience, he and the orchestra should offer something calming. Instead, he conducted a fast but similarly broad performance of Dvořák's Slavonic Dance Op.72 No.7.
 Harvey Steiman