Germany Verdi, Aida: Soloists, Dancers, Dresden State Opera Chorus, Staatskapelle Dresden / Christian Thielemann (conductor). Livestreamed (directed by Michael Beyer) on 13.3.2022 from the Semperoper Dresden and available until 12.6.2022. (JPr)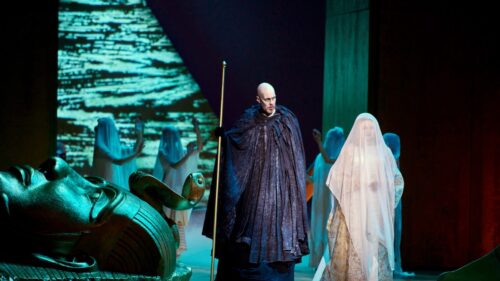 Production:
Staging – Katharina Thalbach
Set and Costume design – Ezio Toffolutti
Lighting design – Fabio Antoci
Choreography – Christopher Tölle
Dramaturg – Johann Casimir Eule
Chorus director – André Kellinghaus
Cast:
The King – Andreas Bauer Kanabas
Amneris – Oksana Volkova
Aida – Krassimira Stoyanova
Radamès – Francesco Meli
Ramfis – Georg Zeppenfeld
Amonasro – Quinn Kelsey
A Messenger – Simeon Esper
A Temple Singer – Ofeliya Pogosyan
Several years ago I remember the conductor Nicola Luisotti talking about Verdi's Aida and reflecting on how the opera 'isn't about elephants and camels and spectacle, although many people think it is. Nearly all scenes are with two or three people – Aida and Radamès, Amonasro and Aida, Amneris and Radamès … The power struggles of Church and State are very strong. We see that in the world today … The end of the opera is decided by the priests not by the King. It's about today as much as it's about Ancient Egypt.' Christian Thielemann is the conductor par excellence of German repertoire and here was making a rare foray into Italian opera by conducting his first Aida and he has emphasised what Luisotti said by commenting: 'So somehow with Aida you always have the feeling that there is an elephant on the stage and unbelievable sex orgies are being celebrated.' The 'elephant in the room' – a much over-used phrase – is that there are so many Egyptian references in the libretto that it is difficult not to hope for a hint of pyramids, Sphinx and some hieroglyphs, if not an actual an actual pachyderm or two. Indeed, German actress and stage director Katharina Thalbach gives us the illusion of Old Kingdom Egypt and thankfully – or perhaps otherwise in our current times? – there was not really anything of 'today' in her Aida that I could discern. Verdi's Aida is about war and we watch on as the Egyptians are shown glorying at going into battle again with the 'barbaric Ethiopians', their neighbours. They have done so time and time again and come out victorious because of their overwhelming superiority in the number of their soldiers before incorporating the defeated Ethiopians into their kingdom as slaves.
Who knew that this first collaboration between Thielemann and Thalbach would get overtaken by world events? At the beginning of the performance, the Ukrainian national anthem was played – as it frequently now is in such situations – as a sign of solidarity. Thielemann conducted the Staatskapelle Dresden as the chorus hauntingly sang from behind the closed curtains and a mostly respectful audience stood in their seats. With a Byelorussian and a Russian singer, Oksana Volkova and Ofeliya Pogosyan respectively, in the cast I suspect politics was not a frequent topic of conversation during rehearsals.
Costumes and parodic ballet interludes notwithstanding this was more of a semi-staging that a fully-fledged one. Ramfis and Radamès appear through the close curtains and Aida will pull them closed for 'Ritorna vincitor!'. As for the ballets, the first men seem to be wearing sumo wrestler cloth belts and do a pastiche Magic Mike routine before a rather tasteful orgy follows. (Later in the second act the eight men appear to be recreating 'Me Ol' Bam-Boo' from Chitty Chitty Bang Bang before doing some line dancing.) Generally, choreographer Christopher Tölle has the dancers engaged in some rather pointlessly unimaginative movement though it does all culminate in a human pyramid. Equally the singers, either individually or in groups, just stand around, sometimes posing, just like Egyptian statuary or hieroglyphics.
Everyone is contained by gold-coloured walls on three sides with doors to left and right and panels that could open at the back. This was seen at its best in Act III ('On the banks of the Nile') allowing Amneris to arrive in a barge at the rear of the stage in front of the representation of a pyramid with the great river shimmering in lapis lazuli blue. The entrance to the Temple of Isis was through and behind the legs of the lower part of a huge two-dimensional Pharoah statue with its(?) head to the other side of the stage. Best of all was the raised stage wide platform for the vault of the Temple of Vulcan at the end of the opera and this was lowered to entomb Aida and Radamès with Amneris standing above on it and this has to be one of the better stagings of these final moments I have seen. This would have been more moving had the two illicit lovers not been costumed like Tosca and Cavaradossi.
In a 1977 Aida with Plácido Domingo at Covent Garden the extras just ran behind the set during the 'Grand March' and returned on the other side holding up something different. Conversely, at this point in the second act my mind also goes back to Vienna – too many years ago that I care to remember – when an astonishing number of people came from upstage and it all seemed to go on forever. In Dresden Thalbach has created one of the more risible marches reminding me of that one in London 45 years ago as two long banners – depicting mostly Egyptian deities – circled Ramfis, the King and Amneris to the rear of the stage.
Thielemann had the violins shimmering during the brief orchestral prelude as if they were launching into Lohengrin. I was listening through loudspeakers but if I wrote the conductor was in love with the score it might take things a little too far, but it is clear Thielemann obviously has a deep respect for it. He has enthused how 'I always knew that this is a very subtle piece and that the score consists of pianissimi and triple piani and quadruple piani' before concluding how 'Verdi's ending is so incredibly well written.' Thielemann understands the crucial balance there is in Aida between private thoughts, all the intrigues and the public ceremonial in what can be considered a chamber piece in a (grandest of) grand opera frameworks. With the wonderful support of the Staatskapelle Dresden Thielemann's Aida was a triumph.
The cast would have been absolutely superb if it had just been a concert performance however this Aida was undermined by Michael Beyer's close-up camerawork that revealed that neither Krassimira Stoyanova (Aida) nor Francesco Meli (Radamès) brought their characters truly to life and they both failed to completely disguise the vocal demands of their roles that they surmounted artfully. Meli brought elegance and lyricism to 'Celeste Aida' and much of the rest of his performance was in the same vein and culminated during his final lines of the farewell to life in the tomb where a cultured mezza voce confirmed what an accomplished singer he is. It was in this final scene ('O terra addio' duet) that Meli and Stoyanova were at their very best. However, Meli did not sound as if he attempted the diminuendo on the climactic high B flat of his opening aria as Verdi intended, though it was beautifully phrased nonetheless.
For any Aida 'Ritorna vincitor' is a challenge, not only vocally, but because it demands the soprano must really give us a sense of how conflicted she is. Aida loves Radamès, but is fiercely loyalty to her home, which she misses very much. In Stoyanova's first two lines, we sensed her torn nature, conviction was followed by exasperation at her situation. This veteran singer is still in full command of her voice and her high notes are totally secure and best of all there was her final 'Numi, pietà' when Stoyanova's voice floated quietly and prayer-like. It was a masterclass of how 'Ritorna vincitor' should be sung and Stoyanova continued to bring many of these same qualities to the rest of her singing.
As actors both were outclassed by Oksana Volkova (Amneris), Georg Zeppenfeld (Ramfis) and Quinn Kelsey (Amonasro). Indeed as this Aida went on it was Volkova who stole the show. Her mezzo-soprano voice has a touch of smokiness, and she sang throughout with a passionate intensity and ensured how by harnessing her musical and dramatic resources adroitly Volkova made every note and utterance count. Her Amneris was a vengeful and vindictive maneater and Volkova was magnificent during the Act IV Judgement Scene when she showed her now to be a tragic figure cursed by her own jealousy.
Quinn Kelsey with his brawny baritone was outstanding as an impassioned and authoritative as Amonasro, the captive Ethiopian king, to whom he brought unusual depth. Georg Zeppenfeld smoothly produced bass was luxury casting as the implacable, shaven-headed high priest Ramfis who Thalbach ensured we could not overlook by having him walk around on extravagant platform shoes and appearing overly tall. He was also dressed in black with wing-like arms and I wondered if he was supposed to be the Egyptian god Horus, often shown as a falcon. Andreas Bauer Kanabas was a sonorous King of Egypt who Thalbach showed as usually enfeebled. In the even smaller roles, Simeon Esper's firm tenor gave the Messenger a certain presence and as the Temple Singer, Ofeliya Pogosyan – who was in white and suspended above the stage – displayed a clear, high soprano voice.
Jim Pritchard