United Kingdom Dvořák, Walker, Schumann: Nicole Cabell (soprano), London Symphony Orchestra / Sir Simon Rattle (conductor). Barbican Hall, London, 10.3.2022. (CC)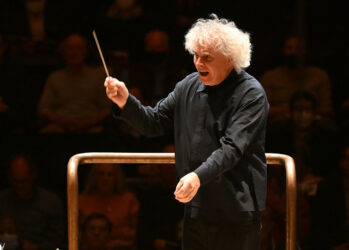 Dvořák – American Suite, Op.98b (1894/95)
George Walker – Lilacs (1996)
Schumann – Symphony No.2 in C, Op.61 (1845)
Sir Simon Rattle programming seems always to be spot-on, and so it was here: fascinating to have Dvořák's American Suite (orchestral arrangements of a suite for piano) followed by music by an American composer who is just coming to full public exposure: George Walker (1922-2018).
It was illuminating to hear the Dvořák with such light textures – those brought up on, say Antal Dorati might want to hear this (microphones were present, so one hopes for a release). The first movement expressive, the second a furioso Allegro (superb woodwind solos) full of life, the third – Moderato (alla polacca) – showcasing the London Symphony Orchestra's superb woodwind section (who seemed to be having a ball), followed by an Andante with the most delicious oboe solo (Juliana Koch) and perfectly paced by Rattle, and finally a furiant-like Allegro with lovely, gritty double-basses. A real tonic for troubled times.
American composer George Walker won the Pulitzer Prize for Music in 1996 with his piece Lilacs, settings of poetry by Walt Whitman. Walker, encouraged by Rosario Scalero (who had taught Samuel Barber) went to Paris to study with Nadia Boulanger. He is mainly known today for his Lyric for Strings (originally, the slow movement of his First String Quartet).
Lilacs sets four stanzas (1-3 and 13) of Whitman's 1965 poem When Lilacs Last in the Dooryard Bloom'd, an elegy for Abraham Lincoln. While Walker is not the only person to set this poem (others include Hindemith, Crumb and Sessions), Walker's setting is particularly notable for its realisation of grief. Those who know the Lyric for Strings might be surprised by the modernity of some of Walker's writing: intricate, responsive to the text and expert in scoring, Walker's piece grips from the start and never once lets go. The compelling nature of this performance was in no small part due to the excellence of Nicole Cabell, whose voice is soprano velvet. Her range, too, is notably wide, and there is no sense of strain (or of hardening of tone) at either upper or lower extremity. The dark second section ('O powerful western fallen star!') with its motoric repetitions, its angular gestures and its nightmarish ambience ('O the black murk that hides the star!') is especially notable for its disquieting demeanour. Cabell took Walker's lines to near-Expressionist regions. The softer palette of 'In the dooryard fronting an old farm-house' offered welcome respite (the end is just lovely) before the avian impressions of 'Sing on, sing on you gray-brown bird' launched the playful, angular, strong finale. Here one got a sense of Cabell's true power as a singer, every inch the LSO's equal.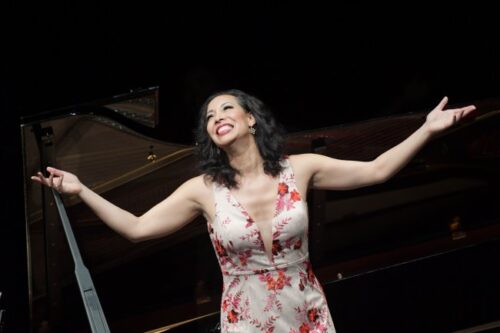 An encore was most welcome: Cabell sang 'Canción de cuna para dormir un negrito' from the Cinco Canciones negras of 1945 by Xavier Montsalvatge (1912-2002), a gently swaying lullaby.
Schumann's Second Symphony, like Walker's music, seems to be gaining traction with the public. Long the forgotten symphony of the four numbered symphonies of Schumann (albeit championed by no less than Arturo Toscanini), Rattle treated it (as he does in his Berlin recording) as if it is the highest masterwork. Some of us agree that it is: conducting from memory, Rattle presented a performance that explored the darker regions of the composer's psyche fearlessly, from the forebodings of the opening to the nervous tension of the first movement proper. The second movement (Scherzo) poses problems: try to make it sounds like Mendelssohn – as it seems on the surface to want to be – you lose its essence. Rattle realised that fully and presented a light movement that penetrated to the core of Schumann's world. It was in the long song of the Adagio espressivo, with its aching opening intervals, that Rattle triumphed. The opening has to be one of Schumann's most inspired moments, the oboe solo following arriving like a ray of light, engaging in a miraculous duet with bassoon. This was some of the finest Schumann playing I have heard, from any era – true understanding. No sense of rushing at all: the music had all the space in the world, like a self-enclosed tone-poem before the vigour – and rigour – of the finale (Allegro molto vivace). Rattle took risks here, allowing the music almost to find stasis at one point. A phenomenal performance.
Difficult to know whether to shower more praise on the first or second half of the concert. Both offered insights galore. It would be lovely to have the first half preserved on disc, though ….
Colin Clarke