United States Various, A Concert for Ukraine: Soloists, Chorus and Orchestra of the Metropolitan Opera / Yannick Nézet-Séguin (conductor). Broadcast from the Metropolitan Opera House on 14.3.2022 and available here through 21.3.2022. (JPr)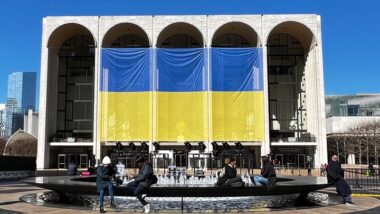 Mykhailo Verbytsky – National Anthem of Ukraine (Vladyslav Buialskyi, bass-baritone)
Valentin Silvestrov – 'Prayer for Ukraine'
Barber – Adagio for Strings
Verdi – 'Va, pensiero' (Nabucco)
R. Strauss – Four Last Songs (Lise Davidsen, soprano): 'Frühling' ('Spring'); 'September'; 'Beim Schlafengehen' ('When Falling Asleep'); 'Im Abendrot' ('At Sunset')
Beethoven – Finale from Symphony No.9, Op.125 (Elza van den Heever [soprano], Jamie Barton [mezzo-soprano], Piotr Beczała [tenor] and Ryan Speedo Green [bass-baritone])
Introduced by Met radio host, Deborah Lew Harder, we learnt that for this A Concert for Ukraine with 'Music of comfort, strength and hope' listeners were being joined live by the Ukrainian Public Broadcasting Company and all proceeds were going to support relief efforts in Ukraine. The façade of the Lincoln Center, we were told, was draped in an enormous blue and yellow Ukrainian flag, whilst hanging above the proscenium was another flag specially constructed by the Met and all the performers were wearing blue and yellow ribbons pinned to their concert attire. The Met's general manager Peter Gelb then made a statement: 'The members of the Metropolitan Opera Company stand in solidarity with the proud Ukrainian people, so strong and courageous [strong applause] in the face of such injustice, destruction and death. We pray for those who have died or suffered injuries; for those who stand tall fighting for their country; for those struggling to survive in spite of relentless attacks; and for those who have lost their homes; and for the three million refugees spreading across Europe separated from their loved ones and hoping to soon return to their beloved homelands.' Gelb continued, 'Music offers solace for humanity, but it also can be weaponised against oppression. Tonight we are all soldiers of music.'
If the occasion wasn't important enough it was wonderful to hear – I was listening not seeing of course – the 100-strong Met Chorus and Orchestra, conducted by their music director Yannick Nézet-Séguin, so united and with the travails of the shutdown of the too recent past seemingly something of a fading memory. Obviously, the concert was basically criticproof and it would be churlish to review it as a 'proper' one but since I have read comments elsewhere, I will just give a few reflections on what I heard. Bass-baritone Vladyslav Buialskyi has recently made his Met debut and his mother and grandmother were described by Harder as being 'under siege in Ukraine' and he sang the Ukraine national anthem that has quickly become the anthem of the anti-Russia (Putin?) coalition. This was music of 'strength', stirring and patriotic and given a defiant rendition by Buialskyi and the Met Chorus.
Conversely, Valentin Silvestrov's 'Prayer for Ukraine' – an a cappella chorus written in response to the 2014 uprising – brought some of the promised 'comfort' with music, wonderfully sung again, that was elegiac and contemplatively melancholic. It was Samuel Barber's Adagio for Strings which provided a certain consolation and solace, despite its overall mood of resignation, loss and mourning. We then heard the very familiar chorus 'Va, pensiero' from Verdi's Nabucco that after the opera's 1842 premiere we were told by Harder quickly became the 'unofficial protest anthem of the Italian people' and mirrored the plight of the Ukrainian refugees Gelb spoke about in that we hear how the Hebrews and slaves in Babylon are longing 'for their beautiful lost homeland'. It was given one of the most poignant musical performances of it that I can remember.
Richard Strauss's 1948 Vier letzte Lieder (Four Last Songs) finds the composer coming to terms with the fact that his life is ending and perhaps the focus of songs about the inevitability of death was unnecessarily downbeat in the circumstances in which they were sung. Harder reminded us how the texts from Hermann Hesse and Joseph von Eichendorff 'evoke a feeling of deep emotion and alternate transcendent peace'. I was not in the Metropolitan Opera House for Lise Davidsen's performance of the Four Last Songs so am reluctant to commit myself over what I heard but I am hoping she sounded better there than through my loudspeakers. Vocally she didn't sound entirely at her ease, with evidence of effort and shrillness. I felt Nézet-Séguin indulged Davidsen a little during 'September' but there was considerable radiance from his orchestra during these Four Last Songs and gorgeous, lingering violin solos from concertmaster David Chan. The sorrowful postlude to 'Im Abendrot' when the larks flutter once more was more affecting than much that preceded it.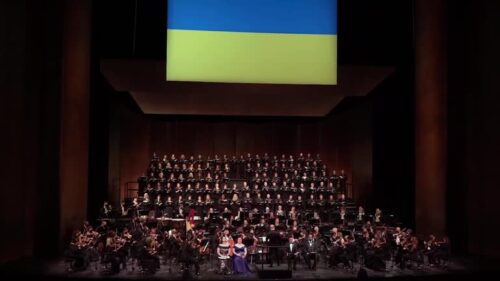 If the beginning of the Met's very worthy A Concert for Ukraine was predictable so was its conclusion with the life-affirming 'Ode to Joy', the choral finale of Beethoven's 1824 Ninth Symphony, the last major work the composer completed. Introducing it, Harder said Beethoven's 'continued belief in humanity is powerfully expressed in his music.' The text is mainly faithful to Friedrich Schiller with some of Beethoven's own words including that for the opening solo for baritone or bass, 'O Freunde, nicht diese Töne!' ('Oh friends, not these sounds!'). After the movement's dramatic, portentous opening this was resplendently sung by bass-baritone Ryan Speedo Green whose singing was significant for its musicality and attention to text. There was a quite good blend of voices and the soloists and chorus made a warm and genuinely thrilling sound. Maybe it was me, but I thought the usually reliable Piotr Beczała struggled with the tessitura of his tenor contributions. On the plus side was Yannick Nézet-Séguin's adoption of the hair-raising tempo Beethoven wanted. With 'Freude, schöner Götterfunken Tochter aus Elysium' ('Joy, beautiful spark of divinity, Daughter from Elysium', Nézet-Séguin's combined forces delivered a perfect, roof-raising, celebration of peace, joy and positivity for a better future for humankind.
Jim Pritchard