United Kingdom Berlioz, Hannah Kendall, Sibelius, Bartók, Ravel: London Symphony Orchestra / Sir Simon Rattle (conductor). Barbican Centre, London, 9.3.2022. (MBr)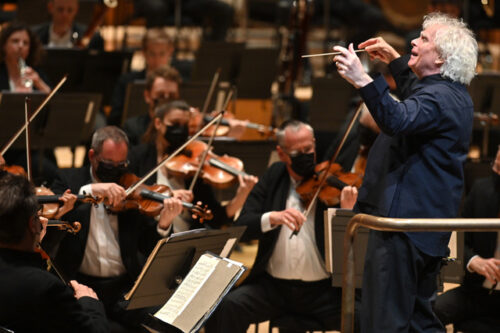 Berlioz – Le corsair, overture
Hannah Kendall – The Spark Catchers
Sibelius – Symphony No.7 in C major
Bartók – The Miraculous Mandarin – suite
Ravel – La valse
This London Symphony Orchestra and Simon Rattle concert was billed as one which celebrated some of his favourite works. A couple of them surprised me to even be on here at all but never mind what was important was the quality of what we heard. And I think this might have turned out two ways: a bit on the dull side because of a certain over familiarity with the works. Or quite the opposite and we got something rather inspirational. It worked out to be both, although mostly the latter.
Berlioz has never struck me as a Rattle strength and that proved true here. The overture to Le corsaire has at least some connection to Romanticism and as so frequently with this composer the inspiration of Byron, no matter how tenuous. Of course, it is really a bracing and exciting work which gets its life blood from the sea, particularly that of the pirate. The music belies the highly strung frame of mind that Berlioz seemed to be suffering from when he arrived in Nice – there is a buoyancy to this work, even if it doesn't – as one critic at the time suggested, before some of its revisions, – 'torment you like a bad dream'. It began well enough, with a wave of cascading opening strings, but that sudden shift to tranquiller currents was too sudden. The surging timpani fell short, but the return of the opening theme on strings this time carried more power – a rolling swell that had the brass riding on it in swashbuckling form. Berlioz at full throttle is often inexorable – perhaps the LSO felt more in control here than Rattle but it was a thrilling close.
Hannah Kendall's The Spark Catchers has a fascinating backstory to it. Where the Olympic Park now stands used to be a match factory and spark catchers were women who were employed to catch stray sparks from setting on fire the factory and its contents. Kendall's piece originates from a poem by the poet Lemn Sissay, who herself found inspiration from Louise Raw's Striking a Light: the Bryant and May Matchwomen and their place in History. Their 1888 strike was central to both the birth of the modern trade union movement and the Labour Party.
Kendall's writing is evocative and powerful – more so because it integrates Sissay's poem into its musical structure. And that is a tempest of inspiration on its own terms, in language that grips you through its force and potency. Part of the attraction to Kendall's music is in its dark, pitchblende writing – the tenebrous bass lines, the mass use of strings, the majestic but powerful timpani and how it all comes together into a brooding picture. It is a work that has a kinetic energy, a surging momentum that moves at its own speed. It is a piece that is ideally suited to the timbre of the LSO and they gave a superb performance of it. You could not fault how Rattle managed to get exactly the kind of tenebrous lines that the work demands, the pace and direction which it needed to travel to. Some contemporary works can flag a little; this one did not.
Sibelius's Symphony No.7 rounded out the first half and I am not sure I have ever heard a more magnificently played performance of it. I hesitate to say the actual symphony itself came off that way because Rattle made it sound so luminous and exquisite one thought one was listening to Wagner's Tristan und Isolde. There is, in fact, a quote from that opera in this work but I think Rattle went rather further than that because he stretched the music to such extraordinarily intense levels. None of this would have been remotely possible without the LSO strings who never blazed but smouldered. Music becomes dangerous when it becomes hypnotic – as it did here – because eventually the spell will be broken. And it was – completely – masked in the shocking power of the storm and final apocalypse as you were dragged full force into this orchestral tornado.
Even without the beauty of all that enigmatic Tristan, Rattle gave us a Sibelius Seventh that surged with the unmistakable force of nature but had a life of its own. If the strings flowed with ecstasy, then the brass growled. At the end it was difficult to say if one was exhausted by this Seventh or shattered by it.
The two works after the interval, Bartók's Miraculous Mandarin and Ravel's La valse could each stand on their own as closing showpieces. It was only when you realised that the Ravel required extra players that it needed to be the final work on the program.
Bartók often infuriates me because many of his works swing between being inspired and being dull – and even duller with a conductor who doesn't understand him. The Miraculous Mandarin is less prone to this, especially in the suite which uses roughly over half of the ballet's score. Rattle can be hit-and-miss in Bartók, too. With age comes wisdom, I suppose, because this was a very good performance although, once again, the LSO came to the rescue. Although its story is as lurid as Berg's Lulu, with elements of Wozzeck thrown in, Bartók's music comes from an entirely different (and far less intense) world. Rattle certainly thrust us into the work's chaotic opening scene although I think he didn't quite have it in him to tempt us with enough of the seductiveness we needed in the more lurid and seedier moments. The dance was a tad too straight and foursquare for me, but if that was lacking he got the orchestra to give us a suave interpretation of the Mandarin (a wonderfully shaped trombone). Best of all was a thrilling chase – as virtuoso as you would want to hear – with the LSO electrifying.
Whatever Ravel's La valse might stand for – the decay and destruction of the very waltz itself, or an allusion to the end of empire after the Great War – it is a meaningless concept when you get to hear a great performance of it. Its rhythms are notoriously complex, however, and have driven to despair many conductors (including Guido Cantelli) but Simon Rattle's understanding of them was peerless. A series of waltzes, Rattle brought such a distinct character to each. He guided the orchestra through each of their intricacies and it was nothing less than impressive (even more so since he conducted the work without a score). The brilliant danse macabre which winds up La valse was a twisted whirlwind of orchestral wizardry unleashed with unusually fluid speeds.
Not everything in this concert was perfect, but a great deal here often reached the inspired.
Marc Bridle