United Kingdom Six (Lyrics, Music and Book by Toby Marlow & Lucy Moss): Edinburgh Festival Theatre, 15.3.2022. (SRT)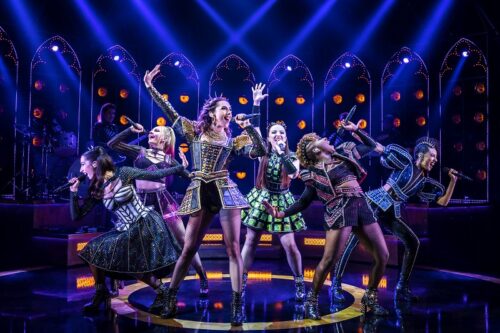 Production:
Directors – Lucy Moss & Jamie Armitage
Set designer – Emma Bailey
Costume designer – Gabriella Slade
Lighting designer – Tim Deiling
Choreographer – Carrie-Anne Ingrouille
Musical director – Jenny Deacon
Cast:
Catherine of Aragon – Chlöe Hart
Anne Boleyn – Jennifer Caldwell
Jane Seymour – Casey Al-Shaqsy
Anne of Cleves – Aiesha Naomi Pease
Katherine Howard – Jaina Brock-Patel
Catherine Parr – Alana M Robinson
Normally, if you are reading in these pages about a music drama featuring Tudor women, it will have been written before 1850 and sung in Italian. It is true that Six is a long way from the world of Anna Bolena or Roberto Devereux, but I couldn't resist going to see it, mostly because of its origins, because it is what every new show on the Edinburgh Fringe dreams of but which only a tiny few every achieve.
I must have seen thousands of shows in the Edinburgh International Festival while I have lived in the city and, for the Fringe in particular, its appeal is its glorious eclecticism, an anarchic free-for-all where anyone can put on a show and see what happens. That means that most new shows come and go with very little fanfare: only a few blaze brightly for any length of time at all, and nearly all are forgotten about by the start of September. Six started life like that, a new show from the Cambridge University Musical Theatre Society in the summer of 2017, and it didn't even win any awards that year; but the word spread that the show had something worth seeing, and it has since ballooned into a phenomenon with international tours, a clutch of award nominations, and even its own brand of merchandise.
And Six is great! Put simply, it is a reimagining of the story of the six wives of Henry VIII, but from the point of view of the women. The format is a pop concert, with each of the queens performing their own song in a competition over who got treated worst, but by the end they shake off the dominant person of the king and reclaim their reputations for themselves. It is all very girl-power, but also tremendous fun, and who can blame the ladies for reclaiming the history after five centuries of patriarchy?
Book, music and lyrics all come from Toby Marlow and Lucy Moss, and their trick is to tell the history in a way that is enormously fun, while finding high-energy songs that are modelled on stars of today's pop world. Catherine of Aragon, for example, has a touch of Beyoncé, while Anne Boleyn is quite mockney Lily Allen-ish. Emma Bailey's sets and, especially, Tim Deiling's lighting, set the whole show up like a genuine pop concert and the atmosphere in the audience is appropriately energetic as a consequence.
True, lots of the songs are quite samey. Aside from Jane Seymour's power ballad and Catherine Parr's lament, the tone is predominantly high energy pop, but the tunes are likeable and often very funny: my favourite was Hans Holbein's studio reimagined as a German techno band. The lyrics are a work of genius, though. If you know the history, you will pick up plenty of lovely touches where the cast make tongue-in-cheek references to the English Reformation, Thomas Cromwell and the Habsburg-Valois wars, all the while making jokes about selfies and profile pics.
The cast, at the beginning of their UK tour, throw their everything into it. I particularly liked Jennifer Caldwell's attention-seeking Anne Boleyn and Casey Al-Shaqsy's lovestruck Jane Seymour, but there isn't a weak link anywhere, and the singers are quite right to put the attention onto MD Jenny Deacon and the band, too, who do the most to inject the requisite energy.
As an extra bonus, it delivers its punch in eighty minutes without an interval, so you are home before you know it. Even if pop isn't your thing, Six is a great example of a plucky little show that has become a mass market phenomenon, and it is definitely worth checking out.
Touring to January 2023. For full details click here.
Simon Thompson