United Kingdom Gilbert and Sullivan, Sasha Regan's All-Male H.M.S. Pinafore: Preview performance. Wilton's Music Hall, London, 16.3.2022. (JB)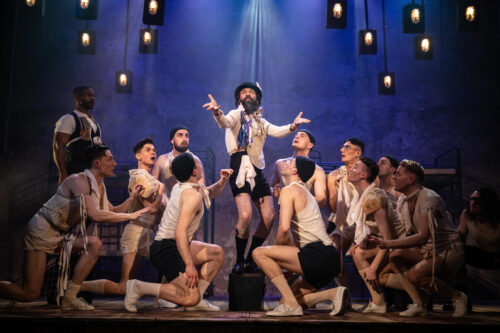 Creatives:
Director – Sasha Regan
Musical Director – Ashley Jacobs
Choreographer – Lizzi Gee
Design – Ryan Dawson Laight
Lighting – Ben Bull
Cast:
Matthew Facchino – Ralph Rackstraw
Sam Kipling – Josephine
Juan Jackson – Captain Corcoran
Jazz Evans – Dick Deadeye
Scott Armstrong – Miss Cripps 'Little Buttercup'
David McKechnie – Sir Joseph Porter, K.C.B.
Richard Russell Edwards – Cousin Hebe
Matthew McDonald – Boatswain
Ensemble: Tom Duern, Gareth Evans, Patrick Cook, Joshua Clayton, Oliver Ramsdale, Trevor Lin (Swing), Zac Adlam (Swing)
This is a joke. Except in joke-land it isn't. Such matters are commonplace in this sphere. In Gilbert and Sullivan it's become known as topsy-turvydom. H.M.S. Pinafore was their third and most popular collaboration. It remained so. Rethinking it in countless variants ensures its survival. This is by no means the first gay G&S. It is certainly among the most thought-provoking. Sasha Regan's H.M.S. Pinafore is the best entertainment I have seen and heard in many a long year. I recommend you join Regan's sailors on their WWII troop ship when they put on a show.
There is a tendency for Arthur Sullivan to be overwhelmed by W.S. Gilbert. Here that could be the other way on. Music is beautifully attended to by Musical Director Ashley Jacobs. Not Music Director, notice, which means something else. Here it is Maestro Jacobs soul which draws attention.
He directs the stage from the keyboard of a newish Yamaha grand which is also set up with jingling bells, double bass shadowing – did I hear also a clarinet echo? – among the orchestration effects. Called up as required. All with one clever pair of hands.
And once seen and heard, will likely live with you forever. Selectively, individually, variably and even recallable when presumed forgotten.
For Covid reasons, the leading male role of Ralph Rackstraw had to be taken over by understudy, Matthew Facchino, an admirable tenor voice which rang through Wilton's Hall to the rafters. He was matched in this eloquent delivery by his colleague, Juan Jackson as Captain Corcoran whose authoritative singing in his song to the moon at the opening of the second act had that peace of God which pass-eth understanding. A deserved round of applause for both.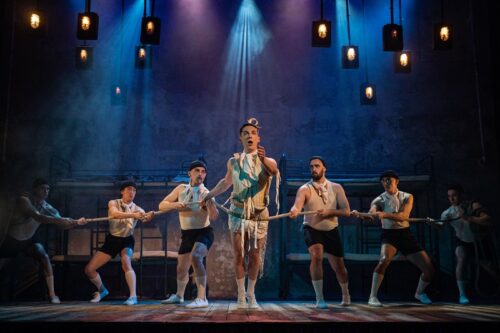 Facchino's Ralph Rackstraw was admirably partnered by Sam Kipling as the captain's daughter, Josephine, to whom at the beginning of Act II, Sullivan hands a stop-the-show aria to end all stop-the-show arias. The D'Oyly Carte company had always to call in another singer for this role. Grand Opera is another story to G&S. Those leaps from top to bottom and back of the vocal register are traps for all but the most experienced singers, since this is the moment which calls for Brünnhilde drama. Sam Kipling stabbed those notes with a terror you wouldn't want to meet on a dark night. I am totally against singers stabbing notes, but tonight you convinced me dear Sam, that it can indeed be sung in that way. However, were you to continue along that road, you might also find that you have a rather short-lived voice.
At this point may I ask for readers' indulgence while I take a leaf from Anna Russell's skit – How to Write Your Own Gilbert and Sullivan opera. Seated at the piano in New York Town Hall, she gave an illustrated analysis of Wagner's Ring. I'm not making this up you know she says. Nor was she. (Wieland Wagner loved her spoof of his grandfather's cycle!)
Here is my own Gilbert and Sullivan: On arrival at the theatre I (tenor with castrato coloratura) discovered that the box office (main character with xylophone, glockenspiel and other percussion amplified from offstage right) had no tickets for me. Box office personnel (trio of bass and two baritones) said they would make a search for my ticket(s). Fussy music with offstage percussion giving out raspberries. Interventions from xylophone, tuned wood blocks (high and low and very rhythmic) and tuned cymbals. Crescendo and accelerando leading to bass bellowed solo. The Eureka moment calls for a sudden silence. Pause. First baritone announces that my valid ticket which still isn't valid because it cannot be used until tomorrow morning, the day of the official press night, and I had come on the wrong night! Gasp of disbelief from all. Pause. I sing the first two lines of I'm Dreaming of a White Christmas and others begin to join in. Pause. I begin to sing Knees Up Mother Brown inviting the audience to join in. As they do, gold-coloured tickets begin showering from on high with champagne corks popping and a good time being had by all.   
(All of that is definitively made up but thank you to the box office for delving into their emails and then finding something for me!)
Keep smiling. Lizzi Gee does a sterling job as choreographer, keeping the boys and 'gals' on their toes with the witty rhythmic gymnastics, which hold the show together beautifully. A leitmotif which even Sullivan could not have thought of. Isn't this where we came in?
The boys fared much better than the 'girls' for costumes. What looks smart on the lads looks shabby on the lasses. It would make all the difference if the company could refer themselves to Ms Jennifer Garside, who made costumes for a show I saw recently at the Classical Vauxhall Festival, where every ballgown could have been proudly worn by any real-life Dowager Duchess.
This dullness of the women's dress means that the present show fizzles out. That is partly because of the Aristophanes plot which Gilbert chose and whose loose ends have to be too hastily gathered together. (The father of comedy also provided Oscar Wilde with the same plot in The Importance of Being Ernest.) Be assured that Wilde would never make a rhythmic mistake, not even if he tried.
You will remember Richard Russell Edwards, as Cousin Hebe, not least because he is the only boy who is blond and has a smile to put the Queen of Sheba to shame. He flashes this smile with great aplomb.
Scott Armstrong brings appropriate shy charm to Little Buttercup. He is well versed in the stage art of making less more. Some nicely timed mini silences while she takes audience response into account. The audience would hold their breath: exactly where Armstrong wanted them.
Gilbert had some fun creating the likeable villain, Dick Deadeye. Jazz Evans has arguably even more fun in playing him. In these days of political correctness there might well be objection to Deadeye's misfortune. Good! thinks Evans: just watch this! His wiry body can so dazzle you to convince you that it can end up in your pocket. Check your wallet though!!
David McKechnie as Sir Joseph Porter, K.C.B., a programme note tells me, was born in the winter, and enjoys cathedrals, Punch and Judy shows, and travelling on the railways. All these attributes come out in his memorable performance. Fun. But don't mess around with this character. He can bite. And sometimes does. A born comedian in the best Music Hall sense.
I was surprised to discover how much I had in common with Director, Sasha Regan. Like her I was an only child who grew up to entertain himself, inventing stories, speaking aloud men and women's parts. Among my favourites were an old colonel and old Duchess. Both made me laugh and both often solved my problems in their absurdities.
The main bar is open after the show and welcoming, with the players and creators you have been enjoying. Dare I say it? Many of them are very much the same offstage as on. Don't miss the opportunity to mingle. It could well form a chapter for your memoirs. All of this is about connecting in a world which can often be more about moving toward disconnecting. H.M.S. Pinafore runs until 9 April. (Evening performances at 7.30pm with matinees on Thursdays and Saturdays at 2.30pm with two hours running time including a 20-minute interval.) But book soon. Wilton's Music Hall is small and intimate – two of its best qualities – so seats are limited. And it's unlikely that you would have my misadventure with ticketing!
Jack Buckley