United Kingdom Gian Carlo Menotti's The Telephone and Judith Weir's Miss Fortune: Soloists, Chorus and Orchestra of Guildhall School of Music and Drama / Dominic Wheeler (conductor). Performance of 7.3.2022 streamed here from 25.3. until 1.4.2022. (JPr)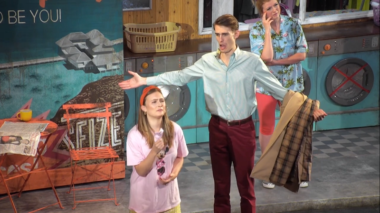 Production:
Director – Martin Lloyd-Evans
Designer – Anna Reid
Lighting designer – Anthony Doran
Casts:
The Telephone
Ellie Neate – Lucy England
Jack Holton – Ben Upthegrove
Miss Fortune
Cleo Lee McGowan – Tina
Kieron-Connor Valentine – Fate
Jacob Harrison – Lord Fortune
Laura Fleur – Lady Fortune
Innocent Masuku – Hassan
Amy Holyland – Donna
Jonathan Eyers – Simon
Chorus – Sweatshop workers and party guests
Some new territory for me with works by Gian Carlo Menotti and Janet Weir staged by the ever-enterprising opera department of the Guildhall School of Music and Drama. Menotti's The Telephone was something of an amuse-bouche for the main course of the evening Janet Weir's thought-provoking – particular with 2022's current economic woes – Miss Fortune. The GSMD's production values are out of this world, the musical ones were a little more variable though there was no doubting the acting abilities of their current roster of singers. Online you are given two opportunities to watch this double bill with two of their recent performances (4 and 7 March) available with different singers in a number of the roles. I suspect those who sang on the opening night (28 February) will have been reviewed enough so I watched the alternate cast. Though I am sure both did GSMD proud.
There is not a wasted note in Menotti's 1947 The Telephone for which he wrote both words and music. Its alternative title L'Amour à trois is all you really need to know and though ostensibly a two-hander, there are three involved in a developing relationship, a woman, a man and a telephone! I am not going to go down memory lane, but I have seen something similar to Anna Read's fabulous three-dimensional set and the contemporary costumes for the two operas elsewhere recently more than once. There are lampposts and two levels, an upper one here shows an advert for 'Bayview Developments' whose USP – as far as they are concerned – is that what they are planning is a fully private development with 'No Social Housing!' Below is the sales office where the power-dressed Lucy is busying herself with some potential clients, her boyfriend Ben arrives with a gift for her and an engagement ring in his pocket. He is soon off somewhere and she gets stuck on the phone and Ben gets increasingly exasperated – I am sure both sexes will recognise this scenario only too well? – as he is keen to ask if Lucy will marry him.
Just like the conversations you now regularly hear on a train – but wish you hadn't – there are the trivialities of how the dog or cat is and then Lucy gets embroiled in a quarrel during another call. This is followed by giving Ben a lengthy explanation of it because – unlike what you get with modern mobiles – Menotti does not give you both sides of the telephone conversations. In Martin Lloyd-Evans's lively staging Lucy is talking into her mobile while her landline will ring and – showing the age of this one-act opera – she will check the speaking clock for the exact time. Few, I think, in the GSMD's audience would remember that relic of a bygone age? For Ben eventually 'There's only one thing left' and he leaves Lucy bemoaning how she's alone with her telephone. He actually goes up above and calls her himself to ask, 'Will you marry me?' and after a romantic duet Lucy reminds Ben of the number for her office extension.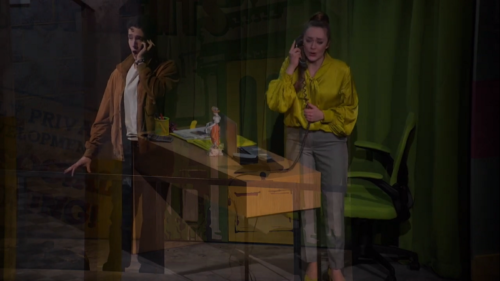 There was wonderful chemistry between the two leads of The Telephone; soprano Ellie Neate's Lucy had an impressive range of emotion in her voice including an easy 'laughing' coloratura, and baritone Jack Holton's Ben was warmly sung, and his pent-up frustration was totally believable. Based on what I heard later – albeit through loudspeakers – the diction of Neate and Holton was impeccable. Dominic Wheeler conducted an orchestra of 32 featuring pianist Katie Wong that gave a sparkling rendition of Menotti's lyrical – yet eclectic – score that is often reminding you of other composers in its brief span.
I have had no previous encounters with Judith Weir's operatic oeuvre, Miss Fortune is apparently her sixth opera and was commissioned by the Bregenz Festival (where it was premiered in 2011) and the Royal Opera House, Covent Garden, where it appeared in 2012 with little success it seems. We are in a dystopian present and Weir's own libretto should be ideal for the current world we live in that seems bleak, disconnected and full of fear, particularly during the last couple of years. Although the 'heroine' of the opera does not sell her soul to the devil there is something Faustian about Weir's retelling of a Sicilian folk tale; though it is not the Devil that is the antagonist here but Fate. Bad luck haunts Tina, the horoscope loving daughter of Lord and Lady Fortune who Fate decrees will lose all their money we initially see their gaudily dressed party guests revelling in. Striving now to make a living Tina encounters others trying to do the same among the dangerous streets of the real world she has been sheltered from. There are sweatshop workers who are paid a pittance, Hassan (the only character we really root for) offers kebabs from his trailer and shades of EastEnders here, Donna is a laundrette owner. The sweatshop and Hassan's trailer both get trashed showing how as Tina struggles on she is being closely shadowed – with her efforts undermined – by Fate. At one point Tina sings, 'I hear someone all the time, I hear a voice, it beckons, it threatens, it promises disaster.'
A lottery ticket worth a £100 million is added to the mix and would be a way out of Tina's present situation had not Fate decreed its last number was 38 when 39 was the winner. At the laundrette Tina meets Simon who bonds with her because of 'the most beautifully laundered shirt you've ever given me.' There is some suggestion that Weir introduced him as the handsome prince ready to whisk this modern take on Cinderella away, but he really is a bit of a wally if we are still allowed to call someone that. At last Tina takes control of what Fate has in store for her and if by magic the lottery ticket now has the winning number 39. However, the money will not be for her but given to all the others in need as Tina goes off with Simon and Fate looks for his next victim.
Lloyd-Evans's efficient staging all unfolds on much the same split-level set from The Telephone. On the upper level we now had the nouveau riche Lord and Lady Fortune at a champagne-fuelled party while down below – across Weir's seven scenes – will be drug-dealing hoodies, a certain amount of dereliction, the factory, Hassan's trailer and the laundrette.
There are some portentous opening chords and then what follows – like Menotti – is occasionally reminding you of other composers, with Benjamin Britten's Peter Grimes to the fore from an opening 'Black night is falling' chorus. (Following quickly on is Weir's version of Wagner's Spinning Chorus from The Flying Dutchman while the women here are shown sewing.) Miss Fortune is melodic in parts, underpinned by the strings, though with some overreliance on percussion and there was piano heard again (this time played by Digory Price). Musically it proves to be rather relentless, and Weir's high lying passages clearly tested some of the young singers and most of their words went missing as a result. This was not helped by the apparent loudness of much of Weir's orchestration played by 43 GSMD musicians.
Best of the singers by far were Innocent Masuku (Hassan) and Amy Holyland (Donna). Masuku revealed a languid and sweet tenor voice during his delightful aubade – some of the more accessible moments in the score – that is the character's song to the sun. In her leopard print tabard Holyland with a plush, flexible mezzo impressed as Donna, bring her character to true life unlike some of the more underwritten ones around her. Any countertenor would have difficulty making Fate's pronouncements sound as threatening as they surely should, and Kieron-Connor Valentine had difficulty getting his words to cut through Wheeler's valiant orchestra. That fate (sorry!) also befell Cleo Lee McGowan's Tina and I recognised too little of what she sang when her voice was under stress, though it's clear she is a soprano with potential. The tall Jonathan Eyers – a solid baritone – had great fun with the Hooray Henryish Simon and Jacob Harrison caught the eye and ear as the despicable Lord Fortune – with more than a hint of Lord Sugar about him – who gets the comeuppance he deserves.
Jim Pritchard