Music in Ukraine by Gregor Tassie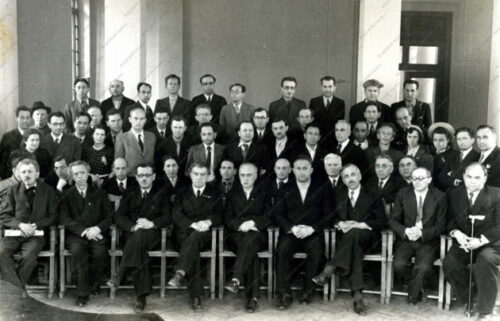 Ukrainian music has long been under the shadow of the Russian musical school, yet the country boasts a richly unique heritage which is interwoven with its neighbours – both in the West and the East. The search for an independent identity has extended for centuries because Ukraine (which translates as the Borderlands) was partitioned by the great empires of Austria-Hungary, Turkey, Poland, Russia and Germany and its land used as battle grounds of conquest. The Civil War was largely fought in Ukraine, while millions of Soviet troops were involved in freeing Ukraine from the Nazis in 1944.
The ancient Ukrainian lands were populated by Polish, Turkic, Slavic and Lithuanian tribes, while the city of Kyiv, founded in 482 AD, operated as a trading centre between Scandinavia and Constantinople for the Turkish tribes of Khazars, and after conquest by the Varangians, there was laid the foundation of the first Slavic state of Kievian Rus. Historically, the western territory was dominated by Ukrainian Christianity, while the areas in the east were predominantly Russian Orthodox. Through time, Kievan Rus fell under the yoke of the Mongol tribes, the Austro-Hungarian Empire, the Romanov Empire, and most lately, the Soviet Union.
The country has produced some of the greatest musical talents across all forms. Prokofiev and Richter, Oistrakh and Szymanowski, Mosolov and Gilels – the list is a long one – and there are those who have written astonishing works which have turned a fresh page in world music such as Roslavets and Schillinger. The film music of Dmitri (Dmytro) Tiomkin has been heard by millions of cinemagoers worldwide from High Noon to The Guns of Navarone. Ukraine gave European opera theatres some of its finest singers; most notably Salomea Kruzhelnitska who created the part of Puccini's Madama Butterfly, sharing the stage with Caruso, Chaliapin, and Tito Ruffo. Ukrainian-born singers Alexander Kipnis, Fyodor Stravinsky, Mark Reisen, Ira Malaniuk, Ivan Kozlovsky, Antonina Nezhdanova and Boris Gmyra have all gained fame worldwide.
The heritage of bright, carefree singing (called the 'white voice' with sounds produced from the chest) distinguished Ukrainian choirs from other Slavic voices; musicologists suggest this is from the Carpathian Mountains balanced against the horizontalness of eastern Ukraine. This melismatic quality differs from Western or Eastern song as it is generally based on singing in the minor modes while incorporating augmented second intervals. Three-part and four-part harmony dominates Ukrainian folk singing, and the Mixolydian and Dorian modes are more prevalent than the Ionian and Aeolian modes which make the colourful kolyadka songs so unique. These kolyadka folk influences are featured in many Russian works including the operas of Rimsky Korsakov and Tchaikovsky. Myaskovsky used a kolyadka in his Fifth Symphony after hearing a wedding song at Peremysl during the Great War. Other songs for harvests and religious holidays are the Hayivky, Vesianky, and the Shchedrivka which together with the Kolyadka are the most popular. Songs are often accompanied by folk instruments such as the kobzar, bandura or the liri. There was an ancient tradition of travelling musicians called kobzars, and bandurists who helped keep folk traditions alive throughout Ukraine.
The first known composers – Sebastian z Felsztyna (1480 or 1490-1543), Marcin Leopolita (1537-1584), Mykola Dyletsky (1630-1690), Tymofiy Bilohradsky (1710-1782) and Hryhoriy Skovoroda (1722-1794) were all born on Ukrainian territory and wrote motets, choral concertos, liturgies, or for the lute, and mostly worked in Europe. The Ukrainian school comes from the choral tradition based on the Imperial Singing School at Glukhov (near Sumy) where singers for the Imperial Chapel in St Petersburg were trained. The first composers to emerge from Glukhov were Maxim Berezovsky (1745-1777) who wrote the first symphony, opera and violin sonata by a Ukrainian composer while Dmytro Bortnyansky (1751-1825) also served as Capellmeister of the Imperial Chapel. Bortnyansky travelled to Italy where he wrote several operas – mostly lost – and returned to Russia to advance choral singing through cantatas and became known as the 'Russian Mozart'[sic]. The Kyiv-born Artem Vedel (1767-1808) wrote choral concertos in the Western style, which remain among the finest sacred pieces in the Orthodox church.
The Greek Orthodox priest Mykhailo Verbytsky (1813-1870) is renowned for writing the Ukrainian national anthem 'Ukraine has not perished' based on words by Pavlo Chubinsky. Verbytsky also composed symphonies, art songs, Galician folk song arrangements, and stage works including an operetta Podgoryanye, and a large number of sacred works. His music is melodically simple, and expressive which helped make his creativity popular.
Semen Gulak-Artemovsky (1813-1863) wrote the first opera based on Ukrainian folk music Zaporizhian Cossack beyond the Danube – an entertaining stage work full of rich melodies and songs in the idiom of Smetana's The Bartered Bride. If the richness of Ukrainian folk and church music developed rapidly in the nineteenth century, it was the composer and musicologist Mykola Lysenko's (1842-1912) founding of the Ukrainian school of music that attempted to combine western values of symphonic and opera writing with Ukrainian folk and church music. In St Petersburg, he studied with Rimsky Korsakov, and insisted on using only Ukrainian texts in his librettos – his most celebrated work, the opera Taras Bulba, from Gogol's classic story was highly regarded by Tchaikovsky. However Lysenko's refusal to translate the text into Russian led to it never being staged at the Bolshoi Theatre because Ukrainian was banned in Russia. Another popular opera based on Gogol is his Natalka Poltavka. Lysenko wrote many art songs based on European and Ukrainian writers including Heine, and Mickiewicz, and a large number of chamber works and piano pieces. Lysenko left a vast quantity of musicological research on Ukrainian ethnic music and customs.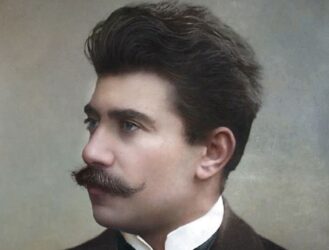 One of the most influential figures in Ukrainian music was Reinhold Glière (1875-1956) who was the teacher of Prokofiev, Myaskovsky, Mosolov, Khachaturian, Knipper, Lyatoshynsky, Revutsky, and Dukelsky. His ballets, operas, symphonies, and concertos for French horn, coloratura soprano, and for harp and orchestra works embrace a colourful harmonic structure, Interestingly, Lyatoshinsky completed his only Violin Concerto, while Koussevitzky completed his Concerto for Double Bass. Glière's music embraces late romanticism and orientalism using Slavic and eastern folk sources, his ballets Zaporizhian Cossacks and Taras Bulba are outstanding examples of his orchestration of Ukrainian songs linked with Ukrainian legend. A vitally important figure is the priest Mykola Leontovich (1877-1921). His greatest work is the Divine Liturgy of St John of Chrysostom, while his most popular piece is the choral concerto Shchedryk, or 'Carol of the Bells' which is often performed by the Ukrainian diaspora and can be heard in Hollywood movies – The Santa Clause, and Home Alone. This beautiful choral piece is in the repertoire of the Vienna Boys Choir, and Jessica Simpson, and Destiny's Child. Owing to his radical views, he was assassinated by a Soviet agent.
There is a Ukrainian school of conducting notably Jascha Horenstein and Igor Markevich, Anatole Fistoulari, Nikolay Malko, David Josephovich, Fyodor Glushenko, Vladimir Kozhukar, Volodymyr Sirenko, Viktoriya Zhadko, Roman Kofman, and more recently Oksana Lyniv, and Kirill Karabits. This school was extended for sixty years by Professor Allin Vlasenko (1938-2021) at the Tchaikovsky Conservatoire in Kyiv. There is a rich piano school dating to Vladimir Horowitz, Shura Cherkassky, Boris Slobodyanik, Rosina Levinne, Irina Zaritskaya, Valentina Lisitsa, and Anna Fedorova. David Oistrakh was taught by Pyotr Stolyarov at Odesa Conservatoire, and among Stolyarov's illustrious pupils are Elizabeta Gilels, Boris and Mikhail Goldstein, Natan Milstein, Samuil Furer, Mikhail Fichtengoltz and Boris Fischmann. Jacques Thibaud noted Stolyarsky's 'teaching is the pride of world art.' Oistrakh himself continued the school teaching outstanding violinists such as Gideon Kremer, Oleg Kagan, and Liana Isakadze.
Ukrainian folk music found its place most strikingly in Liszt's orchestral poem Mazeppa, and Tchaikovsky spent much of his time in Ukraine – his Second Symphony subtitled 'The Little Russian' refers to the old name of Ukraine, makes use of the Ukrainian folk song The Crane – and there is much more – a Ukrainian folk song appears recurrently in the Piano Concerto No.1, and his opera Mazeppa treasures Ukrainian national statehood, while another opera Vakula the Smith is based on Gogol's fantasy tale, with kolyadka songs used liberally. Rimsky Korsakov frequently introduced Ukrainian folk songs in his operas Christmas Eve where he uses kolyadka folk songs in his choruses and arias, as he did in May Night based on Gogol's Evenings on a Farm near Dikanka, (which was also used by Tchaikovsky and Lysenko)
Born in Sontsovka near Donetsk, Prokofiev (1891-1953) could be called Ukraine's greatest composer for he often returned to Ukrainian folk culture, most notably in his opera Semyon Kotko based on Ukraine soil with several kolyadka and other songs adorning his score. The orchestral suite 'On the Dnepr' is little known but uses local folk songs, as do several Ukrainian melodies in his symphonies and other pieces.
One composer whose work never gained recognition in his lifetime was Nikolay Roslavets (1881-1942). He came from a poor family near Chernigov and studied at the Moscow Conservatoire with Vasilenko, Ippolit-Ivanov and Ilyinsky, and was influenced by the symbolists and futurists following the 1905 revolution and sought his own music expression rejecting late romanticism in turning to modernism. He was close to Malevich, Mayakovsky, Gnedov, Lentulov and other poets and painters up to and after the 1917 revolution. He discovered the twelve-note system before Schoenberg and published his Violin Sonata in 1914 in his new system named the 'synthetic chord' and wrote a mass of art songs and agitprop songs, and chamber works with his innovatory system. In 1919, he returned to Ukraine and served as Commissar of Musical Education in the provisional Ukrainian capital Kharkiv for several years and wrote a large number of chamber music there. His two violin concertos, two chamber symphonies and a huge number of songs, choruses and chamber pieces were only performed decades later. He fell out of favour in the 1930s and spent several years in Tashkent where he composed works using local folk culture, returning to Moscow in 1935 and holding several important posts, but ill health took his life in 1943 remaining a forgotten figure in music. Only in the 1980s were his works performed and recorded again.
Joseph Schillinger (1895-1943) was born in Kharkiv to a family providing millinery for the Romanovs. From an early age he had an appetite for discovering new techniques in music and engineering. He studied piano with Vladimir Horowitz's uncle, and later, with Rimsky Korsakov in St Petersburg – like Roslavets – he rejected the teaching methodology and evolved his own system of music education which was supported later by the new Soviet Government. Encouraged by this backing, he returned to his hometown where he collaborated with Roslavets, and with futurist poets writing several esoteric song cycles. He was attracted to Jazz and set up the first jazz orchestra in Russia, and was increasingly drawn to new technology notably the Thereminovox invented by the engineer Lev Theremin which allowed anyone to conduct and create music from gesturing before a radio type apparatus. He moved to the US in 1929 where both he and Theremin continued to develop electronic music. The outcome of this was the Rhythmicon and the synthesiser which was used in science fiction movies in the US after the war, and later advanced by Peter Moog and widely used by pop groups in the 1960s and 70s. Schillinger taught a whole group of American composers including Gershwin, Cage, Cowell, Glenn Miller, Tommy Dorsey, and Charles Previn. Porgy and Bess would never have been written without Schillinger's teaching methods. After his arrival in the US, he almost gave up composing devoting his efforts at teaching methodology and new electronic music, while also working on graphic design and engineering. Schillinger's greatest legacy are his volumes of new music teaching which were used by the Juilliard and other music schools in the US and Canada.
It is conceivable to state that the twentieth-century Ukrainian school was opened by Borys Lyatoshynsky (1895-1968). He was one of the finest Soviet Ukrainian composers, explicitly recognised for his five symphonies – several of which were avant-garde; however his last three symphonies are outstanding works comparable with Myaskovsky and Shostakovich. He studied with Glière and wrote both his First String Quartet and Symphony while at Kyiv Conservatoire (His graduation piece is judged to have been the first Ukrainian symphony, after that by Berezovsky). He sought his own individuality after departing from influence by Scriabin and symbolism and found innovative expression through exploring harmony and technique. Following his graduation in 1922, he was invited to lecture at the Kyiv Conservatoire and established the Association of Contemporary Music (as a branch of the organization in Moscow and Petrograd) to explore neoclassicism, expressionism and constructivism. Lyatoshynsky wrote a huge number of chamber works and songs (notably a group of song cycles from Chinese poetry). His Second Piano Sonata is dedicated to Myaskovsky and encompasses modernism, while the piano cycle Reflections (1925) is deeply pessimistic and was accused of decadence in content and style. His opera The Golden Hoop based on Ukraine's struggle against the Mongols was popular although it did not last long in the repertoire. His second opera Shchors was based on the Civil War and dates from the 1930s.
Lyatoshynsky's Symphony No.2 (1935) was modernist and explored atonality while reflecting and sharing with Shostakovich a harshly difficult page in the country's history with explosive chords and great tragedy, unfortunately following attacks on 'formalism' in the mid-thirties, the 1937 premiere was postponed until 1941. His symphony was bitterly criticised by the musicians of the orchestra which led to a hostile review in the musical press, and denounced as 'formalist,' Lyatoshynsky responded that he was individualist in his language and searching for new forms of expression. His music was subsequently criticised at the infamous 1948 Composers' Congress condemning Soviet composers. By this time he was also teaching at the Moscow Conservatoire. During the war, he made immense efforts to save Ukrainian musical scores from the Nazis and established a good relationship in exile at Saratov where he enjoyed a positive relationship with the local orchestra and musicians.
Among his finest creations during the war was the Ukrainian Quintet – praised as 'beautiful' by his former teacher Glière (which was awarded the Stalin Prize in 1946). He received a second Stalin Prize in 1952 for his film music to the biopic Taras Shevchenko. The Third Symphony written in 1951 is one of his finest works, while it is overtly traditionalist, the symphony opened up philosophical ideas and displays the maturity of his creativity with electrifying orchestration combining elements of dissonance and pathos. So impressed was Mravinsky that he assisted the composer in his orchestration to allow its ideas to be better expressed and he premiered the Third Symphony at the Leningrad Philharmonic in 1955. It is among the masterpieces of twentieth century modern Ukrainian music. The Fourth Symphony (1963) was widely performed after gaining a premiere at the Moscow Conservatoire and is a reflection on his past life and experiences and opens up his own unique symphonic style of expansive harmonies and modern musical expression.
The Fifth Symphony (Slavonic) continued to explore modernism and dissonance while he is using folk song along with Slavic cultures of European countries. Lyatoshynsky was accepted again as a member of the Composers' Union, and travelled extensively in his final years, including a two-week visit to the United Kingdom (regrettably none of his music was performed), and received many honours from the state and cultural bodies. His sudden death in 1968 came as he began to receive genuine recognition as a major composer in the Soviet Union.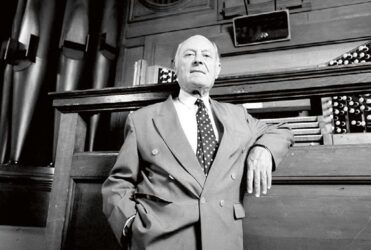 One other major symphonist of the second part of the twentieth century is Alemdar Karamanov (1934-2007). He was born in Crimea and studied at the Moscow Conservatoire with Khrennikov, Kabalevsky and Bogatyrev between 1953 and 1963. Shostakovich praised his student work, while Alfred Schnittke (a fellow student) was influenced by his symphonies and called him a genius. He belonged to the Moscow avant-garde including Denisov, Gubaydullina, Schnittke and Volkonsky. Khrennikov as General Secretary of the Composers' Union thought highly of him and ensured performances of his compositions in Moscow and elsewhere. In 1961, when still a student, his ballet 'Stronger than Love' was staged in Leningrad to great success. His student years were distinguished by a large number of highly original pieces including his First and Second Piano Concertos, several fine string quartets, and notably his Seventh Symphony 'The Lunar Sea', and his Fifth Symphony 'Lenin'. It was the symphonic genre that attracted Karamanov writing no less than ten symphonies as a student, and another fourteen in his long career. At this time, Karamanov was the leading composer of dodecaphonic music in the Soviet Union, a factor which created difficulties despite Khrennikov's patronage.
A feature unique to Karamanov's compositions are what is termed his 'Religious Symphonism.' Regardless of support from influential figures, Karamanov found it difficult to get his music performance owing to their religious content, and for many years earned his living solely from the cinema, theatre and radio, while writing for the 'bottom drawer'. Notably, he gained recognition for several outstanding movies Ordinary Fascism directed by Mikhail Romm (1965). One distinct acknowledgement by his peers was the naming of a new planet in his honour called – 4274 Karamanov in 1980.
Born with Turkish roots, he remained loyal to his origins throughout his life. Karamanov was christened in his hometown of Simferopol, and in 1965, he left Moscow to restart life there, 'I understood that in Moscow, there was nothing more for me to do, and that I can do more in the provinces, despite breaking my career.' In effect, he gave up a lifestyle with great prospects to live in modest surroundings while remaining true to his beliefs. The most significant works that emerged from the Crimea period were his Stabat Mater, Requiem, and Mass written between 1967 and 1973. Karamanov's symphonic cycles continued in 1975 with several large-scale symphonic works devoted to the cultural heritage of Crimea – most notably the Twenty-Fourth Symphony 'Adimuzhkay', and an oratorio 'Khersones' tracing the heritage there of Turkish and Greek peoples.
In 1994, he told a radio journalist, 'I am making sketches for a symphony on the Apocalypse, but I have hardly the means to achieve this, I am living in the most difficult conditions and have barely the means for existence.' Karamanov's Apocalypse embraced several large-scale symphonies from his Seventeenth to the Twenty-Third, with each having religious names. Finally, in the 1990s, recognition finally came to Karamanov when his music was discovered by leading musicians notably George Solti, Antonio de Almeida, Vladimir Ashkenazy, Vladimir Spivakov, and Vladimir Fedoseyev. Recordings now began to appear in the West, and he visited the United Kingdom and was honoured by an interview on BBC Radio 3. In 1994, after Ukrainian independence, with help from President Kravchuk, his Hymn for Crimea was performed to great acclaim. His final uncompleted opera Farewell to Chrysostom still awaits performance. In 2006, his long neglected symphonic cycle 'Committed' was premiered in Kyiv, and repeated on several evenings, and many of his other forgotten works were performed widely in Arts Festivals in Russia and Ukraine. Karamanov died at home in 2007 in Simferopol.
One of today's most brilliant Ukrainian composers – Valentyn Silvestrov (1937-) was largely self-taught and studied music privately while a student of construction engineering. From 1958 to 1964, he studied at Kyiv Conservatoire with Lyatoshinsky and Revutsky and became a member of the Kyiv avant-garde group which included Hrabovsky, Huba, and Blazhkov. His first pieces were Five Pieces for Piano, and his Quartetto Piccolo, and written in the twelve-tone system which led to disapproval from the Kyiv Composers Union. However, his friend Igor Blazhkov was now deputy conductor to Mravinsky, and he conducted Silvestrov's new piece Spectrums at the Leningrad Philharmonic Orchestra in 1965, as he did for Silvestrov's Symphony No.2 in 1968. The Symphony No.3 received the Koussevitzky Prize in 1967, and in 1970, his Hymn for six orchestral groups was heard at the Gaudeamus Festival in Utrecht – again successfully – yet he continued to suffer persecution in Kyiv, and was expelled from the Ukraine Composers Union. He expressed opposition to the Warsaw Pact invasion of Czechoslovakia and his works were banned in Ukraine. This happened when his music was maturing and rejecting the avant-garde of his youth – he embraced a post-modernist style which he calls 'metamusic,' or metaphorical music. Silvestrov speaks of this being 'a semantic overtone over music. In a sense, metamusic is a universal language and can be used by anyone as he or she wishes.' There are some affinities with the creativity of Mahler in both language and chosen forms; Silvestrov has written eight symphonies and several song cycles in large-scale and chamber forms. As the composer states – 'Poetry is the salvation of all that is most essential, namely, melody as a holistic and indispensable organism. […] I believe that music – even if it cannot be "sung" – is song nevertheless; it is neither philosophy nor a world view, it is a song of the world itself, as it were a musical testimony to existence.'
Silvestrov's music was regularly performed throughout Russia in the 1980s (despite being banned in his own Ukraine) with important premieres taking place in Moscow, Yekaterinburg, and Leningrad, while in the United States he found a dedicated performer in Virko Baley who gave premieres of his Symphony Exegi Momentum in Las Vegas, and in New York, conducting a concert honouring his 50th birthday. Now as word spread in the music world, major festivals throughout Europe promoted Silvestrov's music, notably Gideon Kremer's Lockenhaus Festival, the Almeida Festival in London, and the Davos Festival. Since 2001-2002, Silvestrov made a shift to writing in more intimate forms producing almost 260 pieces for piano, and since 2005, he has become increasingly drawn to writing for choral groups on liturgical texts. During the political changes in Kyiv in 2014, he attended many demonstrations on Maiden Square, which inspired his choral cycle of four Maidan Hymns, of which his newly revised Prayers for Ukraine is part. With the outbreak of the 2022 war with Russia, Silvestrov has sought sanctuary in Berlin and several of his works are being performed at concerts helping the campaign of support for Ukraine.
Born in Lviv (then in Poland), Myroslav Skoryk (1938-2020) was the grandnephew of the famous soprano Salomea Kruzhelnitska and his music education was interrupted because his older brother served in the Nazi Galicia division and the whole family was deported to Siberia between 1947 and 1955. Skoryk was able to complete his studies in 1960 at Lviv Conservatoire under Stanislav Lyudkevich, after which, at undergraduate level, he studied with Kabalevsky in Moscow, during which he came to the attention of Shostakovich. In Moscow, his Suite for Strings, his Violin Sonata, and Partita for Strings gained popularity, however, the most striking successes were his Six Jazz Pieces for Piano, and Blues for Piano. Skoryk's Violin Concerto No.1 (the first of ten violin concertos!) dates from 1969. He wrote three Piano Concertos, and a large number of choral works, and a late work – his opera Moses was composed in 2010. An important piece marking the famine of 1931/2 was his Symphonic Poem in Memory of Holodomor (1993) which movingly combines inordinate anger and emotion with boundless sadness. Skoryk lectured at Kyiv Conservatoire from 1966 until he was able to emigrate in 1988 to teach in the US and Australia, and only returned to Ukraine in 1999. His music is strongly influenced by folk song of the Carpathians, and by jazz, as well as pop music, notably by his Fantasy on Song Themes of the Beatles from 1993. Skoryk also worked widely as a conductor, pianist and performed his own music widely across Europe and America – for five years he was Art Director of the Ukraine National Opera. His music, in whatever genre or form, is compulsive and engaging, and often electric in its grip on the listener.
Born in the Kingdom of Hungary – Yevhen Stankovych (1942-) studied in Uzhgorod, Lviv, and Kyiv with Lyatoshynsky and Skoryk graduating in 1970 after which he became an editor and activist in musical life. His music was recognised in the former Soviet Union, both in performances and publication of his scores. He is a professor at the Tchaikovsky National Music Academy and during the 1980s was elected to the Ukrainian Supreme Soviet and led the Ukrainian Composers Union and chaired major arts festivals. He has written an opera on Ukrainian folk themes, When the Fern Blooms, for singers, folk choir and orchestra in 1978, which was banned, and only premiered in 2011. He has composed ballets on the ancient Ukrainian legend Princess Olha, and in 1991, based on the Varengian founders of Kyiv, The Vikings. He has written in a wide range of genres, and all of his twelve symphonies adopt programmatic themes with subtitles. Typical of which is the Symphony No.3 'Self Assertion' of 1976 for baritone, chorus and orchestra that was recognised by UNESCO. Several of his concertos are for violin, or clarinet or flute for orchestra. Of his choral works, his Babyn Yar (Kaddish Requiem) is based on texts by Dmytro Pavlychko for narrator, singers, mixed choir and orchestra. This dates from 1999 and is one of his most important works, as are the liturgical works, of which among the finest is Until Thee I Cry, O Lord from Psalm 28. The scope of his work is evident by the 100plus scores for television, cinema and his two operas – The Terrible Vengeance, and Rustici for two singers and chamber orchestra. In 2017, his revised version of his ballet based on Gogol's tale Evenings on a Farm near Dikanka was staged at the National Opera of Ukraine to great success. There is a huge number of pieces for chamber ensembles and concertos for viola, cello, piano all in the late romantic style embracing polyphony trends, and like Skoryk, his music is both accessible and innovative in orchestral language.
Born in the village of Yalta in the Donbass region, Ivan Karabyts (1945-2002) was an important figure both as a teacher and composer. His exciting promise was evident when, at the age of 24, he won the award for the finest young Ukrainian composer. He studied with Lyatoshynsky graduating in 1974 and quickly developed a career working in the Composers' Union and Ministry of Culture and teaching composition at Kyiv Conservatoire. Karabyts opened up on his influences – 'My music is characterised by a desire to synthesise different musical sources … Mahler, Lyatoshynsky, Shostakovich, Stravinsky influence my music… I consider my best works the Concerto for Choir and Orchestra Garden of Heavenly Songs, [my] Symphony Five Songs about Ukraine, [and also] Second Concerto for Orchestra, Third Concerto for Orchestra, and Symphony for Strings.' These were followed by his opera-oratorio Kiev Frescos (1983), Katerina's Prayer of 1992, and the Festive Cantata (1993). As he did for Skoryk, the conductor Virko Baley helped promote his music in the West and notably, during perestroika, Karabyts changed his style in mid-career becoming more philosophical and dealing with tragic issues away from the free application of dodecaphony of his early years. His mature period embraces neo-classicism, neo-baroque, neo-impressionism and jazz. Karabyts's music is accessible and has won a wide audience in performances in Europe, America and the Far East, which has been assisted by his son Kirill who is conductor of the Bournemouth Symphony Orchestra.
Of the younger generation of composers, Alla Zagaikevich (1966-) is perhaps the most innovative, she studied at the Kyiv Conservatoire with Ischenko, and between 1995 and 1996 at IRCAM in Paris collaborating with Ferneyhough, Murail, and Platz after which she adopted a style of 'transcendental philosophy'. She has written a huge number of works embracing diverse ensembles written to French, German and Latin texts, and has been performed widely both in Ukraine and the West by distinguished groups such as Ensemble Contemporian de Montreal, Court Circuit and Kammersymphoniker Wien.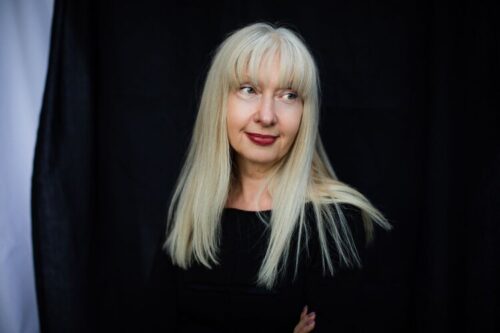 Another young woman composer is Viktoriya Poleva (1962-) who studied at Kyiv Conservatoire with Ivan Karabyts and Levko Kolodub, after which she lectured at the Conservatoire sharing this with study at the Music Information Technology Department until 2005, when she turned freelance. Initially, she worked in avant-garde styles with the ballet Gagaku, her Transformation – a diptych for soloists and symphony orchestra, and Epiphany for chamber orchestra. She has changed to writing in the sacred minimalist style with affinity to Taverner, Gorecki, Pärt, and Vasks. Poleva has produced a large catalogue of choral works in which she has used texts by Shevchenko, Dante Alighieri, Rilke, and Greek writers. Poleva has been honoured by being 'Composer-in Residence' at the Lockenhaus Festival, Dresdner Musikfest, Beethovenfest Bonn, the Berlin Philharmonie, Theatre de Chalet, Oriental Music Arts Centre in Shanghai, the Seoul Arts Centre and others.
The present group of Ukrainian composers follow a rich trend in folk culture while embracing the potentials of electronic music. In times that are better than those currently, their music has benefitted from several outstanding orchestras, most notably in Kharkiv, Odesa, Lviv, and in Kyiv, both the Ukraine National Radio Symphony and the State Symphony Orchestra led by Volodimir Sirenko have always been excellent; while there have been many outstanding choirs too, with the much-travelled Kyiv Chamber Choir led by Mykola Gobdych recognised as world-class and they regularly premiered new Ukrainian music. The Ukraine State Opera and Ballet Company has been a world-class company with a wealth of fine singers and dancers with a wealth of repertoire. The cities of Lviv, Odesa, Kharkiv, and Donetsk all possessed outstanding opera and ballet companies more than able to present the best of Ukrainian and world music.
To all the musicians and performers in the Ukraine – indeed to everyone there – let us hope that better times return soon.
Gregor Tassie