Austria Donizetti, Lucia di Lammermoor: Soloists, Chorus and Orchestra of Vienna State Opera / Evelino Pidò (conductor). Livestreamed (directed by Jasmina Eleta) from Vienna State Opera, 24.4.2022. (JPr)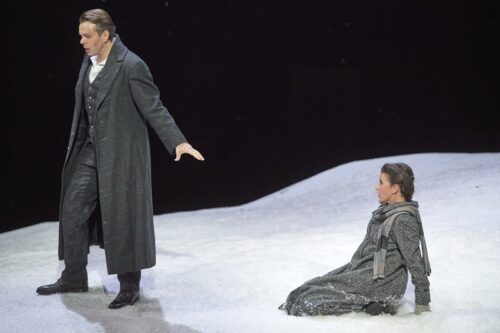 Production:
Direction and Costumes – Laurent Pelly
Sets – Chantal Thomas
Lighting – Duane Schuler
Cast:
Enrico (Lord Henry Ashton) – George Petean
Lucia – Lisette Oropesa
Edgardo (Sir Edgar Ravenswood) – Benjamin Bernheim
Arturo (Lord Arthur Bucklaw) – Josh Lovell
Raimondo – Roberto Tagliavini
Alisa – Patricia Nolz
Normanno – Hiroshi Amako
Laurent Pelly's co-production of Lucia di Lammermoor with Opera Philadelphia only had 5 performances in 2019 and overseen by revival director Alexander Edtbauer now gets a handful more. Donizetti's 1835 opera is one I have managed to almost totally avoid since a truly memorable 1985 evening at Covent Garden with Joan Sutherland and Carlo Bergonzi. Lucia is the ultimate tragic opera and it is significant because it was the beginning of Donizetti's partnership with librettist Salvadore Cammarano. It is loosely based on Sir Walter Scott's novel The Bride of Lammermoor and chimed with the great interest there was at the time in his colourful and romanticised depiction of Scotland.
Lucia is someone so emotionally fragile that the consequences of thwarted love and a forced marriage fatally undermines her mental health. She is at the centre of a feud between her own family, the Lammermoors, and that of the Ravenwoods. Unfortunately her brother Enrico discovers Lucia has fallen in love with sworn enemy Edgardo (of Ravenswood) and for political gain and to secure the family's fortunes he hastily arranges a marriage to an associate Arturo. However, although Edgardo has had to leave to fight in France he has exchanged rings with Lucia. Matters spiral out of control rapidly for Lucia when Enrico uses a forged letter to make her believe Edgardo has deserted her for another. Pressured by her chaplain Raimondo she very reluctantly signs the marriage contract (which she regards as her death warrant) just – and no surprise here! – as Edgardo returns. Lucia murders Arturo on their wedding night, goes mad and dies, and Edgardo kills himself longing to be united with Lucia in heaven.
It is a credit to the wonderful performance Lucia di Lammermoor received at Vienna State Opera that I now realise so late in life how Donizetti imbues his score with some of his most passionate, theatrically potent, and disturbing – yet oddly beautiful – music. The singers of the seven named roles were outstanding and were strongly backed by a chorus which also had some great moments. Allied to naturalistic acting – which may, or may not, be thanks to director Laurent Pelly's Personregie – and Jasmina Eleta's close-up camerawork for the livestream it helped make Chantal Thomas's impressionistic set designs less of a distraction than they might have been in the opera house. You will look in vain for Donizetti's fountain and graveyard referred to in the libretto and there is no tartan and other clothing familiar to viewers of TV's Outlander also originally set in eighteenth-century Scotland. Employing that programme's time travelling premise Pelly updates what we see by about hundred years which is problematical because of a number of aspects of the plot and the words we hear link it to earlier times.
During the brief prelude we see Enrico downstage and as snow falls there is Lucia in her white wedding dress atop a snowy bank, as well as a small frozen rivulet and the shadowy image of Ravenswood at the back at one point. When Normanno and the rest of Enrico's men enter we realise that costumes for both men and women – that wedding dress notwithstanding – will be mostly in various shades of grey-black. For the concluding Act I duet for Lucia and Edgardo ('Qui di sposa eterna… Ah! Verranno a te sull'aure') there is a red glow as the sun is rising. Intriguingly at this point Pelly has Lucia imagining their future happiness together.
For Act II there are transparent walls, a small mountain and a cloudy sky behind, with some snow stage right and a shallow rocky outcrop on the other side. Enrico cajoles Lucia into an arranged marriage of convenience in a scene that foreshadowed for me that between Violetta and Germont père in Verdi's later La traviata. Snow is falling here too. Notably later in this act Pelly shows us Lucia's handmaid, Alisa, as a female priest. The famous sextet which concludes Act III sees the singers facing steadfastly forward, though perhaps there is little else they could do.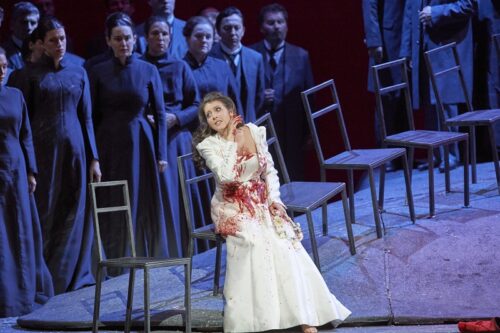 For the final act the ruins at the Wolf's Crag was just the rocky outcrop with a doorway and the hall in Lammermoor Castle had a huge red wall with arrow slits with 11 chairs curving from back to front alongside a red carpet. The chorus either circle robotically or are static and I anticipated correctly that with everyone looking through the entrance at the back for Lucia to enter after having murdered her bridegroom, she would walk in covered in blood at the front. Those chairs were clearly there for walking on and she does, briefly. The chairs and carpet had gone for the final scene where Edgardo says he is at the 'tombs of my ancestors' but it is just bare rock again.
Evelino Pidò and the wonderful Vienna State Opera Orchestra brought out all the changing emotions of the music and it was lovingly phrased, with thoughtful tempi, springy rhythms and lithe textures. The highlight was the glass harmonica – virtuosically played by Sascha Reckert – that accompanied Lucia's madness in Act III and its eerie sounds will haunt your dreams for some while.
Obviously, I was listening to this Lucia through loudspeakers but the standing ovation all concerned received at the end suggests what I heard was a true representation of everything that was experienced by those in the audience. For me, there was not a weak link in the cast: Hiroshi Amako sang firmly as Normanno; Patricia Nolz made Alisa's exchanges with Lucia more compelling than I suspect they sometimes may seem; Josh Lovell did the best he could in the brief and underwritten role of Arturo; sepulchral bass Roberto Tagliavini brought considerable gravitas to Raimondo and was sympathetic yet stern; and George Petean's baritone was ideal for the despicable, cold and merciless Enrico's virtual nonstop anger.
Benjamin Bernheim proved a remarkable singing actor as Edgardo and he confirmed how the final tomb scene need not be an anticlimax after Lucia's mental unravelling. Bernheim had been a suitably ardent young suitor and then believably sought redress for lost love. In the end the tragedy is as much Edgardo's as Lucia's and he deserved the last word during his extended two-part impassioned and heart-wrenching aria ('Tombe, degli avi miei'). Bernheim's tenor voice is a remarkable instrument and a throwback to a golden age of vocalism.
Lisette Oropesa's technique is astonishing and she was in absolute command of her beautiful silvery voice and the title role's demanding coloratura. All her high E flats were hit dead centre and with impressive ease and the mechanics of singing was never on show and Oropesa brought a real sense of character to her dramatically realistic and triumphant portrayal of Lucia. There was a perfect arc from Lucia's girlish glee and making of a snow angel in Act I to a nuanced, gripping, blood-spattered concluding 'Mad Scene' when Oropesa elicited tremendous sympathy for her plight. In short, Oropesa's Lucia will not easily be surpassed.
Jim Pritchard