Germany Mozart, Haydn, and Gregorian Chant: Nikola Hillebrand (soprano), Marie Henriette Reinhold (contralto), Sebastian Kohlhepp (tenor), Mikhail Timoshenko (bass), Ulrich Tukur (reciter), Dresden Chamber Choir (chorus director: Tobias Mäthger), Dresden Kreuzchor (chorus director: Karl Pohlandt), Sächsische Staatskapelle Dresden / Manfred Honeck (conductor). Semperoper, Dresden, 11.4.2022 (MB)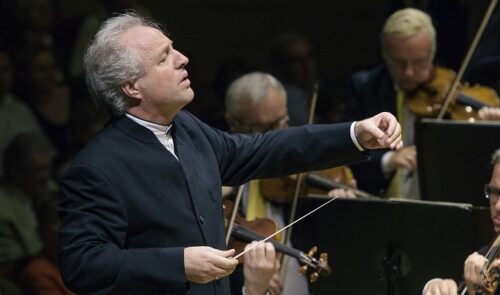 Mozart – Overture: La clemenza di Tito, KV 621; Masonic Funeral Music, KV 477/479a; Vesperae solennes de Confessore, KV 339: 'Laudate Dominum'; Requiem in D minor, KV 626; Ave verum corpus, KV 618, interspersed with Gregorian chant and readings
Haydn – Symphony No.93 in D major
Whilst much of the Staatskapelle Dresden is in Salzburg for the Easter Festival, those players staying at home are offering a good deal of Mozart: complementing, for those able and willing to take the two-hour rail journey, the current Mozart festivities in Berlin. (Salzburg, ironically, is giving Wagner, Bruckner, and Shostakovich.) Manfred Honeck and the Dresden orchestra here paired Mozart with Haydn, culminating in an imaginative presentation of the Requiem — part of it, anyway — interspersed with plainsong and readings.
It was difficult not to think of Sir Colin Davis during the Overture to La clemenza di Tito — or indeed elsewhere, given his long association with the Dresden orchestra. Odious though comparisons may be, this was a sound he would have recognised, I think, albeit in a more excitable and, to an extent, more rhetorical reading. The Staatskapelle sounded fresh and transparent, boasting fine string agility and sheen. Habsburg counterpoint told as it should. It was a welcome curtain-raiser that augured well.
Honeck's view of Haydn was more severe, worlds away from the 'genial' label that characterised the composer, arguably too much, for much of the nineteenth and twentieth centuries. Shocks and surprises registered forcefully, suggesting consciously or otherwise an attempt to have one feel something akin to what Haydn's first, unsuspecting audiences might have done. Indeed, the snarling first chords had one wonder, even when one knew, whatever was coming next. A rigorous introduction followed, the exposition only a little more smiling. One could only marvel at Haydn's concision, the repeat upon us in no time at all. Honeck showed a keen ear for detail and not a little theatricality in the preparation and instantiation of surprises. Whether one needs the fortissimo bassoon 'intervention' in the second movement to be quite so heavily underlined is, I suppose, a matter for debate, but it worked as a climax as well as local colour. Prior sternness had summoned the future spirit of the late Masses; I could not help but think the joke was played less straight than humourless. More importantly, an array of invention was on show throughout Haydn's variations.
Idiomatic swing notwithstanding, the Minuet was similarly severe, its Trio's heightened contrasts offering nothing in the way of relaxation. This was fiercer Haydn than I could readily recall, more Napoleonic than Viennese. And indeed, in the finale, it was the Beethoven of the Fourth Symphony that came to mind, in a reading replete with contrast and meaning conveyed through articulation. (It is surely no coincidence that Honeck is a violinist.) Here, though, severity was not unrelieved, Rafael Sousa's delightfully 'sung' oboe solo a case in point. Returning to the idea of imaginative recreation of a first hearing for that London audience — and the slightly smaller Dresden orchestra aside — this would have been quite the calling card.
And so, to the second part of the evening's proceedings. Tubular bells heralded offstage members of the Kreuzchor, bidding us commence our observance: 'Requiem aeternam…'. Throughout the plainsong, and despite not even being onstage, these young singers' words were perfectly clear, pitches and phrasing perfectly judged. This and three further invocations, 'Domine exaudi orationem meam', 'In quacumque de inocavero te', 'and 'Christus factus est', joined readings from one of Mozart's letters to his father (4 April 1787), the composer at his most Catholic in recognising the comfort of death as the destination of all life; from two poems by Nelly Sachs, 'Wer weiß, wo die Sterne stehn', 'Wenn im Vorsommer'; and from two passages in the Revelation of St John the Divine. Animated, involved, and involving readings by Ulrich Tukur, culminating in Scriptural death and resurrection, contributed greatly to the fuller dramatic and intellectual conception. Like musical themes, certain words, 'Tod' unsurprisingly among them, echoed, connected, even developed.
The Masonic Funeral Music came first among the musical pieces, between Mozart's letter and the second instance of Gregorian Chant. One of the crucial things that letter tells us — and which many ignore — is that Mozart saw no contradiction between Freemasonry and his Catholic faith, quite the contrary. Once past an immediate puzzling harshness — I am not quite sure what happened, nor whether it was deliberate — wind chords were beautifully voiced. Strings brought tragedy and some degree of consolation. Honeck's reading proved well-paced and articulated, with a strong sense of liturgical intonation; no one could have missed the cantus firmus here. The 'Laudate dominum' from the KV 339 Vespers flowed beautifully, soprano Nikola Hillebrand as warm and stylish as the Dresden strings, the Dresden Chamber Choir (Dresdner Kammerchor) similarly clear and warm, holding out what seemed to be real hope of consolation. Honeck shaped the movement well, without rendering it unduly moulded.
The Requiem 'Introitus' followed Sachs's poems, seemingly rising out of what had preceded it. Again beautifully voiced and paced, it offered choral singing of equal clarity and impact (characteristic throughout of these thirty-six singers). Hillebrand returned almost as if a character, transfigured by what had passed: an angel, perhaps. Honeck moulded the performance dynamically, again without it becoming mannered. Rhetorical shifts in tempo made sense, as did the swiftness and momentum of a 'Kyrie' that yet remained unhurried. This meant something, something important. When, following the first of the Revelation readings, the 'Dies irae' burst forth, it terrified, souls trembling in torment and embodying that torment. Clean, rich performances from bass Mikhail Timoshenko and trombonist Nicolas Naudot opened the 'Tuba mirum', were answered in vividly human fashion by tenor Sebastian Kohlhepp, voicing both fear and consolation, and the splendidly contralto-ish mezzo Marie Henriette Reinhold, as well ultimately as our returning angel Hillebrand. They made a fine quartet too, in excellent balance with the orchestra (and choir).
The 'Rex tremendae' bore down with all the weight of the Counter Reformation itself in mourning. One could almost hear the veils of mourning, mediated or rather amplified by the old 'Spanish' Habsburg court dress. Mozart transformed it with searing modernity, and yet also preserved it: tradition aufgehoben. Did Honeck slow too much for the cries of 'Salva me, fons pietatis'? Perhaps for some, even for me in the abstract, but he clearly had his reasons, yielding far more often in Mozart than Haydn. The 'Recordare' made for a fine contrast, orchestra and soloists wonderfully transparent, movement forward ignited by counterpoint. Cellos led telling, accompagnato-like rhetorical thrusts. It was all there in the words, or at least could well be discerned to be. In the 'Confutatis', operatic Furies became real, which for Mozart is to say Christian. And yet, they were tamed, enabling the noble 'Lacrimosa' to conclude its section.
Chant, the Kreuzchor as excellent as ever, and a final passage from Revelation, telling us of the heavenly Jerusalem, the Lord making all things new, prepared the way for a lithe, urgent 'Offertorium'. Some aspects of the orchestration I did not recognise; I assume this to have been a matter of the edition used, but perhaps I was just hearing the music differently. The 'Hostias', sweetly, even devoutly, imploring, gained meaning from its liturgical context. Here, one felt, was the point at which this prayer, shunned by Protestants, could become possible. At any rate, singing was beautifully sustained, quite different from what had gone before. Both 'Quam olim Abrahae' sections were well directed and meaningfully shaded, for this was outstanding choral singing as well as orchestral playing. And then, there came a short pause, followed by a repeat of the 'Lacrimosa', only to stop at the end of the eighth bar, where Mozart's hand falls away. Had I looked properly at the programme, I should have known this was coming, but I am rather pleased I did not, shock to expectations thereby fully registering. Instead of the rest of the Requiem, however understood, we moved to the heavenly funeral motet, 'Ave verum corpus', sweet in consolation and truthful.
Bells tolled briefly again. And then, magical silence, only broken some time later by an idiotic 'Bravo!' (Can anyone seriously think that an appropriate response to a setting of a Requiem Mass, save, perhaps Verdi's?) With this Requiem, though, there will never be peace. It was interesting to hear it done like this, all the more so given my lack of preparation. Yet, as when I have heard similar performances, I ultimately felt it a pity not to hear what 'should' have followed. Do we really think Mozartians such as Karl Böhm or Sir Colin had no idea what they were doing? Not that Honeck was making any such claim, of course; he was simply presenting his own, thoughtful, in many ways brilliantly conceived version for the evening. Different occasions present different choices, none of which ever quite adds up: heartbreaking, given the perfection of Mozart's music. Requiem, but no peace: what could speak better to our current situation?
Mark Berry