United States Various, I See Light: Megan Moore (mezzo-soprano), Francesco Barfoed (piano). Young Concert Artists, Merkin Hall, New York, 20.4.2022. (RP)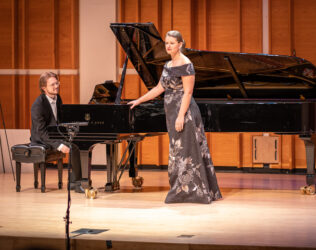 Undine Smith Moore – 'Love let the wind cry'; 'I want to die while you love me'; 'I am in doubt'
Cécile Chaminade – 'Malgré nous'; 'Chanson Triste'; 'Sombrero'
Tariq Al-Sabir – 'I love giving hugs'; 'Always I am wanting you'; 'Sixth Extinction'
Emily Cooley – 'beautiful small things'
Travis Reynolds – 'My neatest friend Z'
Joel David Balzun – 'Lucky'
Fanny Mendelssohn – 'Ach, um deine feuchten Schwingen'
Robert Schumann – 'Lied der Suleika'
Schubert – 'Was bedeutet die Bewegung?'
Rued Langgaard – 'Alle de voksende Skygger'; 'Jeg beder ej om Gludets Glød'; 'Foraarssang'
Tage Nielsen – 'Mattinale'; 'Kinderszene' (from Tre karakterstykker og en epilog)
Handel – 'La Lucrezia'
When the ushers are singing a performer's praises at intermission, you know that you are experiencing something special, and mezzo-soprano Megan Moore's New York debut recital was certainly that. It was not a lone effort, however, and the exceptionally talented pianist Francesco Barfoed was her equal partner in making this recital so compelling and musically rewarding.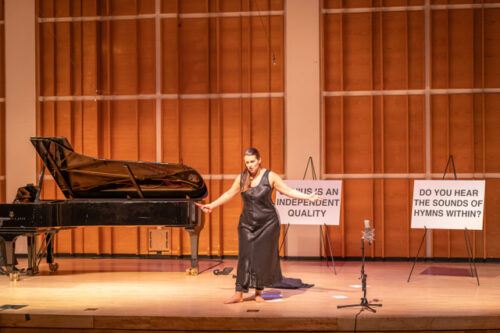 Moore and Barfoed took the traditional song recital format and, with just a few tweaks, transformed it into a highly personalized encapsulation of themselves not only as performers but also as human beings. Instead of program notes, they took turns introducing the works and providing insights into why they chose them. A key phrase that captured the essence of the message was then displayed on an easel. This might have come off as hokey or even intrusive, but with Moore and Barfoed it was earnest and authentic.
There was a woke element to the program that celebrated musicians and writers often overshadowed due to gender, race or changing musical tastes. There were songs by three women composers: Fanny Mendelssohn, whose works were initially published under the name of her brother; the once celebrated Late Romantic French composer Cécile Chaminade, whose descent into obscurity began during her lifetime for a myriad of reasons; and Undine Smith Moore, a mid-twentieth-century African American composer.
The poet Marianne von Willemer, an Austrian actress and dancer best known for her friendship with Johann Wolfgang von Goethe, had precedence in this recital over the composers who set her words to music. Goethe took credit for some of her poems, changing words to suit his tastes. Moore performed Von Willemer's poems as she wrote them in songs by Franz Schubert, Robert Schumann and Fanny Mendelssohn.
In this broad range of songs, Moore and Barfoed were classic proponents of the art of the song recital, drawing the audience into the miniature worlds that they created. In addition to her warm sound and impeccable musicianship, Moore also has keen dramatic instincts and a singular ability to capture the closing emotion of a song with a facial expression or pose that compels the listener to experience it too. Applause breaks the mood only when she invites it.
The recital opened with three songs by Undine Smith Moore, who could bottle love in a song as few composers can. Megan Moore lavished rich tone and warmth on 'Love let the wind cry' and 'I am in doubt', but was more pensive in one of the most languorously beautiful songs ever penned, 'I want to die while you love me'.
The singer's love of language and immaculate diction made the French and German songs come alive. There was joy as well as humor in Moore and Barfoed's light and sparkling performance of Chaminade's 'Malgré nous'. 'Sombrero', by the same composer, afforded Moore an opportunity to show off her free and easy upper range, and permitted her to have fun too. Of the German songs, Schubert's 'Was bedeutet die Bewegung?' was particularly notable for the urgency and intensity with which singer and pianist imbued it.
The most heartfelt performances were of works that were closest to the performers' hearts. Moore co-founded LYNX in 2015 to link people through newly commissioned songs in inclusive concerts and educational programming. The Amplify Series, which commenced two years later, combines art and advocacy by commissioning composers to set to music the poetry of young people with non-verbal autism.
The poetry expresses the simplest joys, ranging from giving hugs and having a best friend to the raw emotion of the inability to speak. The words of Ryan Harris that provided the inspiration for the project – 'I want to see the world not by the whole but by the all too beautiful small things' – set to music by Emily Cooley, epitomized the exquisite musical gems that Moore and Barfoed performed in this set of songs. Just as Undine Smith Moore could distill love to its essence, these young composers work the same alchemy with truth.
Barfoed is an advocate of cultural exchange between Denmark and the United States. In programming songs by the early-twentieth-century Danish composer Rued Langgaard, Moore and Barfoed championed the music of another outsider whose style was at odds with the prevailing musical tastes of the times. A prolific composer, Langgaard was influenced by the music of Wagner and Richard Strauss, whose Late Romantic style ran counter to the more complex, idiosyncratic, modernist music of Carl Nielsen, generally acclaimed as one of the great composers of the last century.
Langgaard's songs afforded Moore the opportunity to sing passionate, sweeping phrases in 'Jeg beder ej om Gludets Glød', in which she described an ideal lover; and Barfoed the chance to play a joyous paean to spring in the postlude of 'Foraarssang'. He returned alone to perform two short works by another Danish composer, Tage Nielsen (no relation to Carl Nielsen), who had studied with Langgaard and in turn taught one of Barfoed's teachers.
The two pieces, 'Mattinale' and 'Kinderszene', are from Tage Nielsen's Tre karakterstykker og en epilog. Composed between 1972-74, it is one of the most frequently performed Danish piano works. Barfoed captivated the audience with the expression of his playing and technique. In spirit and style, these two works were the perfect complements to the songs from the Amplify Series.
The final work on the program was a Handel cantata, 'La Lucrezia'. To a libretto by Cardinal Benedetto Pamphili, Handel depicted in recitatives and arias Lucrezia's inner turmoil after her brutal rape by Sextus Tarquinius, the son of the king of Rome, goes unpunished. When Lucrezia's cries for justice go unheeded, the distraught woman commits suicide.
Moore sang the roughly twenty-minute collection of recitatives and arias in a semi-staged performance, which was directed by Mary Birnbaum. At the outset, Moore set a clock ticking, which counted down the seconds until she stabbed herself with a red paper dagger. The staging drove home the point that Lucrezia's plight is an all-too-familiar contemporary tale, and undoubtedly made the work more accessible to some in the audience, but Moore's singing would have accomplished that on its own.
Rick Perdian