United States Haydn, Mozart: Kati Debretzeni (violin), Fanny Paccoud (viola), English Baroque Soloists / Sir John Eliot Gardiner (conductor). The Yanes & Soraya Nazarian Center for The Performing Arts, Northridge, California, 13.4.2022. (DD)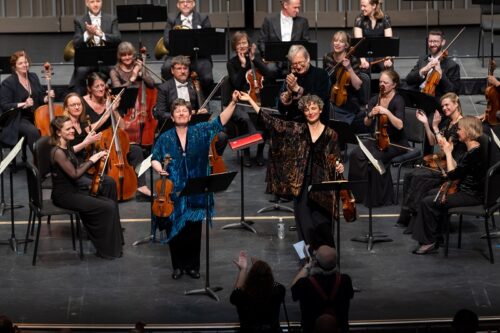 Haydn – Symphony No.103 in E-Flat major, 'Drumroll'
Mozart – Sinfonia Concertante in E-flat major, K.364; Symphony No.39 in E-flat major, K.543
It has been more than three years since I last spent an evening in The Soraya, California State University, Northridge's beautiful auditorium. It is an extraordinary jewel of a performance space, and where Sir John Eliot Gardiner and his wonderful orchestra, the English Baroque Soloists, played a more than memorable performance of three works from the Classical era. It should be no surprise that pieces by two of the best-known composers of the time, Franz Josef Haydn, and Wolfgang Amadeus Mozart, would be chosen for the concert.
Haydn's Symphony No.103, one of the twelve that comprise his London symphonies, opened the program with a Classical bang: a timpani drumroll, masterfully performed by Robert Kendell. This introductory passage, slow, stately and somewhat mournful, leans from minor to major keys, and lands on a low G, a tone common to both E-major and C-minor. Haydn immediately leads us to understand that this will be a cheerful and playful symphony, and we are assured of it as the orchestra slides into a buoyant Allegro con spirito, a tempo of passion, pleasure and, ultimately, satisfaction. These elements are also found in later movements, albeit in differing tempos and keys; and yet another movement is filled with pleasing humor, a rare commodity in most music.
Given all the repeats, this symphony could strike some as dull or boring, but conductor Gardiner cleverly built on each repeat with sometimes subtle, sometimes not-so-subtle changes that brought the movements, especially the fourth, to exciting conclusions. Violinist Kati Debretzeni's short but cleverly performed solo in the second movement was the perfect attention-getter and elicited honest laughter from the audience.
Following Haydn, the attention turned to Mozart and his Sinfonia Concertante. The two featured soloists, violinist Kati Debretzeni and violist Fanny Paccoud, both soared in this delightful work. Little is known about its genesis: a lost original score, no indications of dates or provenance, and a bevy of theories as to origin. It was most likely introduced at a time when the sinfonia concertante form was all the rage. (Believe it or not, sinfonia concertante was at one time 'all the rage'!)
The remarkable, exciting first movement with its emphasis on the first beat of the third measure of the opening (a rhythmic gesture I had not heard in other performances), was beautifully performed. It was filled with substantive energy and body – multiple motifs in the opening tutti! – and continued its restless and relentless ways through a stunning cadenza. The music was unquestionably of Mozart's style and tone, filled with every manner of statement. While the closing movement seemed to begin in a somewhat musically dangerous yet adventurous way, the final resolution was both right and proper. I would also draw attention to the profound second movement where Debretzeni and Paccoud were clearly communicating with one another, rendering the two soloists' musical conversation into a single heart-breaking statement.
The program ended with Mozart's Symphony No.39, the first of his last three symphonies, often cited as singular examples of his best works. While No.39 is not performed as often as No.40 and No.41, it is nonetheless a solid summation of the Classical symphony with hints of what is to come.
No.39 is a superb composition that also serves as a bridge to what will follow, music most readily identified as Romantic. This is a place where form and function tend to bend towards expressions of love and humanity, and emotions are among the most critically important aspects of humanity (and the music). It also seems evident that its 'greatness' can be found in the magisterial introduction to the first movement coupled with the emotional depth of the second, the joyful play of the third and the extraordinary summation of the last. This Mozart symphony clearly deserves a place alongside Nos. 40 and 41 and, accordingly, a place among the greatest music of all time.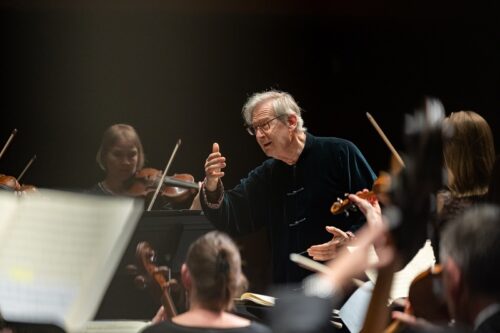 Conductor John Eliot Gardiner oversaw the players with solid direction, skilled nuance and what I can only term as loving pleasure. He is fun to watch! His respect and deferential regard for his colleagues, not to mention his obvious enjoyment of the job, were visible and palpable.
Douglas Dutton