United Kingdom Joyce DiDonato's Eden: Joyce DiDonato (mezzo-soprano), Il Pomo d'Oro / Maxim Emelyanychev (director/harpsichord) with the choirs of Bishop Ramsey CE School and Music Centre London. Barbican Hall, London, 5.4.2022. (CC)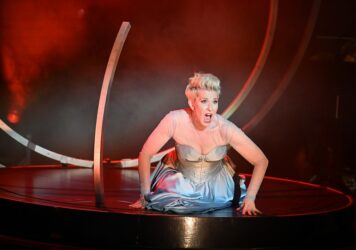 Stage director – Marie Lambert-Le Bihan
Lighting – John Torres
Ives – The Unanswered Question
Rachel Portman – The First Morning of the World (UK premiere)
Mahler – 'Ich atmet' einen linden Duft' (Rückert-Lieder)
Biagio Marini – 'Con le stelle in ciel che mai' (Scherzi e canzonetta)
Josef Mysliveček – 'Toglierò le sponde al mare' (Adamo ed Eva)
Copland – 'Nature, the Gentlest Mother' (Eight Poems of Emily Dickinson)
Giovanni Valentini – Sonata enharmonica
Cavalli – 'Piante ombrose' (La Calisto)
Gluck – 'Danza degli spettri e delle furie: Allegro non troppo' (Orfeo ed Euridice); 'Misera, dove son… Ah! non son io che parlo' (Ezio)
Handel – 'As with rosy steps the morn' (Theodora)
Mahler – 'Ich bin der Welt abhanden gekommen' (Rückert-Lieder)
Encores:
'Seeds of Hope' (choirs of Bishop Ramsey CE School and Music Centre London)
Handel – 'Ombra mai fu' (Serse)
This is part of a major project by Joyce DiDonato that seeks to bring renewed hope to a weary world. Greeted by a packet of corn poppy seeds on each seat, the audience is invited to go forth and sow new life: seeds of change. As one enters the auditorium, one is confronted with a sea of mist; a reflection on pollution perhaps, or merely that mankind has lost the ability to see clearly?
DiDonato offers, in her own words, 'an overture to contemplate the sheer perfection of the world around us, and to explore whether or not we are connecting as profoundly as we can to the pure essence of our being'. Some five years in gestation and includes not only the album and the concert tour, but also outreach work with schools.
A metallic-looking structure sat in the middle of the stage; over the course of the evening, shards of metal were used by DiDonato in various ways (including Cupid's bow) before finally completing two circles, all enhanced by John Torres's spectacularly atmospheric lighting.
Ives's The Unanswered Question began, frozen in time on the strings of Il Pomo d'Oro under the direction of Maxim Emelyanychev, the woodwind separated across the stage; DiDonato's disembodied voice floats above, as she moves around the auditorium before entering the stage. Fascinating to hear this filtered via Il Pomo d'Oro, who are known as an historically informed period instrument ensemble (try their recent Handel release on Pentatone). The UK premiere of Rachel Portman's The First Morning of the World took us from the atemporality of Ives to a moment of origin, via a poem by Gene Sheer, a hymn to the language of Nature ('There's a language without question marks / You can read it in the rings of trees'). The song asks whether the language of birds has changed since Eden. It is a heartfelt piece, its performance transfixing; and Portman's music suffered not a jot in its juxtaposition with one of Mahler's Rückert-Lieder, 'Ich atmet' einen linden Duft' ('I breathed a gentle fragrance'). In many ways, Mahler and Ives marked the end of an era, both providing individual (but linked) responses to it, so the appearance of the Mahler felt perfect, with Eva Ivanova's flute solos just as eloquent as DiDonato's carefully sculpted lines.
DiDonato is, of course, much associated with the Baroque. Handel, yes, but more of that later: here was Biagio Marini's 'Con le stelle in ciel che mai' ('Who has ever seen the sun', an anonymous text), full of life, as alive now as ever. There were discoveries galore, and I fervently hope that the doors opened by the inclusion of a piece by Josef Mysliveček are further explored both by DiDonato and generally by the audience – another seed planted, perhaps. Fitting, of course, that the piece is Adamo ed Eva, an aria from Part II, 'Toglierò le sponde al mare' ('I shall remove the sea from its shores' – a sentiment that is pretty current in environmental terms). This aria takes in a very wide range, and DiDonato is secure throughout. This is also core Il Pomo d'Oro territory, and the orchestral contribution was full of fire.
How beautiful to respond to that with a call to Nature in Copland's setting of Emily Dickinson in 'Nature, the Gentlest Mother', Copland at his most individual and beautiful (his soundworld linked, in our ears now, to the Portman song of earlier). A cloud scuds by: Giovanni Valentini's Sonata enharmonica, with its sense of groups echoing each other, of call and response, itself linking back to the instrumental groupings of the Ives.
It was the tenderest moments that will live longest in the memory: Cavalli's 'Piante ombrose' (from La Calisto) is voice and the sparsest of continuo accompaniments (from Emelyanychev), but how powerful its effect, and how miraculously DiDonato sings this. We forget any matters of technique as we are immersed in the protagonist's bewilderment. The sense of contrast in the Dance of the Furies from Gluck's Orfeo ed Euridice was maximal, the full force of Il Pomo d'Oro's expertise in this repertoire laid bare; the aria 'Misera, dove son? … Ah! Non son la che parlo' from the third act of Ezio, a song of discombobulatory grief, or perhaps mourning, for the planet (it speaks of a 'wretched grief' that tears the protagonist's heart asunder, rendering them 'insane').
So, it is hope or despair we are left with? Laurence Equilbey and her Insula Orchestra left this for the audience to decide in their Pastoral for the Planet (review click here), as we had to vote by smartphone. Here, we get the optimism of an unforgettable 'As with rosy steps the morn' from Handel's Theodora (an opera recently essayed by DiDonato at Covent Garden) and a final disconnection into another realm in Mahler's remarkable 'Ich bin der Welt abhanden gekommen' ('I am lost to the world') with some stunning cor anglais playing from Christopher Palameta. 'I am alone in my Heaven / In my loving, in my song' are the final words, a place of transcendence.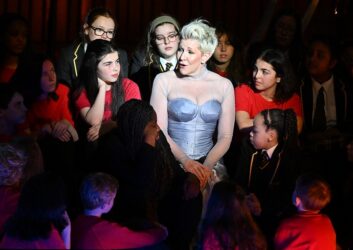 The outreach part of this project is a vital part of planting seeds of hope in young minds. The children's choirs of Bishop Ramsey CE School, Ruislip, and Music Centre London, debuting their song 'Seeds of Hope', and, from DiDonato, placed bang centre within the choir, an unforgettable 'Ombra mai fu' from Handel's Serse,
The disc of this project, already released on Erato, is a testament of not only that hope but also of the musical magnificence that was on display at the Barbican.
Colin Clarke