United Kingdom Singin' in the Rain: Southend Cliffs Pavilion, Westcliff-on-Sea, Essex. 6.4.2022. (JPr)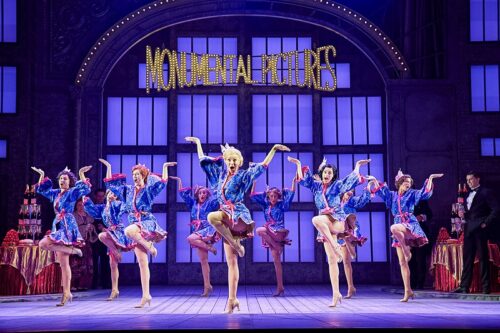 Production:
Director – Jonathan Church
Choreographer – Andrew Wright
Set and Costume designer – Simon Higlett
Lighting designer – Tim Mitchell
Sound designer – Gareth Owen
Video designer – Ian William Galloway
Cast included:
Sam Lips – Don Lockwood
Charlotte Gooch – Kathy Selden
Ross McLaren – Cosmo Brown
Jenny Gayner – Lina Lamont
Imogen Brooke – Zelda Zanders
Molly Rees Howe – Dora Bailey/Dialect Coach
Dale Rapley – R F Simpson
I don't now why I have always found musicals often less enjoyable than opera, perhaps it is because they will be in English and you can appreciate how ridiculous it might be for people to stop talking to each other and then express their emotions in song. Most operas are sung-through in a foreign language and you don't necessarily have to follow the translations in the surtitles. It doesn't seem much different but for me, at least, it is. As a result there are a number of musicals on stage and screen I have never seen – whisper who dares this includes Frozen, The Greatest Showman and Hamilton, as well as The Phantom of the Opera – but one of the Hollywood 'golden age' ones I actually have returned to a number of times is MGM's 1952 Singin' in the Rain.
However, I have never seen the stage version until now. Why? Well perhaps because those involved would have big (tap) shoes to fill as who possibly could better Gene Kelly, Debbie Reynolds and Donald O'Connor? I passed on Tommy Steele's version in the early 1980s; the Royal National Theatre's production in 2000; and others including the 2011 Chichester Festival Theatre staging – choreographed by Andrew Wright – that has been seen in the West End, at Sadler's Wells and toured the UK and is now revived for this current tour. Finally seeing it should I have been worried then or now? Thanks to the brilliance of the cast I saw at Southend's Cliffs Pavilion, the answer I suspect is no and I may have missed some memorable times in the theatre but I have this one now to remember for a long, long, long time. (Though admittedly I needed to set aside my #MeToo sensibilites for at least one night.)
In the programme Mark Fisher writes how: 'Singin' in the Rain began life as nothing more than a collection of second-hand show tunes. It was the 1950s equivalent of a jukebox musical. Only one of the numbers had not already appeared in a previous MGM movie. It could so easily have ended up as just another song-and-dance picture. That it didn't is because every one of its collaborators was at the height of their game.' Forgive me but I do think it is wrong for programmes for musicals not to include a synopsis of what the audience will be seeing although they will all have a list of musical numbers. As here, there is an assumption that enough people will be familiar with Singin' in the Rain and its story set in 1927 about the two biggest silent stars of the fictitious Monumental Pictures, Don Lockwood and Lina Lamont, who gossip columnists suggest are an off-screen couple though he can barely tolerate her.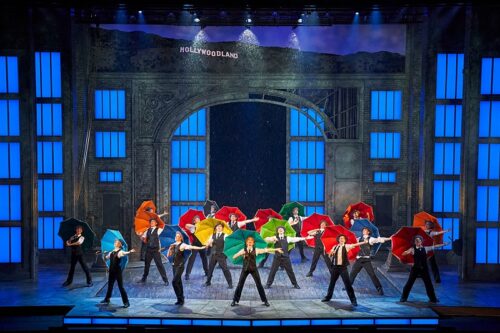 This is the year of The Jazz Singer, the first talkie, which everyone believes is just a fad until it becomes a big hit. The head of Monumental, R F Simpson, wants to jump on the bandwagon but faces technology issues. After a rocky first meeting Don is secretly dating Kathy Selden, a chorus girl hoping to make it big in Hollywoodland (and we see this original sign above Simon Higlett's impressive set, part studio soundstage and part backstage at a movie house.) After a disastrous test screening Cosmo Brown, Don's loyal sidekick, suggests Kathy dubs Lina's grating (to put it mildly) voice and help turn The Duelling Cavalier into The Dancing Cavalier by also singing for her too. However Lina – blatantly unaware of her own limitations – will do anything to make sure she makes the successful transition into talking pictures but gets her comeuppance at the end. Along the way there is slapstick, high jinks, laughs, romance, jealousy, misunderstandings, iconic songs, high-energy dancing and, of course, lots of rain, but not as much as had fallen on Cliffs Pavilion during the day.
Interestingly while Mark Fisher writes about some of the famous incidents that took place while Singin' in the Rain was filmed in 1951, he forgot to mention that Debbie Reynolds – as the dubber Kathy – also had her own singing voice dubbed by an uncredited Betty Noyes!
It cannot be easy to recreate roles like those in Singin' in the Rain, especially when you will always find yourself compared to such legends as Kelly, Reynolds and O'Connor. However, the current company bring the colourful characters to such fresh and vivid life for the modern audience while totally embracing for many of us the nostalgia of the original. As I overheard at Southend even those who have never sat through Singin' in the Rain before have somehow seen Gene Kelly's umbrella twirling, puddle splashing performance of the memorable title song, or at least Eric Morecambe's incomparable recreation of it! It is a mystery that during this tour at some of the venues it seems necessary to parachute in Adam Cooper, Faye Tozer or Kevin Clifton to replace Sam Lips, Jenny Gayner or Ross McLaren who are as good as you could hope for as Don, Lina or Cosmo, alongside Charlotte Gooch's equally wonderful Kathy. Cooper can be excused somewhat because he first played Don Lockwood in 2004 in a production he choreographed himself.
Despite these stellar performances, the real star of the show is Andrew Wright's choreography and the ensemble's virtuosity is stunning and they are one of the best I have seen. They perform enthusiastically and tirelessly even though Kelly's shadow looms large over almost every quasi-balletic step and also in many of Higlett's costumes for the men. Everyone in the cast performed with smiles on their faces and I cannot remember experiencing speaking, song and dance look so natural on a stage and we were all grinning in the audience too. The small band under musical director Grant Walsh played live offstage and – from the overture onwards to the joyful reprise of the rain-soaked 'Singin' in the Rain' at the end which had the audience singing along – they set the tone for the whole performance. Kudos to videographer Ian William Galloway for all his very amusing black and white film sequences which prove a wonderful homage to old Hollywood.
Sam Lips brings his toothpaste advert smile and all-American square-jawed charisma to Don Lockwood and makes a real splash(!) of his big number which closes the first act. I hope he will forgive me, but I never expected Ross McLaren's stunning acrobatics during 'Make 'Em Laugh' and elsewhere he brought a real sense of old-time vaudeville to his engaging Cosmo Brown. Charlotte Gooch was an absolute delight as Kathy Selden and despite the ups and downs of their relationship there was a genuine chemistry between this Kathy and Don. Absolutely superb too was Jenny Gayner as the dim and oblivious Lina Lamont speaking throughout as if she was on intravenous helium and given many of the funniest lines in the musical. The entire cast proves that Singin' in the Rain is one of the greatest comedies of all time but truthfully for me dance above all is king throughout this show and another standout performer was Harriet Samuel-Gray imbuing the Broadway Melody Ballet with an eye-catching sultriness.
The standing ovation all concerned received at the end was well-earned and thoroughly deserved. Having not seen Singin' in the Rain on stage before this, had it been a matinee I probably would have stayed and seen it again in the evening!
Jim Pritchard
For current Singin' in the Rain UK tour dates click here.