United States Verdi, Rigoletto: Soloists, Opera Philadelphia Chorus and Orchestra / Corrado Rovaris (conductor). Opera Philadelphia, Academy of Music, Philadelphia, 8.5.2022. (RP)
Production:
Original director – Lindy Hume
Revival director – Daniel Pelzig
Sets and Costumes – Richard Roberts
Lighting – Drew Billiau
Wigs and Make-up – David Zimmerman
Chorus master – Elizabeth Braden
Cast:
Rigoletto – Anthony Clark Evans
Gilda – Raven McMillon
Duke of Mantua – Joshua Blue
Sparafucile – Wei Wu
Maddalena – Kristen Choi
Monterone – Ben Wager
Borsa – Julius Ahn
Marulla – Robert Mellon
Countess Ceprano – Kara Goodrich
Count Ceprano – Grant Youngblood
Giovanna – Lauren Decker
Page – Lindsey Reynolds
Usher – Frank Mitchell
You have to wonder if there will ever again be a staging of Verdi's Rigoletto set in sixteenth-century Mantua as Venetian audiences in 1851 first experienced it. The tragic tale of Rigoletto, the hunch-backed court jester, his daughter, Gilda, and the licentious and lucky Duke of Mantua is just too ripe for updating with its timeless themes of misogyny and toxic masculinity. Not that it matters: for the composer and his librettist, Francesco Maria Piave, the story was more important than the setting.
The opera is based on Victor Hugo's Le roi s'amuse, a play that French censors banned after one performance in 1832. Portrayals of sixteenth-century aristocrats at play didn't pass muster with Austrian censors (Venice was under Austrian rule at the time), which was also the case some 20 years later. The only way that Verdi and Piave could appease the censors was to have the Duke be a member of the House of Gonzaga, which had long ago died out, and the Dukedom of Mantua, which likewise no longer existed.
Philadelphia Opera turned to Lindy Hume's 2012 staging for New Zealand Opera. Her inspiration was Silvio Berlusconi, Italy's Prime Minister from 2008-11, who at the time was embroiled in controversies surrounding 'bunga bunga' parties (where showgirls performed sex acts dressed as nuns, nurses and former US President Barack Obama), as well as facing charges that he paid for sex with a minor. Berlusconi was found guilty of the latter crime, but the verdict was subsequently reversed on appeal. To Hume, Berlusconi's 'bad boy' spirit seemed to go hand in glove with the licentious Duke of Mantua in Verdi's opera.
Given the wealth of lurid accusations against Berlusconi, Hume demonstrated remarkable restraint in her staging, and it wasn't for lack of real-life inspiration from other quarters. In addition to Berlusconi's exploits, an attention grabber at the time was the party sponsored by a global insurance company to reward top executives and high performers which featured twenty pre-paid prostitutes, a three-person orgy show and much more. The temptation for Hume must have been great, but she neither sensationalized the story nor tinkered with the plot one bit.
The set by Richard Roberts was also straightforward. A grand, glitzy space served as the Duke's palace, while Rigoletto's home was a simple abode, devoid of comfort and warmth. Sparafucile's tavern was seedy but nothing out of the ordinary as such dives go. They might have been fresh in 2012, but Hume's use of video and reliance on a revolving stage is commonplace now. The former was particularly intrusive, as were the film crews that shot the live footage.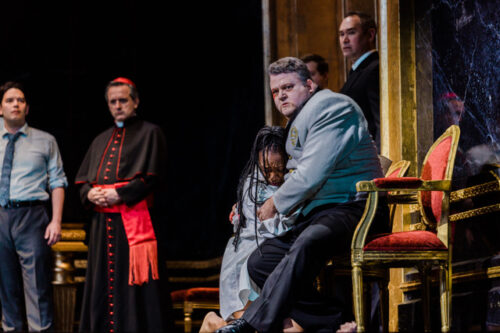 Rigoletto is a tricky role for young baritones, who may have the voice but have not yet developed the gravitas and acting skills to pull off such a complex character. Anthony Clark Evans is one of them. He has a powerful baritone of great beauty, which he effortlessly hurled at the courtiers who had abducted his daughter in 'Cortigiani, vil razza dannata', but he was inert on stage.
Raven McMillon, who was a 2021 Grand Finals Winner of the Metropolitan Opera's Eric and Dominique Laffont Competition, was making her house and role debut as Gilda. McMillon's captivating characterization was at one with Gilda's youthful innocence and on par with her exquisite singing. McMillon brought out the best in Evans's Rigoletto, both vocally and dramatically, in their moving duets. Gilda's aria, 'Caro nome che il mio cor', was made all the more beautiful and poignant by McMillon's lighter-than-air high notes and spectacular trills. This is a young soprano to watch.
Hume conceived the Duke as immaculately tailored, with charisma to burn and flashing a dazzling smile: Joshua Blue ticked those boxes. The visuals were just the icing on the cake, however, as his gleaming, robust tenor was an ideal match for his cheerful, if callous, Duke. Blue's Duke was like a little boy as he opened the white box with a long pink ribbon that led to Gilda's bedroom where his men had secreted her after the abduction. Verdi gave the Duke the hit tunes of the opera, and Blue delivered on all of them.
Bass Wei Wu was a perfectly despicable Sparafucile, with a voice as chilling as his character's matter-of-fact approach to murder. As his sister, Maddalena, Kristen Choi was the proverbial hooker with a heart of gold who, defying all reason, loved the Duke. Her mezzo-soprano is as alluring as her presence.
Conductor Corrado Rovaris is especially skilled at pacing a performance and maintaining a perfectly calibrated balance between pit and stage that shows young singers off to their best advantage. The Philadelphia Opera Orchestra responded to his slightest wish, instilling drama into every note they played, and the men of the Philadelphia Opera Chorus sounded splendid.
There were multiple reasons to celebrate when the curtain fell on the final performance of Rigoletto. When the run opened on April 29, 2022, it has been 942 days since Opera Philadelphia had performed in the Academy of Music due to the pandemic. Just getting through four performances is an impressive feat, given the current surge of the coronavirus.
There are few performances of Rigoletto that have a happy ending, but this one did. An ebullient Blue got down on his knees and proposed to Ashley Marie Robillard, a rising young soprano on the operatic scene. As the audience cheered and applauded, she accepted.
Rick Perdian