United Kingdom Saint-Saëns, Samson et Dalila: Soloists, Chorus and Orchestra of the Royal Opera House / Sir Antonio Pappano (conductor). Royal Opera House, Covent Garden, 26.5.2022. (JPr)
Production:
Director – Richard Jones
Set designer – Hyemi Shin
Costume designer – Nicky Gillibrand
Lighting designer – Andreas Fuchs
Choreographer and Movement director – Lucy Burge
Cast:
Samson – SeokJong Baek
Dalila – Elīna Garanča
High Priest – Łukasz Goliński
First Philistine – Alan Pingarrón
Second Philistine – Chuma Sijeqa
Messenger – Thando Mjandana
Abimélech – Blaise Malaba
Old Hebrew – Goderdzi Janelidze
Two illuminating moments came at the end of this first night of Richard Jones's new Samson et Dalila. Firstly, the man sitting next to me told the woman he was with how much he had really enjoyed the evening, when I was being regaled by his gentle snoring for most of it. Then we met a charming couple (let's assume they were from America) who asked, 'Are the sets always so minimal here?' That reminded me of Simon Stone's recent modern take on Lucia di Lammermoor at the Met in New York (review here). Lizzie Clachan, his set designer, has created a stunning representation of a Rust Belt town. Coming from that to watch Richard Jones's new production is like having to shop – in these straightened financial times – not in Fortnum and Mason but in Poundland!
Richard Jones is a director I have debated with in the (distant) part and admired on and off but he – sadly – seems to have run out of anything new to say for some while. From his recent stagings it was blindingly obvious there would be a dwelling, possibly only a single story, relatively plain with little furnishing and essentially made from plywood but masquerading as something else, perhaps corrugated iron. Here Dalila lives in something looking like a Nissen or Scout hut with little more than a table and couple of chairs, some overhead fans and a wall covering hinting at marble. This was actually the only good act out of the three with the climax being Elīna Garanča's sultry and seductive 'Mon cœur s'ouvre à ta voix' ('My heart opens to your voice'). A moment which will ultimately not be bettered in this performance.
That the second act is so significant reflects how Saint-Saëns's original idea for his 1877 Samson et Dalila was that it should be an oratorio. However, he quickly changed it into the opera we now see because Saint-Saëns started by composing the three-hander (Samson, Dalila and High Priest) second act first. In retrospect, this seems very strange considering how Acts I and III are irredeemably static with predominantly choruses (with much quasi-Bach and plainchant), arias, and – as rather ludicrously staged here – an interminable Bacchanale in the final act. Jones sanitises it and there is community line dancing, in a mash-up with, Riverdance and a little Strictly, yet nothing orgiastic.
My own history with this opera goes back to 1981 and the (then) new Elijah Moshinsky Samson et Dalila and over a couple of decades I saw Jon Vickers, Plácido Domingo and José Carreras (Samson) and Shirley Verrett and Agnes Baltsa (Dalila). It was last put on in 2004 and because it became a little controversial due to Sidney Nolan's designs it would not have been politically correct to give it one final hurrah.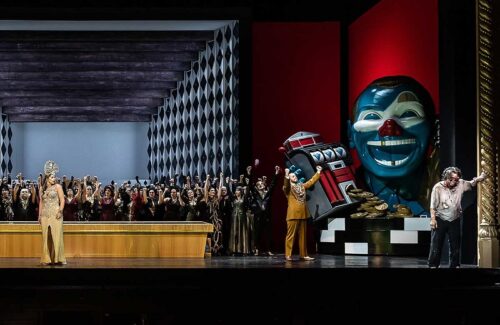 There is no real sense of time and place and it is definitely not the current Israeli-Palestinian conflict. At differing times, Donald Trump came to mind as did the elite and gangsters currently protecting Vladimir Putin. Just like Jones's The Valkyrie for English National Opera, much of a large stage goes unused, with set designer Hyemi Shin providing just a few things large and small to be pushed onto and around it. Biggest of all is a white box, with raked steps and wooden beams as a roof. This is basically the temple of the Philistines' god, Dagon, but also suggests it is a gathering place for the Hebrews. (There is some Jewish ritual but not much.) Dagon is depicted on the back of the bereted temple guards – who are a band of vicious thugs in their tangerine tops and blue tracksuit bottoms – as a clown's face, partly blue and white, with a red nose and golden hair. For Jones he appears to be the god of Mammon and will be seen in the third act as a huge figure holding a fruit machine and some gaming chips (this must have used up much of the director's clearly limited budget). The Hebrews look as if they have wandered in from The Royal Opera's current Nabucco, the High Priest of Dagon wears an anorak, Samson looks nondescript apart from his long locks, and Dalila has a top and flowery skirt for the first two acts.
For any number of reasons by the end of a short evening – which still feels a long one – you might think the opera is mistitled and should be Dalila et Samson. You cannot take your eyes of Garanča from the moment she appears – her unforgettable, not in a good way, Act I dance (or wiggle) notwithstanding – until the end. When she sings her beguiling 'Printemps qui commence' ('Spring begins') it is now a different opera than you have been hearing before. Her Dalila seems motivated by revenge for the killing, by Samson, of the Philistines' governor, Abimélech, and that he seems immune to her charms. Dalila distains the case of notes the High Priest's goons have with them and sets about ensnaring Samson. She may already know the secret of his strength by the way she plays with his hair, a little like a hairdresser does when asking how you want it cut. In the final act, the venerated Dalila – dressed as a bejewelled showgirl – is obviously distressed by the treatment meted out to the blinded, beaten, but unbowed Samson and perhaps she really did love him after all. As for the destruction of the temple thanks to Samson's regained strength – well, heaven help us (sorry)! – no spoilers here, but it was not good enough for Britain's premier opera house.
It was a similarly mixed bag musically; it began with a first act that sounded as if Saint-Saëns's music had been reorchestrated by Rimsky-Korsakov and it was only clearly an idiomatically French opera – onstage or in the pit – when Garanča was singing. SeokJong Baek was the surprise choice to step into the role of Samson (a house and role debut) when an injured Nicky Spence dropped out some time ago, he improved as the evening went on and there was some beautiful phrasing for his concluding 'Seigneur, inspire-moi!' after his can belto first act.
Best of the rest was Łukasz Goliński's menacing and rabble-rousing High Priest, sung assuredly with stentorian tones. Blaise Malaba sounded little at ease as Abimélech, while Goderdzi Janelidze – here as Samson's Rabbi – did his best with what little he got from Saint-Saëns, though neither seemed particularly comfortable singing in French. Their opening 'Dieu d'Israël' ('God of Israel') went for little because it was just too quiet but elsewhere the extended chorus sang with unfailing power and commitment. Sir Antonio Pappano and the orchestra took some time to settle during the disappointing first act but they shone when bringing greater impact to music that was more alluring; the second act of course. Why was this one of Pappano's lesser evenings, who knows? It is possibly Saint-Saëns's fault since his patchwork score brings together – though never coalesces – elements of Bach, Handel, early Verdi and Wagner, as well as anticipates Richard Strauss.
Jim Pritchard