United States Verdi, Aida: Soloists, Chorus and Orchestra of LA Opera / James Conlon (conductor). Dorothy Chandler Pavilion, Los Angeles, 21.5.2022. (JRo)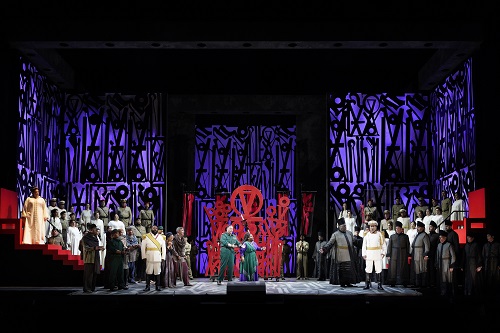 Production:
Production – Francesca Zambello
Artistic designer – RETNA (Marquis Duriel Lewis)
Sets – Michael Yeargan
Costumes – Anita Yavich
Lighting – Mark McCullough
Chorus director – Grant Gershon
Choreographer – Jessica Lang
Cast: 
Aida – Latonia Moore
Amneris – Melody Moore
Radames – Russell Thomas
Amonasro – George Gagnidze
Ramfis – Morris Robinson
Priestess – Alaysha Fox 
King of Egypt – Peixin Chen
Messenger – Anthony Ciaramitaro
In Francesca Zambello's staging of Aida, Verdi's setting of a Europeanized imperial Egypt is replaced by a graphically confused though handsome backdrop of brushstrokes referencing an unknown alphabet. Set in a vague time and place, Michael Yeargan's conception, as realized by artist RETNA (Marquis Duriel Lewis), was a pleasing jumble of pseudo hieroglyphs, strikingly lit by Mark McCullough.
While the set did little to focus the action, the magnificent cast and the Los Angeles Opera Chorus and Orchestra centered the drama with force, precision and lyrical magic. Under the baton of James Conlon, a preeminent Verdi conductor, the diverse musical structure of Aida with its divine amalgam of moods and textures was brilliantly realized.
Russell Thomas, Artist in Residence at LAO, brought his honeyed tenor to the role of Radames. With effortless singing that was rich in color, Thomas has the ability to tap deep reserves of humanity in both his voice and presence. This was distinctly in evidence in his duets with Latonia Moore who was a riveting Aida, able to project her dramatic soprano over the orchestra and chorus: hers is a gale force instrument. It was only early in Act I that she lacked conviction in the quieter passages, particularly in the lower range. In time, her voice mellowed in the subtle sections, culminating in the beautiful and eloquent 'O, terra, addio'.
Of particular note was Melody Moore's Amneris. Regal, spiteful, yet deeply in love with Radames, Moore brought the tortured character of Amneris to life. She exemplified Verdi's unique ability to sympathize with his characters: although a reigning princess, she too is a victim of her passions. As did Shakespeare and Elliot, Verdi found the humanity behind the masks of his characters. Musically and dramatically, this production offered a convincing love triangle.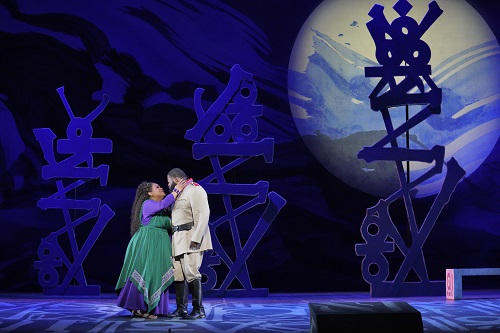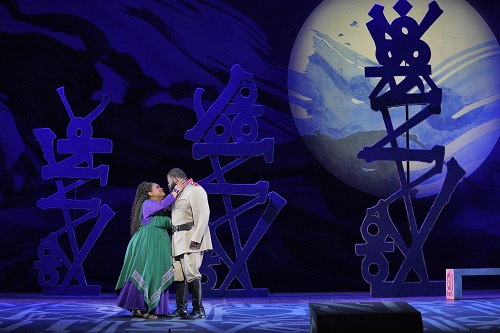 A cast of stellar singers inhabited the remaining roles. George Gagnidze was a virile and single-minded Amonasro. Morris Robinson, with his rich bass, was every inch the commanding priest, Ramfis – nowhere was he more chilling than when he intoned 'Radames, Radames, Radames…Defend yourself!' Bass Peixin Chen was a worthy and stately King of Egypt. Alaysha Fox was a shining presence as Priestess, and Anthony Ciaramitaro sang the role of the messenger with a sweet-voiced tenor.
Ballet is an expected part of any performance of Aida, and it seemed an interesting choice to use Jessica Lang, a noted choreographer. Unfortunately, her dances were a disappointment: traditionally classical and at odds with the modernist setting. The generic steps for the triumphal scene would have been at home in a town square in Coppélia or at a folk dance in the Carpathian Mountains. More Nijinsky and less Petipa would have been an improvement. In fairness to Lang, the dances were diminished by the persistent use of fog effects in the temple scene, not to mention the busy backdrops that distracted from the dancers.
Which brings me to the puzzling use of children's dances. Dressed as soldiers, a squadron of adolescent boys (some were girls in male attire) skipped and pranced across the stage at various intervals in the opera like merrymakers at the Stahlbaum Christmas party in The Nutcracker. I suspect that Zambello was interested in a universal setting, and Lang's dances weren't intended to be specific to a time or place, but the fact remains that the dances, sets and costumes suffered from a lack of commitment to an overarching idea.
The most perplexing decision was Anita Yarich's choice of costumes: the Egyptian soldiers were dressed like British colonial soldiers in India, the Ethiopian soldiers like Cuban revolutionaries and the Egyptian women wore glittery caftans suitable for a 1970s poolside party. Again, the production would have benefitted from a more refined and coherent concept. I would note that this staging has traveled to Washington, San Francisco, Seattle and Minnesota and been extensively reviewed, with similar concerns being raised.
The Act III set was the most successful of all, jettisoning the busy backdrop for a lovely, Chinese brush painting-inspired moon that conjured up a sultry night on the banks of the Nile. It also set the tone for the last two acts, which felt more coherent, propelling the characters into the ferocity of Act IV before the final heartbreaking entombment of the lovers – a spellbinding conclusion to this eloquent and musically sublime opera.
Jane Rosenberg