United Kingdom OK!: A Celebration of Oliver Knussen: Royal Festival Hall, London, 31.4.2022. (CC)
What You Need To Know: hosted by Gillian Moore CBE, with Sonya Knussen, Mark-Anthony Turnage, Colin Matthews, Julian Anderson, Freya Waley-Cohen, Zoë Martlew, with George Fu (piano), including a performance of Knussen's Ophelia's Last Dance.
A Tribute to Oliver Knussen – Knussen, Moorcraft, Drewett: LPO Foyle Future Firsts, Students from the Royal Academy of Music, Players from the LPO / Edward Gardner (conductor) with Cassandra Wright (soprano).
Knussen – Two Organa for large ensemble (1995)
Gareth Moorcraft – Reflections (after Orlando Gibbons) (2017)
Louise Drewett – The Transparent Building (2018)
Knussen – Songs and a Sea Interlude, Op. 20a from Where the Wild Things Are (1979-82)
OK!: A Celebration of Oliver Knussen: Sophie Bevan (soprano), Annemarie Federle (horn), London Philharmonic Orchestra / Edward Gardner (conductor).
Knussen – Flourish with Fireworks, Op.22 (1988); Whitman Settings (1991); Horn Concerto (1994)
Britten – The Prince of the Pagodas, Op.57 (1956, selection chosen by Edward Gardner)
Ravel – Daphnis et Chloë, Suite No.2 (1912/13)
If anyone doubted the beauty and power of Oliver Knussen's music, this series of events acted as a necessary corrective. In the supremely stimulating What You Need To Know, a group of Knussen experts and relatives (represented on stage by his daughter, Sonya Knussen) gave a heartfelt, touching profile of the man and the composer. Fellow composer Julian Anderson posited that in time Knussen's music would be part of the regular repertoire in due course. At the time it seemed a rather rash statement, but come 9.30pm, after all the music was done, it seemed a rampant injustice if it were not to be so.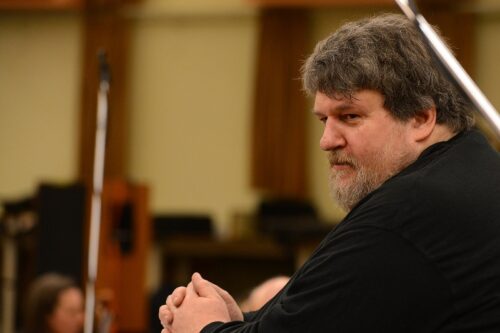 The participants offered not only fond recollections and video clips of Knussen, including his debut conducting at the Royal Festival Hall aged 15, but excerpts from Barrie Gavin's 2001 film to celebrate the composer's 50th birthday. Both Julian Anderson and composer/cellist Zoë Martlew spoke both affectionately and with expertise about his music (interesting to hear from Anderson about Knussen's admiration of Xenakis, for example).
The pianist George Fu played Ophelia's Last Dance, Op.32, based on a melody from 1974 originally intended for his Third Symphony. The piece was commissioned by the Gilmore Trust for Kirill Gerstein. The tune haunted Knussen for years and did not quite make it into the ensemble version of Ophelia Dances. The piece has quite a complex gestation: A Fragment of Ophelia's Last Dance was written to celebrate the 60th birthday of Paul Crossley and performed by him at Wigmore Hall on May 18, 2004; Ophelia's Last Dance (proper) was then commissioned by the Gilmore Trust in 2010 for Gilmore artist Gerstein with support from the Russell L. Gabier Fund. Written in Knussen's Suffolk home in 2009/10, Gerstein premiered it in May 2010 in Kalamazoo, Michigan USA. Gerstein told me in an interview how unique the learning process of this piece was, with pages arriving one at a time ahead of the premiere, 'like sending bits and pieces of a novel … how does this continue? …'. The final page came in only three days before the premiere: Knussen later added more to what was heard on that occasion, and that is the full piece we know and love now. It is a truly lovely piece.
Performed on a Yamaha upright, Fu conveyed the grace of this 'dance' well: it is marked 'Andantino grazioso'. When the dance comes into focus, harmonically and rhythmically speaking, it is a truly magical moment; there is some simply ravishing counterpoint in there, too. The score is beautifully notated, including a tricky but highly effective three-stave passage, but no matter what the complexity, the dance itself hovers over the entire piece, and sporadically appears as if arriving through a mist. It is a truly touching piece of music, something that Fu's performance conveyed well (although do hear Gerstein's recording on the Myrios label, which truly gets to the heart of this little miracle).
At 5.30pm, a conglomerate of Foyle Young Artists, members of the Royal Academy of Music and the LPO came together to perform works by Knussen and two of his students, Gareth Moorcraft and Louise Drewett. A simply glowing, exuberant performance of the first of Knussen's Two Organa kicked off the event. This first piece was written for a Dutch 'music box' project, the music box in question having only white notes and a two-octave compass. Knussen's resulting 'Notre Dame des Jouets' was dedicated to Sir Peter Maxwell Davies on his 60th birthday and subsequently orchestrated in 1995. The piece sparkles, its orchestration perfectly judged, the close a moment of exquisite wit. The second is dedicated to Reinbert de Leeuw and is more complex. The composer instructed one should listen with 'half an ear' to the foreground's lattice of shifting lines and the other half on the 'extremely slow cantus firmus'. The piece includes darkly churning passages that take us into an altogether different emotional space. The performance seemed as fresh as a premiere: the sense of discovery was profound, a reflection on what I can only posit as an eternal curiosity from Knussen.
The choice of Gareth Moorcraft's Reflections (after Orlando Gibbons), a 2017 piece, could hardly be more apt. It too takes older music – in this case Orlando Gibbons – and brings in the idea of 'recomposition'. Based on fragments from a collection of fantasias, dances and madrigals, Moorcraft creates his own world. His second piece on Gibbons (after the 2015 Seven Inventions), Reflections is a varied canvas which certainly reflects Knussen's teachings in its clarity and expertise in orchestration. There is much beauty here (perhaps particularly in the fourth movement, 'Canon'). The performance here was splendidly alive in the final 'Fantasia,' but the NMC recording (Philharmonia under Patrick Bailey) does the piece more justice – it feels more involving, and the piece frankly emerges as more cogent.
Louise Drewett's The Transparent Building was written in 2018, inspired by the Edificio Transparente in Portugal, a huge building of large glass windows supported by a thin white concrete frame whose appearance shifts as one approaches it through reflections and times of day (most notably at sunset). While there is a 'programme' (the composer walking towards the building, the movement of the ocean and the building in close-up, in that order for the three main sections), the piece succeeds as a mini tone poem without explicit narration: perhaps think of the 'programme' as the thin white concrete frame of the music. Again, one can perhaps hear the Knussen legacy in the orchestration, here in terms of the fine ear for scoring large, dense simultaneities and yet allowing each constituent part to speak. The ear is led texturally, and expertly, throughout. This is my first experience of Drewett's music and I certainly hope to hear more.
Finally for this concert, Knussen's 'Songs and a Sea Interlude' from the opera Where the Wild Things Are, a triumph both compositionally and for the Australian lyric soprano   Casscandra Wright. For this piece of course there is Knussen's own DG recording to refer to afterwards, but here was a performance from orchestra and soprano of great depth. The players captured the almost Mahlerisch opening to perfection in the Overture, while Wright began ('I'm Max!' that opens the Scherzino) as she meant to go on – confidently, full of character. Wright's gleaming soprano is immensely agile (a pre-requisite for this score), while the orchestra projected the quicksilver idea of a 'Scherzino' to perfection.  Moving between humming and full voice, Wright had a freedom of utterance that seemed perfectly suited to Knussen's score. The music is masterly: the gleaming, glittering scoring of the orchestral 'Transformation' and the following 'Arietta 2' was perfectly judged, Wright's pitching at speed a thing of wonder, while the orchestral 'Sea Interlude' drew most atmospheric playing from the assembled musicians. A snippet of a masterpiece, the 'Songs and Sea Interlude' offers the perfect way into Knussen's 'fantasy opera'.
And so to the final LPO concert – and how blissful to see such a healthy audience present. Written for the opening of Michael Tilson Thomas's first season as Principal Conductor of the London Symphony Orchestra, Flourish with Fireworks acts as a homage to that conductor, but also to the LSO itself – Knussen's father was principal double bass with the orchestra and it was the first major orchestra to play the composer's music – and finally to Stravinsky (hence the inclusion of 'fireworks' in the title). The piece bristles and fizzes after its initial angular call-to-arms from the trumpets; some passages are shot through with light. A wonderfully compact piece of true expertise.
Just as expertly scored, but in a markedly less riotous way, are the Whitman Settings, Op.25a. Sophie Bevan was the intrepid soprano for these 1991 pieces, originally composed for soprano and piano. As was pointed out in the panel discussion earlier, no one could possibly know these were originally for voice and piano, listening to the orchestral version: it all sounds so perfect. Bevan has not just the ability (and superb diction) for these pieces but also the power: the first line of the first song, 'When I heard the learn'd astronomer', was a clarion call. Bevan's control was impeccable, particularly on the final repetitions of the word 'stars'. That Knussen sense of humour – brilliant yet subtle – came out in the second setting, 'A Noiseless Patient Spider'; and yet how profound was the deeply groaning, keening gestures brought out by Edward Gardner. Knussen was a master storyteller; Bevan, too, is a master storyteller and the combination of the two weaved its own web of magic. Hearing the woodwind scoring in 'The Dalliance of the Eagles' was particularly joyful – Gardner's ear for sonority is as true as it is for gesture, finding real wit at the end (arguably more than in Knussen's own recording with the London Sinfonietta and soloist Lucy Shelton). The final 'The Voice of Rain' was interesting in that one was very aware of the double basses (something that crossed my mind at other points, too – they are more individual in Knussen's scorings, potentially because of his father and – as we heard earlier in the day – hearing LSO rehearsals from behind the double basses). Gossamer scoring gave this final setting the most delicate fragility.
There was a last-minute substitution for the Horn Concerto. Ben Goldscheider, who had been due to play, succumbed to Covid and it was left to the Royal Academy's Annemarie Federle to shine – one of those substitutions that will doubtless have deep impact on Federle's subsequent career. Federle, who won the Brass Category Final of the 2020 BBC Young Musician competition (performing Ruth Gipps's Horn Concerto with the BBC Philharmonic under Mark Wigglesworth) was awarded an ABRSM Scholarship to study at the Royal Academy where she has worked with Richard Watkins, David Pyatt and Martin Owen, plus natural horn studies with Roger Montgomery. She joined the National Youth Orchestra in 2017 and was principal horn for two years of her tenure there. Her technique is miraculous as is her stamina. Written in 1994, Knussen's Horn Concerto was written specifically for that great horn technician Barry Tuckwell for performance in Suntory Hall, Tokyo.
Knussen in his note refers to 'spatial' characteristics of the horn – I take at least part of that statement to mean its ability to create echo effects, especially via hand stopping. There are moments of stopping rapid passages that were delivered with the upmost virtuosity (I couldn't see a stopping mute so if Federle was playing this with the hand and semitone transposition, it was a minor miracle). The work is fundamentally lyrical, so the horn has to 'sing' – and sing it did in a near-vocal way. The piece is in a single span of some 17 or so minutes but divided into four sections: Intrada; Fantastico; Cadenza; and Envoi. Perhaps the first woodwind gesture implies a certain playfulness as well as avian overtones as Knussen creates his own Mahlerisch Nachtmusik. Gardner ensured gestures made their points powerfully. Knussen does not shy away from using full orchestra in the passages between horn solos, but it was the interactions that impressed – a fast circling gesture tossed between horn and wind, for example, so on-the-ball. Federle's upper register is magnificent: there is no loss of tone whatsoever and the confidence and accuracy is mesmeric in and of itself. Federle's pedal notes, too (in the second section) were beautifully formed – no creeping around amorphous depths, fully formed yet mysterious. The Cadenza begins with a crash followed by horn flourish and (pardon the pun) cornucopia of technical challenges. The work is a masterpiece – why is this the first time I have heard it live?! I wonder, as a postscript, if I was imagining the influence of Richard Strauss's Second Horn Concerto (a similarly knotty piece technically) in some of Knussen's gestures? ….
Two great musical loves of Knussen's offered the music of the second half: interestingly, though, it was his own music that seemed to resonate on afterwards, a testament surely to its core strength. In one of his short talks to the audience, Gardner referred to Knussen's love for Benjamin Britten's ballet The Prince of the Pagodas, a piece Knussen recorded, unforgettably, with the London Sinfonietta. There will always be risks in performing this piece after such a recording; Knussen's performance breathes love from every bar. sad to say, Gardner's truncation and performance made this sound like second-drawer Britten (which it certainly is not). While in Knussen's recording we hear such character in the themes, in Gardner's we heard balletic gestures but little depth. It was certainly imposing – a huge orchestra with at least eight percussionists and at times vivid – but some passages simply lacked life and conviction. Far more impressive was the Ravel Daphnis Suite No.2: the exquisite control at a minimal dynamic level of 'Lever du jour', the timing of the music's blossoming out both superbly done. Ravel was one of Knussen's heroes (and we certainly experience equivalent levels of orchestrational mastery), so hearing the music in this context worked perfectly. A special mention for guest principal flute Kate Bedford in the central 'Pantomime' – playing of character, effortlessness and charm. The final 'Danse générale' was a helter-skelter ride, with virtuoso woodwind contributions, Gardner just taking us to the edge of the riotous without losing clarity and definition.
A phenomenally stimulating and enriching day and one that was far more than a 'memorial' to Knussen; one hopes that it will open a multitude of avenues in which his music can flourish. As such, it was equally a gateway to a new future for his music …
Colin Clarke