Sweden Verdi, Rigoletto: Soloists, Chorus and Orchestra of Gothenburg Opera / Francesco Angelico (conductor). Gothenburg Opera Main Stage, 24.4.2022. (NS)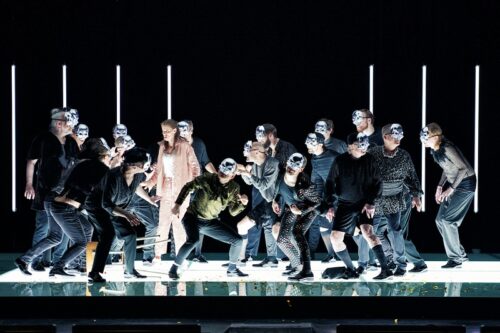 Production:
Director – David Bösch
Set – Magda Willi
Costume design – Pascale Martin
Lighting design – Joakim Brink
Dramaturg – Rainer Karlitschek
Cast:
Duke of Mantua – Long Long
Rigoletto – Ólafur Sigurdarson
Gilda – Ida Falk Winland
Sparafucile – Mats Almgren
Maddalena – Katarina Giotas
Giovanna – Annalena Persson
Count of Monterone – Anders Lorentzson
Marullo – Hannes Öberg
Borsa – Daniel Ralphsson
Count of Ceprano – Erik Rosenius
Countess of Ceprano – Pauliina Sairanen
A page – Tiina Markkanen
An officer – Mikael Simlund
When the Gothenburg Opera last staged Rigoletto in 2004-2005 they chose a hard-hitting production in a very contemporary setting that I still have vivid memories from. Nearly 18 years later this great Verdi masterpiece returns to Gothenburg in a new production which is radical in a different way.
While director David Bösch also chooses a modern setting the focus is more on the timeless themes of the story than a commentary on a particular society. Magda Willi's set is in essence a light box on the stage, with 'walls' made up of widely spaced light bars allowing characters to enter and exit in any direction. The lack of more structure sometimes requires suspension of disbelief (such as when Gilda's abductors arrive and effortlessly enter through the 'walls' of Rigoletto's secret house). But in concert with Joakim Brink's skilful lighting this set was also remarkably versatile and could even effectively represent two rooms by using different lighting, as in Act III.
Davide Giusti was to sing the role of the Duke of Mantua but became ill shortly before this performance and was replaced by Long Long, who is already experienced in the role but new to this production. After a slightly careful start in the opening scene Long really spread his wings and sounded ravishing in his love duet with Gilda. His tenor is overtone-rich and expressive with a gentle vibrato – in fact a voice one could happily listen to all day. Nearly as impressive is Long's acting, which successfully trod the fine line of being seemingly sincere in his love to Gilda but without entirely hiding the Duke's real nature. When the Duke's lecherous self is on full display in the third act he simultaneously reached musical heights in 'La donna è mobile' and the magnificent quartet.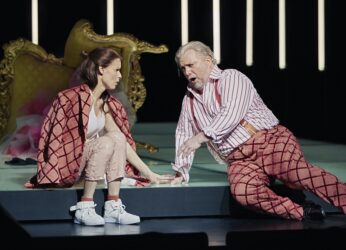 Rigoletto (Ólafur Sigurdarson) seemed touched by a cold in Act 1, with his upper register slightly ragged, but this disappeared in the rest of the opera. Sigurdarson was as expressive and gripping here as he was as Alberich in the magnificent Gothenburg Opera Ring cycle which recently concluded. He brought out Rigoletto's self-pity in particular. His fatherly feelings for Gilda seemed not so tender, rather Rigoletto's love for his daughter was expressed in anxiety and control. But his desperation on finding that Gilda was with the Duke was genuinely moving, though the directorial choice to have the chorus of courtiers disappear from the stage for parts of 'Cortigiani, vil razza dannata' seemed a bit strange as Rigoletto ended up singing to people who weren't there.
Sparafucile (Mats Almgren) was played with a fine degree of menace but also a touch of Verdian humour (he seemed most hurt at being mistaken for a simple mugger rather than a hired killer). Maddalena (Katarina Giotas) was a colourful character (beyond her bright orange hair), with Giotas believably expressing her growing crush on the Duke as well as her original cynicism. Otherwise Hannes Öberg was notable as a particularly amoral Marullo.
The chorus was rather overpowered by the orchestra in the opening scene, which gave a somewhat messy impression. But they sounded great when the balance was better, above all in a supremely sinister 'Zitti, zitti'. Apart from some balance problems with the singers when playing fortissimo the orchestra played well and under Francesco Angelico's baton were particularly sensitive in the tender scenes with Gilda.
Gilda (Ida Falk Winland) was simply magnificent for the whole of her performance. Falk Winland's fine but expressive soprano is perfect for the role, and her acting made her an entirely believable teenager. 'Caro nome' was wonderful, with unblemished technique (she even sang a beautiful final trill while lying down on her side). But it is difficult to single out a specific part of a performance which was on a uniformly high level. With Falk Winland as Gilda it was fascinating to follow her character's journey from innocent love to fear and revulsion and finally a sacrifice that Gilda herself understands that her lover does not deserve. In a way this is an even more compelling psychological journey than Rigoletto's.
Niklas Smith 
Running until 29 May 2022, for more information and tickets see the Gothenburg Opera website (click here). David Kempster sings Rigoletto on 25 and 29 May. (The production returns next season from 28 August-24 September 2022). The premiere was broadcast on Swedish Radio (with Davide Giusti as the Duke of Mantua) and is available for listening online (here) and on the SR Play app until about 23 May.