United States Mozart, Le nozze di Figaro: Soloists and Chorus of the Seattle Opera, Seattle Symphony / Alevtina Ioffe (conductor). McCaw Hall, Seattle, 8.5.2022. (ZC)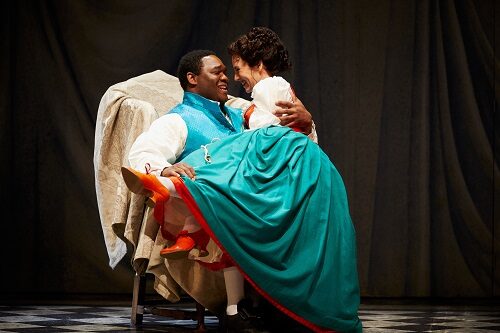 Production:
Director – Peter Kazaras
Sets – Benoit Dugardyn
Costumes – Myung Hee Cho
Lighting – Connie Yun
Choreographer – Wade Madsen
Chorus master – David McDade
Cast:
Figaro – Michael Samuel
Susanna – Anya Matanovic
Marcellina – Margaret Gawrysiak
Doctor Bartolo – Kevin Burdette
Cherubino – Emily Fons
Count Almaviva – Joshua Hopkin
Don Basilio – Martin Bakari
Countess Almaviva – Helena Dix
Antonio – Barry Johnson
Don Curzio – Anthony Webb
Barbarina – Ashley Fabian
In some ways, The Marriage of Figaro is a study in contrasts. The opera is subversive in its overt sexuality and class struggle yet, at the same time, ordinary because of the relatable characters. But the Seattle Opera's current production of Figaro offers an unexpected and unusual theme for a work overflowing with deception, resentment and jealousy: that there is meaning and value in reconciliation. This idea – essentially that those who do not forgive others deserve no forgiveness – is even stamped at the top of the set. Elevated (literally) above the humor, class clashes and sexual deviousness, forgiveness works in this production by putting our focus on the characters' relationships.
Figaro came about as the first partnership between Mozart and Lorenzo Da Ponte, the work's librettist.  Together they created an operatic masterpiece, or so the story goes. Da Ponte's contribution is often presented as almost equally important to Mozart's music: were it not for da Ponte's libretti skills, this work and two other great operas by Mozart may not have happened. But this telling diminishes Mozart's genius.  Yes, Da Ponte's taut libretto is important, but it is Mozart's music which makes the opera so special.
The team behind Seattle Opera's current production of Figaro understands this elemental truth. Peter Kazaras's intimate stage direction doesn't overdo the slapstick comedy. The sets with their opulent rooms, imposing columns and tended gardens give the opera a traditional aesthetic. So do Myung Hee Cho's costumes with their stiff silhouettes, bright colors and whimsical updates that help the audience keep track of who's who. Together, these elements are a cozy blanket for a seasoned audience, allowing everything Mozart does so well to be at the center of the performance.
The production team's direction, costumes and sets provide a sense of place, manage the coming and going of characters, and tease out each convoluted plot thread. This succeeds best in the opera's two famous finales – one at the end of Act II and later at the end of Act IV. Both ensemble acts showcase some of Mozart's most inspired and complicated music. In the Act II finale, Mozart crafts the scene delicately, gliding with care from duet to trio to quartet before eventually ending up with a rousing septet. The composer accomplishes the same with orchestral music: the pit begins as an accompanist, but with each additional element, the score engages more and more with the action on stage. In the very best performances, the orchestra becomes a foil to the singers, with the bubbling music showing us more about the characters and their predicaments than what words alone convey. It's hardly hyperbole to say these twenty minutes are heaven, surpassing everything that came before – and arguably have never been surpassed.
None of this is possible without a strong cast. Here again, Seattle Opera's production is a success. Illness kept me from attending opening night, but the second cast, which took the stage for Sunday's matinee, met expectations. Figaro receives a likable performance from Michael Samuel even as he becomes more devious as the opera goes on. Susanna, his wife-to-be, is sung by Anya Matanovic, who radiates warmth even as she goes toe-to-toe with the opera's villains. Joshua Hopkins is a smarmy Count who elicits our sympathy as his lecherous plans unravel. Helena Dix gives a serious, wise performance as the countess. Emily Fons's sex-crazed Cherubino provides comic relief but made me think on a few occasions that Figaro could still scandalize audiences in the twenty-first century. Finally, Marcellina, sung by Margaret Gawrysiak, and Doctor Bartolo, performed by Kevin Burdette, were supremely waggish as their insults and vendettas are turned into reconciliation when we learn they are actually Figaro's parents.
This Seattle Opera production of the Marriage of Figaro is a winner. An excellent cast of singers, a strong vision from the artistic team and Mozart's incomparably brilliant music will make audiences forget their worries for three hours. That is something we could all probably use.
Zach Carstensen