United Kingdom Music in the Round: Sheffield Chamber Music Festival: May 14-15.5.2022 (CC)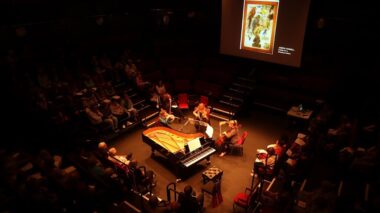 Saturday 14 May, 4.30-6 pm: Art & Music Roundtable with Helen Grime, Tom McKinney, Tim Horton, David Ainley and Kirstie Hamilton
Saturday 14 May, 7.15 pm: Ensemble 360 (Tom Horton [piano], Lucy Gould. Claudia Ajmone-Marsan, Sara Wolstenholme [violins], Rachel Roberts [viola], Gemma Rosefield [cello]). Crucible Theatre, Sheffield.
Huw Watkins (b.1976) – Spencer Pieces (2001): Resurrection of the Soldiers
Helen Grime (b.1981) – Aviary Sketches (after Joseph Cornell) (2014)
John Cage (1912-1992) – Nocturne for violin and piano (1947)
Debussy (1862-1918) – Préludes, Book II (1912/13): Feuilles mortes; Les Fées sont d'exquises danseuses
Helen Grime – Whistler Miniatures (2011)
J. S. Bach (1685-1750) – Prelude and Fugue in E minor, BWV 900 (c.1740)
Chopin (1810-49) – Nocturnes: Op.15 (1830-33); Op.48/1 (1841); Op.55/2 (1842 –44)
Bach – Prelude and Fugue in F minor, BWV880 (c.1740)
The Sheffield Chamber Music Festival extends from 13 to 21 May, offering a cornucopia of events. Sheffield itself is a vibrant city, exuding possibility; this festival seems to be a reflection of that, a celebration of old and new, and of art and music.
It was with the intersection of art and music that this report begins, the Art & Music Roundtable. This was one of the most stimulating and enervating discussions of the interactions between art and music that I have ever experienced. How music influences art – and vice versa – is a major research area, and to be able to explore this with both composers and art experts and artists present felt like a real privilege: relevant paintings were projected to a screen.
Participants included Helen Grime herself, the artist David Ainley and Sheffield Museums' Director of Programmes, Kirstie Hamilton and pianist Tim Horton. Seeing the relevant paintings projected was a real boon, starting with Stanley Spencer's remarkable 1929 The Resurrection of the Soldiers (here) and its relationship to Huw Watkins's musical response in his piece of that name. Joseph Cornell's astonishing art 'boxes' were the inspiration for Helen Grimes's Aviary Sketches. Individual preference is by nature highly personal, but for me the relationship between John Cage (represented in the concert by his Nocturne for violin and piano) and Gerhard Richter's remarkable Cage Paintings (here).
That is just to give a flavour of the session – it was 90 minutes, which seems a long time but for a subject as vast as this is the merest blink of an eye. David Ainley is the most engaging of artists it turns out, whether talking about his own work or that of others; he was consistently illuminating, and hearing about his own work processes; that said, the examination between Bach and Paul Klee's Fugue in Red (here) was astonishing also. And Helen Grimes's introduction to the music around the astonishingly poignant paintings of Whistler revealed a probing, analytical mind at work able to convert those insights into music of raw emotional power. A particularly interesting audience discussion about synaesthesia is but one example of how stimulating this area can be.
Pianist Tim Horton was the thread that ran through the later concert, solo pianist in the second half and expert chamber music executant in the first. Paintings were projected throughout for the relevant pieces, including the second half (Whistler's Nocturnes acting as the perfect foil for Chopin's). Huw Watkins's 'Resurrection of the Soldiers' is a remarkable piece, a tolling bell repeated note inevitably, as Horton had pointed out in the talk, bring Ravel's 'Le Gibet" (Gaspard) to mind. Horton's performance was of great sensitivity (and beauty); and to see the painting that inspired the music added a deep layer to the experience. Moments of Debussyian fantasy coalesce with passages of Bach-like purity, and Horton presented each emotional shift superbly.
Grime's Aviary Sketches (after Joseph Cornell) was heard complete. Scored for string trio (here Sara Wolstenholme, Rachel Roberts and Gemma Rosefield) the piece creates a unique, eerie atmosphere. Grime's responses to Cornell's boxes include a mechanical 'Aviary (Parrot Music Box)', a decidedly imitation-avian 'Untitled (Habitat)'- the first movement), and aching melancholy in the 'Deserted Perch'. Interesting how two sad movements ('Deserted Perch' and the final 'Towards the Blue Peninsula (after Emily Dickinson)' frame the angular, almost 'pecking' scherzo that is 'Forgotten Game'. The players of the Ensemble 360 brilliantly projected the multitude of sides to Grime's work. Grime's musical response to avian activity is as individual, cohesive and coherent as Messiaen's (and totally different in its effect). She has a pliable approach which easily juxtaposes angularity with lyricism (worth noting that her melodies – for such they are – are incredibly memorable, also).
Fascinating to hear Cage and Debussy in between the two Grime pieces. Cage's Nocturne is only about four minutes long (maximum) but it exudes twilit fragility. Richter's Cage I was the perfect visual counterpart; both exhibit a pure, somewhat austere beauty all of their own. How brilliant to see paintings by Arthur Rackham (known for his fairy art) against the two delicately and beautifully performed Préludes from Debussy's second book. Horton is a natural Debussy player, and these were vibrant interpretations. In this context, the opening of Grime's first Whistler miniature ('The Little Note in Yellow and Gold') seemed at once a prolongation of Debussy which then found Grime taking Debussy's language for a walk into her own compositional space. Grime's dance between piano and strings is fascinating here, while in 'Lapis Lazuli,' effectively a scherzo, we heard stunning virtuosity from the players Lucy Gould, Gemma Rosefield and Tim Horton. The final 'The Violet Note' is based on a painting with the most stunning use of colour. Grimes's response is no less involving in terms of instrumental colour and in melancholy atmosphere. A phenomenal piece, performed with laser accuracy and with true understanding by members of Ensemble 360.
The second half brought Bach and Paul Klee together for two framing Bach Preludes and Fugues from Book II (E minor and F major). No missing how Bach's abstract machinations map nicely onto the Klee. Some of the round table had focused on Klee's musicality, and that artist's 1923 Cooling in a Garden of the Torrid Zone seemed the perfect counterpart to BWV 900. In performance terms, Horton's Bach itself is a thing of beauty, lines presented with maximal clarity. He uses the sustaining pedal incredibly intelligently in this repertoire, and also captures the atmosphere of each prelude and each fugue perfectly – the choice of the playful F major, BWV 880 (against Klee's Fugue in Red) was impeccable. In between, three Chopin Nocturnes visually counterpointed by Whistler Nocturnes. What was most impressive here was Horton's acknowledgement that Chopin's Nocturnes are far from atmosphere pieces; they hold real power, sometimes volcanic, sometimes disturbing, sometimes miniature tone-poems. Fabulous performances.
Sunrise Concert: Sunday 15 May, 5.15 am Ensemble 360 (Naomi Atherton [horn], Lucy Gould, Claudia Aimone-Marsan [violins]; Rachel Roberts [viola], Gemma Rosefield [cello]). Samuel Worth Chapel, Sheffield.
Alphorn transcriptions for solo horn
Pablo Casals (1876-1973) – Song of the Birds
J. S. Bach (1685-1750) – Partita in D minor, BWV 1004: Chaconne
Akira Nishimura (b.1953) – Fantasia on Song of the Birds for solo viola (2005)
Haydn (1732-1809) – String Quartet in B flat, Op.76/4, 'Sunrise'
Tansy Davies (b.1973) – Yoik (2020)
Sunset Concert: Sunday 15 May, 8pm. Ensemble 360; Sheffield Music Hub & Sheffield Music Academy led by David Ross and Martin Cropper; Sheffield Chamber Choir / Robert Webb (conductor). St Andrew's Church, Psalter Lane, Sheffield.
Orlando Gibbons (1583-1625) – The Silver Swan
Judith Bingham (b.1952) – The darkness is no darkness
S. S. Wesley (1810-1876) – Thou Wilt Keep Him in Perfect Peace
John Wilbye (1574-1638) – Draw on Sweet Night
Cheryl Frances-Hoad (b.1980) – Floodlight Starlight
Robert Ramsey (c.1590-1644) – Sleep Fleshy Birth
John Ward (1589-1638) – Come Sable Night
Beethoven/Mahler – String Quartet in F Minor, Op.95, 'Serioso'
Tarik O'Regan (b.1978) – Care Charming Sleepe
Beethoven – Elegischer Gesang, Op.118
'Sunrise, Sunset' as the song from Fiddler on the Roof goes … 'swiftly flow the days, swiftly fly the years'. The liminal times of sunrise and sunset have always held a very special significance for humans, spaces of potential, possibility, endings, beginnings …
A 5.15 am start may seem a big ask, but it is surely even more so for the musicians who have to be fully warmed up, awake and ready by the first note. The sunrise concert was performed at a venue which, to get to it, one had to walk through a splendidly gothic churchyard as the sun was rising – itself a reminder of transition, of death (the night, the death of day and its reflection of human mortality), and, in the daybreak, the act of reawakening.
The programming of the daybreak concert was inspired. Alphorn transcriptions, beautifully played off-stage by Naomi Atherton, led to a splendidly intense performance of Casals's Song of the Birds (a traditional Catalan lullaby) by cellist Gemma Rosefield. Casals's piece is a prayer for peace (composed in the wake of the world wars) The sheer expanse of the Bach 'Chaconne' seemed almost a natural prolongation, Gould offering a performance which seemed to be underpinned by some of the spirit of dance; meanwhile, her polyphony as astonishingly clear. We heard Akira Nishimura's 2005 Fantasia on 'Song of the Birds' for solo viola written originally for Nobuko Imai. Nishimura places the folksong in C minor as opposed to Casals's A minor so as to maximise the use of the viola's open strings. Roberts projected the aching strains of the opening while negotiating the difficulties with ease – Roberts also possesses a huge sound, which gives the performance real presence. Nishimura's use of the viola's extreme high register is notable: this area has a very individual, almost glassy, sound, which is then contrasted with the instrument's resonant low register; and so lovely to hear the harmonics so in tune and confident, too. Is it sacrilege to say I prefer the Nishimura to the original? Probably …but such was the power of Roberts's account, it feels only natural.
What could be more natural for a concert such as this but Haydn's 'Sunrise' Quartet (B flat major, Op.76/4)? Nice to see (my eyes had opened by then) Gould, Claudia Ajmone-Marsan, Roberts and Rosefield sat in a circle for maximal chamber music communication. After the modernist slant of the Nishimura, the opening of the Haydn seemed as refreshing as a glass of ice-cold spring water. The four instruments worked in perfect balance – the inclusion of the exposition repeat for the first movement seemed both expected and natural, the mirroring exchanges of themes a delight. Conversational exchanges were one more a feature of the Adagio (although here more whispered and profound), a cushion of the utmost purity set in real contrast to the thigh-slapping rustic dance of the third movement, a rusticity that extended to portions of the wonderfully witty finale.
And what a way to finish: Tansy Davies's Yoik. Davies is a horn player herself, and how it shows in her writing for the instrument (her piece Forest, a Concerto for Four Horns and Orchestra, is remarkable too.). There is a multitude of effects in Yoik– all brilliantly performed by Atherton), but in emotional effect I wonder if there isn't a parallel to the solo horn Prologue and Epilogue to Britten's Serenade for tenor, horn and strings? There is even a moment of melodic parallel (or perhaps that is wishful thinking on my part). Despite Davies's modernity, like the Britten, Davies's piece seems to plug into something primal in the listener, something ancient.
A triumph of a concert. The sunset performance was a little different in intent: by mixing young people from the Sheffield Music Hub and Sheffield Music Academy with Ensemble 360 and the Sheffield Chamber Choir, there was more a of linking towards tomorrow (which in a sense, the act of sunset does also, of course).
One of Orlando Gibbons's most famous pieces is The Silver Swan, a lovely way to begin the concert. Conductor Robert Webb gave it a sense of momentum, and enabled Gibbons's exquisite dissonances to register. The programme expertly weaved the old and the new together, alternating sixteenth- and seventeenth-century composers with those of today and in one case nicely eliding Judith Bingham's The Darkness is No Darkness with S. S. Wesley's Thou Wilt Keep Him in Perfect Peace. This last worked remarkably well, with the chant-like elements of the Bingham seeming to evoke an ancient time before taking us to a more traditional hymnic space via the Wesley.
The works were ideally chosen for this crepuscular time: John Wilbye's Draw on Sweet Night is of almost impossible fragility (it needs entries to be absolutely spot-on, though) while Bingham's A Night-Piece with its radiant setting of 'Gloria' led to the beautiful, bare textures of Come Sable Night by John Ward. Superb programming, bravely executed.
The main part of the second half was instrumental – Mahler's arrangement for string orchestra of Beethoven's 'Serioso' Quartet. So lovely to see a real mix of musicians, from old to young, enthusiastically digging into this difficult, virtuoso score, with members of the Ensemble 360 at times marking the beat and helping to avoid too much slacking off from it. This surely must have been a formative experience for many of the younger players. It was two vocal elements that closed, in collaboration with musicians: Tarik O'Regan's Care Charming Sleepe (performed with the optional organ part, which enters with a note so low you feel it more than hear it) and Beethoven's spiritually elevating Elegischer Gesang for chorus and strings.
Many delights lie in store in Sheffield: my personal concerts of the remainder which I would have loved to have attended would be the Focus on the Oboe (which includes Grime's Five Northeastern Scenes and Knussen's Ophelia's Last Dance, 17 May), the amazing Sean Shibe in a programme including works for guitar by Bach, Eastman, Reich and Wolfe (18 May), Hans Abrahamsen's Six Pieces for Horn Trio (19 May, lunchtime) and the Festival Finale on 21 May (Britten, Knussen, Grime, Slater and Brahms, including a world premiere). But you may have other must-sees: the festival's website is here.
Colin Clarke