United States The Met: Live in HD – Donizetti, Lucia di Lammermoor: Soloists, Chorus and Orchestra of the Metropolitan Opera / Riccardo Frizza (conductor). Broadcast live from the Metropolitan Opera, New York, 21.5.2021. (JPr)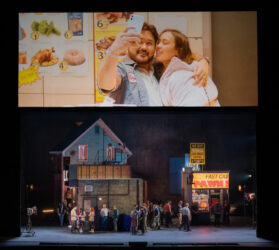 Production:
Production – Simon Stone
Set designer – Lizzie Clachan
Costume designers – Alice Babidge, Blanca Anón
Lighting designer – James Farncombe
Projection designer – Luke Halls
Choreography – Sara Erde
Cast:
Lucia – Nadine Sierra
Edgardo – Javier Camarena
Enrico – Artur Ruciński
Raimondo – Christian Van Horn
Normanno – Alok Kumar
Alisa – Deborah Nansteel
Arturo – Eric Ferring
Live in HD director – Gary Halvorson
Live in HD host – Anthony Roth Costanzo
Rather like that comment about London buses, you wait a long while for one Lucia di Lammermoor then two come along in quick succession. I recently reviewed a Laurent Pelly production in Vienna (click here) and now it is Simon Stone's new production for the Met in New York shown Live in HD and superbly hosted by Anthony Roth Costanzo. Prior to this – as I have written before – Donizetti's 1835 opera is one I had managed to almost totally avoid since a wonderful evening at Covent Garden in 1985 with Dame Joan Sutherland and Carlo Bergonzi. Lucia is the most tragic of tragic operas and significant because it was the beginning of Donizetti's partnership with librettist Salvadore Cammarano.
It is based loosely on Sir Walter Scott's novel The Bride of Lammermoor and at the time of its composition a colourful and romanticised idea of Scotland (its original setting) was prevalent. The death of her mother has deeply affected Lucia and because she believes herself to be betrayed in love, she reluctantly agrees to a marriage of convenience and all this undermines – with fatal consequences – her mental health. Lucia is at the centre of a feud between her   own family, the Lammermoors, and that of the Ravenwoods. Her brother, Enrico, discovers Lucia has fallen in love with sworn enemy Edgardo (of Ravenswood) and for political gain and to secure the family's fortunes he hastily arranges a marriage to an associate Arturo. Although Edgardo has had to leave to fight in France, unbeknownst to Enrico, he has exchanged rings with Lucia. Events spiral out of control rapidly for Lucia when her brother uses a forged letter to make her believe Edgardo has deserted her for someone else. Pressured by her chaplain Raimondo she reluctantly signs the marriage contract (though she regards it as her death warrant) just – and no surprise here! – as Edgardo returns. Lucia murders Arturo on their wedding night, goes mad and dies, and Edgardo kills himself longing to be united with Lucia in heaven.
So how does Simon Stone approach Lucia di Lammermoor in 2022 and in an interesting pre-recorded video he said, 'So the original Lucia took place in eighteenth century Scotland (with) the fall of the aristocracy. Really important to the original opera is this notion that the end of this glorious era in the Scottish aristocracy brings with it all kinds of poverty and decay using women to regain a certain kind of power. I always try and set any opera I do in the country that I'm putting it on in because I'm always trying to somehow speak to the audience that are watching it. In this case I was trying to find a place in America where I thought it reflects a bygone glorious era, immediately the most evocative place we thought of was the Rust Belt.' Set designer Lizzie Clachan continued, 'It's a place that has experienced great prosperity and wealth and has gone into a decline and there are real sorts of struggles in the community and all that feels really right for (the) Lucia story, the human story, but also, it's an area which has so much iconography in terms of the great American capitalist past (such as) the movie screens and the big industrial plants.'
Costumes by Alice Babidge and Blanca Anón are of modern times and we first encounter Lucia in pink puffer jacket and distressed jeans. Becoming 'old hat' now is having cameras follow the characters around often providing an alternative view of events and this was projected – with additional pre-filmed footage – on a screen high up on the stage. The opera begins with a caption reading 'Lucia: Close-Ups of a Cursed Life'. This did not work particularly well with the cinema broadcast as when you saw it there was occasionally an annoying double dose of subtitles. One of the times this worked best was when we saw Lucia's laptop as she was desperately trying to message Edgardo to no reply. Overall, Gary Halvorson camerawork tended to focus in on the principals in close-up though it still showed up the exquisite care with which the eclectic sets were dressed.
Employing the Met's turntable Stone and Clachan show us nearly a full-size house with four rooms, including Lucia's upper bedroom and Enrico's office downstairs. There was also its backyard where the – ultimately riotous – wedding takes place, much else is familiar but nothing quite as down-at-heel as you might expect: there a convenience/liquor store with ATM machine, a pharmacy, a pawn shop, the suggestion of a church, and a shabby motel. Elsewhere we're shown a hydroelectric dam (representing the fountain where Lucia has seen the ghost of a girl who was stabbed by her jealous lover) and the huge screen of a drive-in movie theatre showing (why?) Bob Hope's 1947 My Favorite Brunette. Not forgetting a truck and a couple cars of various vintages. As Lucia's mind disassembles so does the set with fragments of it coalescing in the final act. I can see that this must have been turning almost constantly in the theatre, but in the cinema we never saw that, since Halvorson was concentrating mostly on who was singing at any one time.
At the beginning Lucia is mugged and after being rescued by Edgardo their eyes meet for the first time and so are soon 'making out' in the back of a car. Enrico's gang brandish their guns and knives to maintain control and he appears to deal in drugs and prostitution. However, from the unpaid bills in Enrico's office business isn't all that good and so explains why he is willing to force his sister to marry Arturo who can help him restore his finances. Edgardo has been blocked from getting any messages from Lucia and returns in his army fatigues just as Lucia has signed the marriage contract triggering her final descent into madness. The last act become a Quentin Tarantino bloodfest, Arturo has been battered to death with a fire extinguisher, Lucia in her wedding dress is splattered from head to toe in his blood and she will be haunted by a number of bloodied zombie-like Arturos. During some of this on the screen above we see the fantasy of a happy ever after for Lucia and Edgardo.
I found Stone's cinematic Lucia seen in the cinema totally involving and it has helped rehabilitate this opera for me as one I am happy to keep seeing. My only issue is that even with Stone's intriguing Konzept and the stellar performances of Nadine Sierra (Lucia) and Javier Camarena (Edgardo) Donizetti didn't seem to have the heart to kill them off promptly at the end and the final act drags.
Javier Camarena's Edgardo was something of a lovesick innocent caught up in a cruel world and this made his self-inflicted death at the end all the sadder. His sweet, eloquent voice is a thing of great beauty and somewhat at odds with Stone's production. Artur Ruciński chewed the scenery as the tattooed abusive Enrico relishing his villainy through his every utterance which were sung with his robust and forthright baritone. Christian Van Horn (replacing Matthew Rose) was imposing in the final scene and elsewhere he brought gravitas to a character who is manipulative, possibly because Enrico has some hold over him. Eric Ferring, another elegant singer, stood out in the woefully underwritten role of Arturo.
The Chorus sang strongly as ever and were very fully committed to their involvement in the wedding shenanigans. Riccardo Frizza's Lucia – with the help of the consummate Met orchestra – was brisk, dramatic and took a grip on me at the start and never let go until the end, despite the longueurs of the final scenes.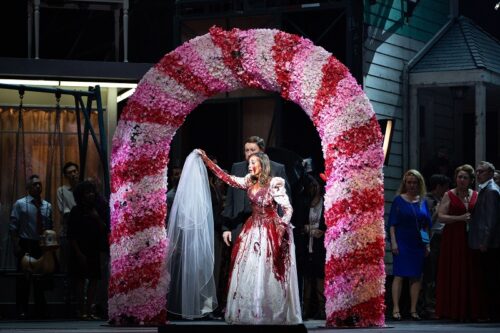 My final praise is left for Nadine Sierra's remarkable Lucia portrayal made all the more impressive because of the cameras right in her face. It was an acting performance worthy of a Tony or Oscar. Heard throughout loudspeakers, her voice was remarkable too, her Lucia was needy, vulnerable, melancholic and fearful and her blood-soaked Mad Scene was sensational (as was the haunting glass harmonica accompaniment). Sierra's voice had crystalline highs and, even with its richness lower down, her refined coloratura embellishments were spine-tingling. She is a Lucia for the ages!
Jim Pritchard