Germany Wagner, Das Rheingold and Die Walküre: Soloists, actors, Orchestra of Deutsche Oper Berlin / Sir Donald Runnicles (conductor). Filmed (directed by Götz Filenius) at the Deutsche Oper Berlin in November 2021 and now available on Marquee TV. (JPr)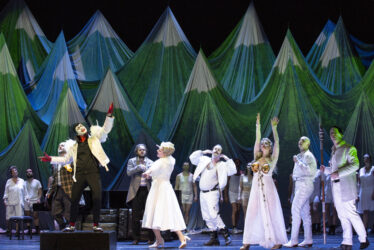 Approaching a new Ring cycle it is easy to go too far down memory lane and, of course, productions anyone might have seen before were of their time and it is now 2022. At the beginning for me was the 'English' Ring of Glen Byam Shaw and John Blatchley for English National Opera in the 1970s and Götz Friedrich's Ring at Covent Garden in the 1970s and 80s; my first Bayreuth Ring was by Harry Kupfer and my last by Frank Castorf (with others there in between during over 25 years). Of course I also know Patrice Chéreau's legendary centenary Ring in its filmed version. Potentially I could bring a lot of preconceived baggage to this new Deutsche Oper Ring (as seen on Marquee TV) but will leave a formal summing up until after Götterdämmerung and restrict myself to just giving some impressions of each work after I have seen it.
Stefan Herheim's new Ring replaced a much-loved one by Götz Friedrich – focussing on the Cold War threat of nuclear war – set in a seemingly endless underground (time?) tunnel which lasted 33 years (1984 to 2017) which I should have seen at least once but never did. Norwegian director Herheim studied under Friedrich at the Hochschule für Musik und Theater Hamburg in the late 1990s. Friedrich (like Harry Kupfer) was at one time an assistant to Walter Felsenstein, the pioneering founder and director of Berlin's Komische Oper. Felsenstein gave pre-eminence to the text, and considerable research went into theatrical performances where music and drama was given its full value. There is a certain sense that with Herheim the baton has been passed on and he had already created quite a stir with his 2008 Bayreuth Parsifal and 2013 Salzburg Die Meistersinger von Nürnberg. His work builds on the 'old masters' (including Chéreau) while incorporating historical and ideological perspectives.
In a recent profile in The New York Times, it was revealed how the thoughts about the new Ring coalesced in 2015 at the height of a refugee crisis in Europe and how – according to Herheim – it forced Europeans 'to face the fact that this is a crisis we have created ourselves, just like the climate catastrophe that is rolling over us now, and the coronavirus, too.' This current Berlin Ring was filmed in November 2021 but is now streamed at a time when millions of refugees have fled the ongoing conflict in Ukraine. We are reminded how Wagner began work on the text of the Ring when – as a young radical – he was in exile in Switzerland after becoming embroiled in the failed 1848 Dresden uprising. Herheim says, 'We are all in a situation like Wagner, all somehow refugees, confronted with the concept of not having a harbour, not feeling safe, and at the same time having to face the destinies of so many people trying to get to us, and face the fact that many of us are not ready to feel empathy.'
In Herheim's Konzept, Das Rheingold begins on a stage total bare apart from a grand piano, a procession of the disposed wander on in modern dress with their battered suitcases which will remain piled up or scattered around for most of the opera. Wotan will emerge as one of them and plays some notes on the piano to usher in the orchestra playing the prelude's opening bars in E flat major. Everyone walks forward and the Rhine soon become a writhing, swaying 'tide of humanity'. Herheim's 'play with a play' begins with a sense that that the refugees are being entertained by several of their number telling their tales of the past and regaling them with their hopes for the future. During this Rheingold characters will seem to be performing their party pieces and occasionally overacting, amusing the throng and eliciting their applause.
Chiefly Alberich with white face and red nose is a clown teased mercifully by the Rhine daughters who here are gyrating good-time girls soon having sex on the piano. By now both sexes are in their white underwear (for some reason) and the tormented Alberich plays the Rhinegold leitmotif on a shiny brass trumpet. A large white sheet emerges from the piano for more suggestions of waves and will remain a feature of the staging. The published Rheingold score is also pivotal with characters referring to it from time to time as if it determined their actions.
We quickly learn how the piano is crucial to what we will see unfold in this Ring: it is the source of the Rhine, Alberich climbs into it and returns with the ring, the goddesses Fricka (marriage) and Freia (youth and beauty) in voluminous white dresses rise up from it, the giants abduct Freia into it, it allows Loge and Mime to appear for the first time, Freia will lie in it to be covered with the Nibelung horde of golden objects, and much else, including the final (descent!) into Valhalla. Fricka has a fascinator on her head and Freia had two large golden apples where Madonna had Jean Paul Gaultier's cones! Froh's initial appearance suggests the god Amor and Donner brandishes misfiring handguns.
The giants were manipulated carnival-like puppets with huge faces formed from a mass of suitcases, their alter egos, Fasolt had a flat cap and Fafner a loud check jacket and trilby. (Herheim introduces a romance between Fasolt and Freia who is distraught when Fafner kills him.) Alberich's slave army were helmeted members of the German second world war infantry, the Tarnhelm was one of the helmets and transformations all in Alberich's imagination. It is Mime (made-up as the elderly bereted Wagner!) who clonks him on the head with a hammer to allow Wagner to briefly – and prematurely – recover the ring. Loge is shown as rather Mephistophelian with white face and red gloves. (He somewhat suggested a mime but for me he reminded me strongly of Frank Gorshin's seminal portrayal of the Riddler in the 1960s TV Batman.) His hands flickered along with his fire leitmotif. Erda will climb out from the prompt box dressed like a (music?) librarian.
There is a horned helmet and a spear that gets passed from character to character. Whilst that white drape at the back of the stage is used imaginatively throughout many of the scenes of Herheim's Rheingold with Torge Møller's video imagery showing us – amongst much else – lofty mountain top peaks, flames, and best of all at the end it forms a huge tree (just as Wotan plunges a sword into the keyboard) before having two foetuses projected on it. Ulrich Niepel's lighting is at its best when conjuring the lingering rainbow bridge on a smoky haze.
Describing what is seen is easier than that dealing with what I heard because that is through loudspeakers of course and may not fully represent what those in the Deutsche Oper experienced. The most dynamic performance was from Thomas Blondelle as the devilish, pyromaniac Loge whose honeyed tones belied his character's role in pulling all the strings. There was nothing particularly noble in Herheim's view of the Rheingold Wotan and he is manipulated by those around him in making his grab for the ring: Derek Welton's bass-baritone had a suavity unusual in this role. Annika Schlicht's imperious Fricka clearly wore the trousers Welton never had on at one point. Markus Brück railed against the indignities he suffered and makes the audience feel his pain when the ring – the only thing with meaning for Alberich – is cut off him and his subsequent curse was unsettling.
All the rest of the cast did the best they could with the little Wagner gives them. The most rounded character was Andrew Harris lovelorn Fasolt and both he and Tobias Kehrer (Fafner) had imposing bass voices. Flurina Stucki was an appealing attention-seeking Freia, clearly enjoying her illicit liaison with Fasolt. Joel Allison (Donner) and Attilio Glaser (Froh) relished their big moments, whilst Ya-Chung Huang as the put-upon Mime/Wagner made me eagerly anticipate his greater involvement in Siegfried. The three Rhine daughters, Valeriia Savinskaia (Woglinde), Arianna Manganello (Wellgunde) and Karis Tucker (Flosshilde) sang very well but looked a little uncomfortable with what Herheim had them do. Last but not least was Judit Kutasi's Erda which was assured and gravely sung.
It is well known that the premiere of the first act of Die Walküre took place in October 1856 in the Hotel Baur au Lac in Geneva, where Wagner himself sat at a piano. At the beginning of Herheim's Walküre the suitcases now are part of the walls surrounding Sieglinde banging at the closed keyboard of the piano pinned shut by Nothung. It is more of a Bavarian schloss than a hut. What now unfolds mostly goes against everything we thought we knew about this first act, not that was entirely unexpected after Rheingold. Did you know Sieglinde and Hunding had a son (Eric Naumann as the Hundingling)? Sadly he appears mute and mentally challenged; he will be shown fond of his teddy bear, wielding a knife, highly protective of his mother and frequently sung to instead of the others. Sieglinde is soon packing a suitcase to flee her forced and abusive marriage. She pulls unsuccessfully at the sword as a wolf (well that's what it looked like to me) comes out of the prompt box to go round the stage before leaving at the opening at the back. Snow prevents Sieglinde setting out and then Siegmund (in fur-lined parka) arrives and there is an instant attraction between the two – to the boy's dismay – and they kiss passionately. Hunding is back from hunting and brandishes his rifle and is the epitome of a 'grey man'. Siegmund finds himself shielding the boy and getting the knife off him and will soon have it at Hunding's throat which makes nonsense of him singing how he is weaponless.
When Siegmund does sing 'Ein Schwert verheiss mir der Vater' about how he was promised a sword (that he has already failed to pull from the piano!) the piano rises up on a simulated column of flame with – what looked like – a gyrating female silhouette. Hunding is drugged as usual but even the boy tries tugging the sword. Siegmund, Sieglinde and the boy are shown in high spirits and for 'Winterstürme' a huge tree grows out of the piano like a mushroom cloud. On it are the eyes of wolf (Wotan in shape-shifting disguise) and he watches as Siegmund finally releases Nothung just as Sieglinde slits the boy's throat! He will strip to his underwear; she will remove her red dress and cover the boy's corpse with it and the act ends with them consummating their relationship on top of the piano.
At the start of Act II the suitcases have been disassembled to give a suggestion of Wagner's high mountain ridge. The trouserless Wotan climbs from the prompt box with the Die Walküre score and 'plays' the piano as the music starts. Siegmund and Sieglinde are still around and she is mourning her son. The refugees with their suitcases enter (now with some children) and so has Hunding and his henchmen and he is shown grieving too. Brünnhilde rises up in the piano costumed 'classically' with helmet, chainmail breastplate, and holding a spear and shield. It is the spear Brünnhilde uses when she appears to anoint the eight Valkyries. In his distress Hunding summons Fricka who is in white with matching suitcase and a headpiece with small ram's horns. She seems less concerned with the sanctity of family values than that of Wagner's score, like many characters from time to time she will sit at the keyboard and 'play' some of the notes. Fricka has Wotan swear on his spear point that he will not protect Siegmund. With the refugees looking on, during his monologue Wotan will angrily tear some pages from the score. Regardless of his aborted attempt to kiss her, Brünnhilde needs to cower from Wotan when he physically threatens her. Reluctantly she accepts Hunding must defeat Siegmund.
When Brünnhilde see Siegmund and Sieglinde kiss passionately we see how it stirs something inside her. It will be Sieglinde who puts Brünnhilde hand on her abdomen to make her aware she is pregnant. Eventually the exhausted, sleeping and blindfolded Sieglinde will be protected by the shroud she had ready for Siegmund. He will be beaten up by Hunding who has arrived with his five gun-toting allies though it is Wotan's spear which applies the coup de grâce (which Wotan feels) and it will also be used to despatch all the remaining gunmen after Hunding dies.
At the start of the final act the eight Valkyries step out from some of the refugees milling around, rip their relevant pages from the score and proceed to attempt to upstage one another. They encounter eight zombie-like figures who will don the Valkyries' horned helmets and brandish their spears and will later grapple with them. Hunding and Sieglinde's son also puts in a ghoulish appearance with his slit throat. Brünnhilde and Sieglinde will initially rise from the piano and later descend into it taking the score with them. Finally Herheim's production will take a tremendous leap forward by allowing the stage to clear (even if it is only briefly) and leave Wotan and Brünnhilde alone for the crucial 'War es so schmählich?' scene. Eventually the onlookers return at the back of the stage and are shocked by Wotan and Brünnhilde's lingering kiss. The piano gets covered by the white sheet which at first surrounded Wotan and Brünnhilde gets laid inside it and she is venerated (for her sacrifice?) by those watching around the edge of the stage. The lid is shut on her and the cloth rises at the back and with the addition of a little smoke we she the flames surrounding Brünnhilde. This not the end because the piano lid opens one last time and there is Sieglinde giving birth to Siegfried 'helped' by Mime/Wagner who steals away with the baby as Sieglinde dies.
Sadly it was clear that Nina Stemme will probably not be singing many more Brünnhildes and she got through it on sheer experience with too few of her words clearly heard. By contrast I was grateful to hear Iain Paterson as Wotan at last. Herheim, of course, does not have him as an authority figure but flawed, manipulative – yet easily manipulated – cruel and rather too close to Brünnhilde, whilst desperate to hold on to his vestiges of real power as long as he can. His bass-baritone voice was sonorous and communicative and every word he sang could be understood. Anna Schlcht repeated her commanding Fricka. The eight Valkyries, Flurina Stucki (Helmwige), Aile Asszonyi (Gerhilde), Antonia Ahyoung Kim (Ortlinde), Simone Schröder (Waltraute), Ulrike Helzel (Siegrune), Karis Tucker (Rossweisse), Anna Lapkovskaja (Grimgerde) and Beth Taylor (Schwertleite), showed great commitment to the antics Herheim devised for them but vocally they were not the most homogenous octet. Brandon Jovanovich was a well-acted, though dark sounding, Siegmund and I would have preferred a little more lyricism. The top of Jovanovich's voice is stentorian and secure but there was a touch of gravel lower down. Elisabeth Teige's warmly sung, though occasionally shrill, Sieglinde veered from maternal to obsessive – in her desire to escape Hunding's clutches for a new life with Siegmund – and finally to revealing her motherly side in wanting to keep her unborn child safe. Finally, Tobias Kehrer sang a fearsome, vindictive Hunding.
The Deutsche Oper Orchestra sounded as if they were playing at the best for their long-time general music director Sir Donald Runnicles, odd Rheingold anvils notwithstanding. His conducting of the first two parts of this new Ring seemed intense, propulsive and full of dramatic sweep.
Jim Pritchard
Production:
Director, Set design – Stefan Herheim
Set design – Silke Bauer
Costume design – Uta Heiseke
Video – Torge Møller (Das Rheingold) and William Duke, Dan Trenchard
Light – Ulrich Niepel
Dramaturgy – Alexander Meier-Dörzenbach, Jörg Königsdorf
Das Rheingold
Wotan – Derek Welton
Donner – Joel Allison
Froh – Attilio Glaser
Loge – Thomas Blondelle
Alberich – Markus Brück
Mime – Ya-Chung Huang
Fasolt – Andrew Harris
Fafner – Tobias Kehrer
Fricka – Annika Schlicht
Freia – Flurina Stucki
Erda – Judit Kutasi
Woglinde – Valeriia Savinskaia
Wellgunde – Arianna Manganello
Flosshilde – Karis Tucker
Die Walküre
Siegmund – Brandon Jovanovich
Hunding – Tobias Kehrer
Wotan – Iain Paterson
Sieglinde – Elisabeth Teige
Fricka – Annika Schlicht
Brünnhilde – Nina Stemme
Helmwige – Flurina Stucki
Gerhilde – Aile Asszonyi
Ortlinde – Antonia Ahyoung Kim
Waltraute -Simone Schröder
Siegrune – Ulrike Helzel
Rossweisse – Karis Tucker
Grimgerde – Anna Lapkovskaja
Schwertleite – Beth Taylor
Hundingling – Eric Naumann