New world-class opera festival comes to East Anglia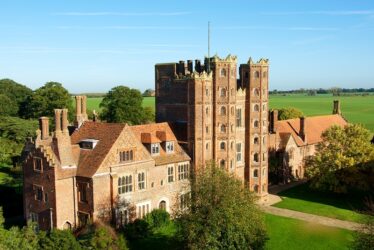 This summer, a new inclusive, sustainability-minded opera festival will launch at Layer Marney Tower, one of England's finest Tudor Palaces.
The Essex Summer Opera Festival (7-10 July 2022) is a three-day event welcoming seasoned opera fans and newcomers alike for a weekend of affordable, international quality live music and picnicking, in a stunning rural setting. It will present opera at close quarters, sung in English by an outstanding cast, and re-imagined for more intimate, accessible performances. The Festival will join the ranks of established UK opera festivals including Glyndebourne (Sussex), Garsington (Buckinghamshire) and Grange Park (Surrey), filling an important geographical gap. The Festival, presented by new charity Wild Arts, is a much-anticipated addition to East Anglia's cultural scene. Essex is a key home counties region, with a population of 1.9 million.
Orlando Jopling, founder of the Festival and Wild Arts, said: 'Top quality cultural experiences belong in Essex just as much as in London and the other home counties. The region has all the ingredients to host its own events – beautiful landscapes, unique venues and enthusiastic communities. The opening of Saffron Hall in 2013 was a huge coup for the area, and its success shows there is strong local appetite for the very best artistic output. We are thankful to Thaxted and Frinton festivals, who have done great work bringing classical music to the county, and of course to Cliffs Pavilion. We want to enhance and build on that legacy. We respect and are inspired by the existing UK opera festivals", explains Jopling, "This is not about competing, it's about shining the spotlight on Essex, and creating a new space to explore how music can positively influence the environment and local communities (and vice versa)."
Set to become a permanent fixture in the county's calendar, the next five years of productions have already been planned in conjunction with Layer Marney's owners Nicholas and Sheila Charrington. These include Donizetti's The Elixir of Love (2023), Tchaikovsky's Eugene Onegin (2024) and Verdi's La traviata (2026).
This Festival's inaugural production is Mozart's Così fan tutte. The sparkling comedy of young lovers tying themselves in romantic knots will be brought to life by an outstanding cast of British singers including soprano Ella Taylor, whose career has ignited since winning second prize at the 2020 Kathleen Ferrier Awards, and Joanna Songi, whose voice Gramophone describes as 'meltingly beautiful'. The production has been given a fresh lease of life by award-winning director Poppy Burton-Morgan, with the action transposed to 1970s Cambridge University and in costumes by Canadian designer Chantal Short. Founder of leading UK theatre company Metta, Burton-Morgan won the 2020 Writers Guild of Great Britain Award for their work on In the Willows, a musical described by Libby Purves as 'cheeky, exuberant, marvellous, wonderful'.
Cast:
Fiordiligi – Ella Taylor
Dorabella – Martha Jones
Despina – Joanna Songi
Ferrando – Richard Dowling
Guglielmo – Gareth Brynmor John
Don Alfonso – Eddie Wade
Conducting is Festival founder, composer and cellist Orlando Jopling, whose conducting credentials include the Royal Opera House, English Chamber Orchestra and English National Ballet. In 1997, Jopling co-founded Tête à Tête Opera ('intrepid explorers of the future of opera'), and for the last fifteen years he has brought inspiring music to surprising locations in North Essex via the Roman River Festival.
Performances are presented in two halves of approximately one hour each, in English. The score has been sensitively arranged and abridged by Jopling, and the translation is by expert director, lyricist and translator, Jeremy Sams. There are three performances, on 7, 9 and 10 July: the opening night, a 'dress for the opera' evening, and a Sunday matinee with £10 tickets for under-25s. Audiences are encouraged to explore Layer Marney's picturesque grounds, picnic in the gardens, and, on Sunday, climb the iconic Tower to take in the surrounding views. Tickets are £10 under-25s, £35, £45, £55, £70 (for more details click here).
The home for the Essex Summer Opera Festival is Layer Marney Tower, England's tallest Tudor Gatehouse and one of South England's most magnificent heritage venues. Performances will take place in Quintin's Barn, an atmospheric sixteenth-century structure with excellent acoustics, fresh from extensive refurbishment enabled by the Government's Culture Recovery Fund. The Festival is the culmination of a 30-date UK-wide summer tour of rural locations. With a pared-down presentation involving six singers and seven leading chamber musicians, the opera will play to audiences of 225 per show, making full use of the Barn's intimate atmosphere to directly engage audiences. The result is drama and storytelling at its most immediate and accessible. The chamber-style format also seeks to counter the resource-heavy nature of traditional opera production and explore more sustainable presentation.
The Festival is presented by Wild Arts, a new charity which seeks to bring world-class cultural experiences to under-served rural parts of the UK, working in harmony with the natural environment and involving local communities. The charity, whose patron is Roderick Williams OBE, was founded in 2022 by Jopling as a response to the Covid-19 pandemic, and the worrying impact of increasing social division and climate change. In the future Wild Arts will increasingly fuse music with sustainability and community-focused activities, running events such as talks from biodiversity experts, partnerships with local community groups, and apprenticeships for young people from disadvantaged backgrounds.