United States Da Capo Chamber Players 50th Anniversary Season – 'Bridging Styles': Da Capo Chamber Players. Merkin Hall, New York, 10.5.2022. (DS)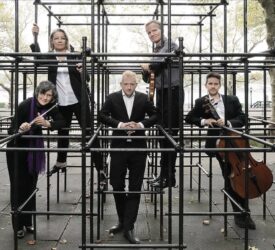 Judith Shatin – Gregor's Dream
Jason Eckardt – Rendition
Erica Lindsay – Further Explorations (New York Premiere)
Elliott Carter – Con leggerezza pensosa
Steve Reich – Double Sextet
Da Capo Chamber Players – Curtis Macomber (violin), Chris Gross (cello), Patricia Spencer – (flute), Marianne Gythfeldt (clarinet), Steven Beck (piano)
Guest Artists – Oliver Xu (percussion), Caroline Davis (alto saxophone), Erica Lindsay (tenor saxophone), Mark Helias (acoustic bass), Allan Mednard (drums)
Over the last fifty years, the Da Capo Chamber Players have had works written for them by composers ranging from David Lang to Joan Tower to Milton Babbitt. At their naissance in the 1970s, they were a pioneer chamber group for new American composition, and laid the foundation for what might be called a golden epoch of new music groups currently proliferating New York City. This year, in their fiftieth anniversary celebration, Da Capo is both revisiting works and continuing to forge new composer relationships
In their most recent concert, 'Bridging Styles', they performed works that each touch upon a different theme. Judith Shatin's Gregor's Dream incorporated field recordings of beetles and connected with an environmental awareness theme that is beginning to appear more often in musical works. With amplified piano trio and electronics, the group evoked a story-telling tone in the piece that blended the 'buggy sounds' with a theatrical verve.
Next on the program was a work by Jason Eckardt that bridged the subject of political expression. Rendition for bass clarinet and piano represented events relating to the CIA's questioning of detainees after the September 11 attacks. An expert at creating shapes of sound through volume, register and timbre, Eckardt's matching of bass clarinet with piano created a series of musical sound chambers. Some captured a deep and emergent sound, while others echoed vibrations that rendered a sense of different spatial magnitudes. Da Capo musicians appropriately embraced the feelings of discomfort and dread with moving subtlety, and relayed with expertise a musical message of loss and forgotten connection.
Da Capo then jumped across musical genres to jazz, inviting jazz musicians to join in the New York premiere of composer Erica Lindsay's Further Explorations. While this provided a jovial jaunt through improvisational band performance, it also became quickly apparent that Da Capo's usual fare is not of the jazz variety, leaving us with a pleasant experience, if not one that leaned towards the amateurish side. The guest jazz musicians, however, carried the weight and brought the piece home to its strong finish.
After the intermission, it was back to more familiar ground as the recital continued with an older generation from America's Mount Rushmore of composers, Elliott Carter and Steve Reich. The Carter work, Con leggerezza pensosa, reached across to literature with an homage to Italo Calvino and his lectures on a 'lightness of thoughtfulness'. Carter's ground-breaking ability to build rhythmic patterns that depend as much on silence as on pitch presented Calvino's idea perfectly. Written for violin, piano and clarinet, the piece moved through moments of complex chaos followed by sudden moments of calm when a striking weightlessness would occur. Curtis Macomber on violin was especially riveting and led the interpretation with exquisite nuance.
And, finally, the apex of the evening was truly Reich's Double Sextet. Reich finally won a Pulitzer for this work in 2009: never too late but certainly highly delayed. Yet Double Sextet has a power that, like many of his masterworks, can only be experienced to its maximum in person. With six players on stage, the doubling occurred through a pre-recording by the musicians of the second sextet part.
Reich strikes an astounding mixture of textures and ideas. On one hand, the musical self-commentary on railroad motifs, dense layering and signature modulations is unmistakable. On the other, listeners are faced with a surreal feeling of the uncanny. It was hard to tell when you heard a live musician or a recorded part. One faced a dilemma, looking at a small group on stage yet hearing the sound of a domineering orchestra. Was it real or was it imaginary? This fantastic experience of musical beauty and stamina of grand magnitude took robust, able-bodied teamwork and fearless musicianship. It really proved that, yes, the Da Capo Chamber Players have fifty years of experience under their belts. And, clearly, they haven't wasted a minute of it.
Da Capo's final performance of the season will be 'Bridging Eras: Then and Now' in June.
Daniele Sahr