United Kingdom Tchaikovsky, Swan Lake: Dancers of The Royal Ballet, Students of the Royal Ballet School, Orchestra of the Royal Opera House / Gavriel Heine (conductor). Directed for the screen by Ross MacGibbon and relayed to Cineworld Basildon, Essex. 19.5.2022. (JPr)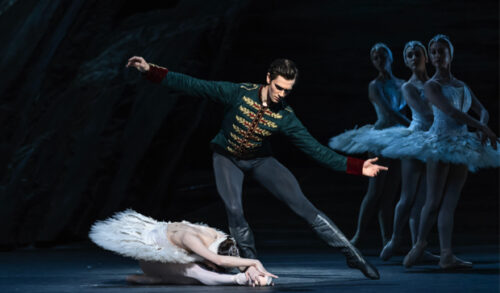 Production:
Choreography – Marius Petipa and Lev Ivanov
Additional choreography – Liam Scarlett and Frederick Ashton
Production – Liam Scarlett
Designer – John Macfarlane
Lighting designer – David Finn
Staging – Gary Avis, Laura Morera and Kevin O'Hare
Cast:
Odette/Odile – Lauren Cuthbertson
Prince Siegfried – William Bracewell
Von Rothbart – Gary Avis
The Queen – Christina Arestis
Benno – Luca Acri
Prince Siegfried's Younger Sisters – Isabella Gasparini and Meaghan Grace Hinkis
On seeing the late Liam Scarlett's 2018 Swan Lake once more it is clear how it provides a perfect showcase for the dancers of The Royal Ballet who impressed in it near the end of a long run of performances. However, it is not without problems that perhaps would have been addressed by now had Scarlett not sadly died – under a cloud – in 2021. Scarlett seems to have had his reputation restored but that is sadly too late now for him. Kevin O'Hare described this Swan Lake as 'a testament to Liam's love of classical ballet, the storytelling and music all coming together'.
Why is Prince Siegfried's friend, Benno, given so much to dance in Acts I and III when he seems to be involved in a repeat of the same pas de trois with Siegfried's sisters. Benno is also involved so much elsewhere when no one would miss him if he wasn't there. It is still not dramatically clear why the Queen's advisor Von Rothbart would moonlight (literally!) as a sorcerer – or vice versa – just to orchestrate a palace coup in the third act. And that woefully downbeat ending? All we need in 2022 after what we have gone through recently is to witness Odette's sacrifice and the final image being Siegfried carrying her lifeless body as Tchaikovsky's music is suggesting something more uplifting with the triumph of good over evil.
I have written before how all a reasonably successful Swan Lake needs is not much more than Tchaikovsky, the 1895 steps of Marius Petipa and Lev Ivanov, some swans, a royal court and a moonlit lakeside. This Scarlett gives us within the context that his storytelling is muddled and this staging could have been from any point in the last century and more. Ballet must be seen to embrace new technologies (such as, projected images and video) sooner rather than later as it is clear most of Scarlett's budget went on John Macfarlane's three-dimensional gilded third act set and all the sumptuous costumes whilst the lakeside scenes have a dingy backcloth and a simple jagged rock promontory. (Von Rothbart was flapping his arms around in the gloom at the back of the stage and I hope he was seen better in the Royal Opera House than he was in this cinema broadcast.) For a character so pivotal to (any) Swan Lake Scarlett's Von Rothbart is an oddly peripheral figure whether at court or by the lake.
Scarlett begins with a Prologue where Odette is shown transformed from princess to swan by the rather predatory Von Rothbart. Siegfried and his friend Benno get new solos, though Siegfried still never dances as much as he should and there is also that pas de trois mentioned above. Scarlett also re-choreographed some of the ensemble and national dances in the first and third acts, gave Act III a new ending, and finally reimagined the final act by adding a pas de deux for Odette and Siegfried. Much of the new choreography blends seamlessly with Petipa/Ivanov and Scarlett has retained Sir Frederick Ashton's Neapolitan Dance in Act III which for a few fleeting moments – thanks to the sparky Leticia Dias and David Yudes – takes us, as before, to another production entirely.
On a second viewing I am no clearer of Scarlett's sense of time and place. At the start we are in the palace gardens with a Caspar David Friedrich-ish backdrop. This is possibly towards the end of the German Empire and soon Scarlett's Swan Lake morphs into Mayerling territory with Siegfried as the unhappy and conflicted Austrian prince, Rudolf. You might also think about Russia, since Von Rothbart skulks around rather like Rasputin amongst the Romanovs. One of Scarlett's better ideas is to link the first two acts as a gloomy Siegfried is transported to the lakeside having been given his father's crossbow as a birthday present. A similar transition would have been good between Acts III and IV and saved an unnecessary interval. (This is prevented by the solid set and [spoiler alert] the appearance of some black swans at the Queen's downfall which would require a costume change.)
And even that dispiriting ending is poorly staged with Von Rothbart succumbing too easily after Odette jumps into the lake to drown herself. All he does is to climb the rock at the back which – even on one of the biggest cinema screens imaginable – made too little of her death. Von Rothbart strangely never reveals his 'other self' to Siegfried and simply lays down and expires on the rock.
What about the dancing? Well, it was exemplary and as fine a company performance as I can remember. The cygnets and the ethereal swans traversed the stage in exquisite harmony with their arms wafting in perfect unison. Elsewhere the corps de ballet, as well as dancing with style and flair (particularly in the Act III national dances), frequently were there to frame the stage and showed themselves attentive to everything happening on it and aware of their part in it, however small that might be. Luca Acri boisterously danced Benno and relished (twice!) his pas de trois with Siegfried's younger sisters (the spirited Isabella Gasparini and Meaghan Grace Hinkis). As the pantomime villain Gary Avis glowered at court or twirled about in the lakeside scenes. However, he was unable to bring the puppet master Von Rothbart to true life because we do not have any real explanation for the evil sorcerer's power grab (that may not be important to many but it is to me).
In the video about the preparation of this performance we heard from Director of The Royal Ballet, Kevin O'Hare, how all the hard work is necessary, 'So we're not really seeing technique, we're just seeing story unfold' and that is absolutely what we saw from all those involved. Not least of course, from Lauren Cuthbertson (Odette/Odile) and William Bracewell (Prince Siegfried), after the prosaic first act what we saw was as emotionally and dramatically credible as ballet can be. Veteran principal guest teacher, Olga Evreinoff, spoke at one point of how a character should drive the music, rather than follow it, and this is what we saw from both of them. Of course this performance was notable for celebrating Cuthbertson's twentieth anniversary with the company and during a post-performance tribute O'Hare said, 'It seems unbelievable that she's been two decades with The Royal Ballet, she started very young, it's been an incredible twenty years'. Cuthbertson has recently become a mother (and we saw the delightful Peggy in a new film profile Step by Step) and O'Hare continued by saying, 'You're such an inspiration to young dancers around the world'. (It is enlightening of how much the world has moved on because many similar ballerinas in times past would have been facing retirement at this point in their career rather than looking to 'the next two decades' as mentioned by O'Hare.)
Cuthbertson's Odette was lyrical, sensitive and moving with the sense of how she was totally emotionally engaged with the frightened and ultimately betrayed swan princess. It goes without saying that her technique was rock-solid but you will never find yourself concentrating on that. By contrast, her Odile was dangerously seductive and Siegfried never stood a chance. Bracewell is a tall, elegant dancer and like the best Siegfrieds acted with depth and sincerity to show how the expectations of being a royal was weighing heavily on his shoulders before he experienced love for the first time with Odette. Bracewell's jumps soar, his turns are impeccably precise and his partnering faultless.
U.S. born and Russia trained Gavriel Heine recently resigned (no reason for guessing why?) from his position of resident conductor of the Mariinsky Theatre in St Petersburg after 15 seasons and with the support of the virtuosic Orchestra of the Royal Opera House conducted – as heard through the cinema loudspeakers – the best account of Tchaikovsky's score I can remember hearing during a live performance. He never held back at the big moments or indulged his dancers and overall this Swan Lake was notable for its classical elegance and narrative fluidity.
Jim Pritchard
More about the 2022/23 Royal Opera House Cinema Season will be available here soon.