András Keller answers Gregor Tassie's questions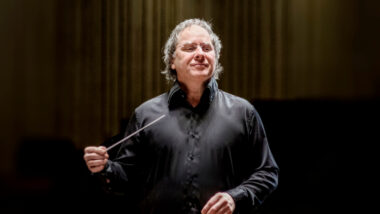 Gregor Tassie: The last two years have been intensely difficult for musicians worldwide, how did the pandemic affect your musicians and what did you do to bring music to your audiences?
András Keller: In the first three months of the pandemic, we remained partially silent, as I'm not a fan of home recordings. After that, we started to work very hard, continuously adapting to the given circumstances. For instance, a concert, which would have featured a symphony orchestra initially, was played by a woodwind ensemble. All our shows took place in the end. We always aimed to address as many people as possible, which necessarily meant new ways. We would play grand concerts and whole festival series without an audience, most of which were recorded and streamed online in a feature film quality with 10-12 cameras. Our 'Mozart Day', for example, was viewed by 200,000 people on the website of a market-leading Hungarian news portal. The 14-hour-long live recording of our contemporary music festival. 'The Day of Listening', directed by Imre Szabó Stein, was followed by hundreds of thousands of people worldwide on 'The Violin Channel'. In total, the streams reached over one and a half million viewers during the pandemic.
GT: Your orchestra specialises in mixing both modern works with classical repertoire, what composers are you collaborating within coming seasons?
AK: I also act as the Artistic Director of the 'Arcus Temporum Festival', which juxtaposes works by J.S. Bach and Lera Auerbach… Then, this season, at the concerts linked with the 'Ligeti Centenary', we will frequently collaborate with Peter Eötvös, who has also become the orchestra's principal guest conductor. We have dedicated a special festival to the encounter of contemporary and classical pieces, which will be held in the recently opened House of Hungarian Music and the Budapest Music Centre this year. In former years, we would give 10-12 concerts in two days, featuring around 40 to 50 compositions, several of which were world premieres.
GT: Recent years in Europe have caused funding problems with many orchestras. Could you tell me how your orchestra is funded?
AK: Luckily, the cultural sector in Hungary is funded for the most part by the Hungarian government. The state also funds Concerto Budapest so we could survive the pandemic successfully. The countries where culture is mainly supported by the state governments had a higher chance to survive these turbulent times.
GT: Kurtág is a major figure in world music, what plans are you working on with him presently?
AK: I have been Kurtág's student since the age of 16, and our relationship is still intense as I strive to pass on his pedagogy to others. He is writing a new symphonic work for György Ligeti's 100th birthday, which will premiere in the BMC in the coming season on 28 May 2023.
GT: Are there any particular British composers that your orchestra performs?
AK: In the past few years, we have played works by a number of British composers. My repertoire encompasses composers ranging from John Dowland to Britten and such contemporary masters as Thomas Adès, George Benjamin, Julian Anderson and Colin Matthews.
GT: Angela Hewitt is among the finest pianists worldwide, how do you like her style of performance?
AK: She is a marvellous artist with a naturally elegant and speech-like performance style, which is very close to me.
GT: Can you tell me about the works that you will be performing on tour, I have in mind Hungarian music?
AK: Two emblematic Hungarian works will feature in this tour. Bartók's Concerto for symphony orchestra, one of the most pivotal compositions of the twentieth century. In this work, besides working on national music, Bartók could also give expression to his main principle of the brotherhood of all peoples with great force. Let me quote Bartók himself on this: 'My main idea, which dominates me entirely, is the brotherhood of man over and above all conflicts… This is why I am open to influence by any fresh and healthy outside sources, be they Slovak, Romanian, Arabic or other.' Kodály's Dances of Galánta is a highly popular and welcome Hungarian piece all over the world, which 'inserts' some wonderfully authentic Hungarian folk music into a brilliant and modern composition.
GT: Many orchestras recruit from across the world, but I notice that some Eastern European orchestras prefer to recruit only their own compatriots, how do you recruit your musicians?
AK: Concerto Budapest is an entirely open orchestra with mainly Hungarian musicians, but we also have some permanent members from America, Japan, Ukraine and other countries. The musicians are primarily Hungarian because many of them are recruited straight from the university, and the orchestra plays a vital role in their first career steps. For me, Concerto Budapest is far more than a musical ensemble: it is a workshop of music, where human aspects are similarly crucial as professional ones. We don't necessarily hire the musicians who play better, faster and more beautifully, but those who match the other members, are committed and can cooperate well.
Concerto Budapest will be touring the UK between June 6 and June 12.