United Kingdom A London Dream: a film from the Academy of St Martin in the Fields premiered on Sky Arts, 21.6.2022. (JPr)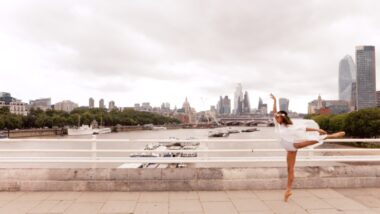 Standing on the Southbank of the River Thames Zakia Sewell introduced A London Dream – a film featuring the Academy of St Martin in the Fields, as well as the city that is its home – by saying how 'This is a film inspired by the music of Felix Mendelssohn, the prolific composer who was himself inspired by a story written by William Shakespeare, an imaginative masterpiece exploring the highs and lows of love, magic and mischief, order and chaos. It is also a film about an orchestra, a community of music makers whose creativity elevates and uplifts and whose pulse finds its source in the heart of this very city. And this is a film about midsummer, the moment of hope and expansion when the days are long and when the light of the sun reaches its peak.'
A Midsummer Night's Dream is the one (only?) Shakespeare play to which I am happy to return time and again. It is one of his most-loved comedies, where fantasy, magic and mischief (as Sewell described it), as well as slapstick unite against the backdrop of Theseus's Athenian Court and a feuding fairy kingdom ruled by Oberon and Titania. Also thrown into this mix are six 'Rude Mechanicals' who are attempting to put on a play-within-a-play. There are probably darker elements to the plot such as Hermia's father being willing to send her to a nunnery or have her executed if she does not marry the man of his choice. And what is all that stuff about Titania's Indian page boy that Oberon demands from her? As I have done countless times before it is best to just sit back and enjoy Shakespeare's eternal battle of wills, misunderstandings, and all the ensuing fun. Mendelssohn wrote his incidental music for A Midsummer Night's Dream in 1842, 16 years after he wrote the more familiar Overture. It was written for King Frederick William IV of Prussia for a performance of the play on 14 October 1843 at Potsdam.
With Ryan Wigglesworth shown conducting a socially distanced Academy of St Martin in the Fields in a desolate looking Alexander Palace this is the soundtrack to the six scenes of Richard Wilson's film each illustrating a movement from Mendelssohn's A Midsummer Night's Dream: Overture, Scherzo, Intermezzo, Nocturne, Wedding March and Finale. Quotes from Shakespeare's play appear on the screen to contextualise what we are seeing as six – obviously very talented – dancers play the leading characters: Helena, Hermia, Demetrius, Lysander, Titania and Oberon, plus fleetingly Bottom (one of those 'Rude Mechanical'). Frequently accompanied on location by members of the orchestra they will illustrate key moments from the play by leaping and spinning through Mendelssohn's imaginative, expressive and characterful music thanks to some captivating contemporary choreography from Annabel Wotherspoon and the dancers themselves. In some of its more lyrical movement it seems to pay homage at times to Sir Frederick Ashton's 1964 The Dream for The Royal Ballet.
Generally what we see in A London Dream is music, dance and part-travelogue and will be familiar to devotees of watching the New Year's Day Concert from Vienna on TV where ballet dancers frequently perform with the historic city or the Vienna Woods as their backdrop to illustrate the music of the Strauss family and their contemporaries. During the Overture, we see members of the orchestra travelling by rail or cycling or walking to get together as Benjamin Ealovega's camera brings us a tour of London landmarks that you usually see in Hollywood films: Houses of Parliament, St Paul's Cathedral, Nelson's Column, Gherkin, Shard, Post Office Tower etc. En pointe at Little Venice we meet the green skirted Helena (Romy Adair), a suited and booted Demetrius (Jamie Duncan-Campbell), and the more casually dressed Helena (Harriet Samuel-Gray) and Lysander (Aaron Patel).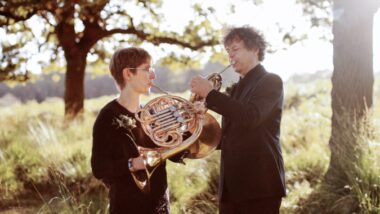 For the Scherzo we are introduced to the wildlife in Richmond Park including deer, rabbits, a squirrel and a heron, as well as Rosanna Lindsey's Titania looking ethereal in white and Christian Knight's Oberon looking and twirling, well, like Oberon! The bickering lovers are found in Central London for the Intermezzo with its brief cello passage that clearly inspired Wagner when he composed Tristan und Isolde. Best of all is the Nocturne filmed as a horn duo with Stephen Stirling and Joanna Hensel as Titania encounters her Bottom, here a park keeper in hi-vis vest and presumably faux fur hat with its flaps hinting at the donkey's ears from the play.
The famous Wedding March is probably the most popular single piece of music Mendelssohn ever composed and we watch the reunited lovers gambolling through the park dressed in white for their wedding and it concludes with a group of musicians quaffing champagne in celebration. To match all the previous beautiful dancing and excellent playing we have seen and heard, now there was some atmospheric singing during the Finale from Genesis Sixteen and featuring Rowan Pierce (soprano) and Stephanie Wake-Edwards (mezzo-soprano) who combine to sing Shakespeare's 'Through this house give glimmering light' before we hear Puck's closing speech from Zakia Sewell to bid us goodbye.
There is so much to enjoy in A London Dream that I urge you see it if you still can when it is repeated initially on 23 and 24 June on Sky Arts.
Jim Pritchard
A London Dream
Rowan Pierce (soprano), Stephanie Wake-Edwards (mezzo-soprano), Zakia Sewell (narrator), Academy of St Martin in the Fields / Ryan Wigglesworth (conductor)
Dancers – Romy Adair (Helena), Jamie Duncan-Campbell (Demetrius), Harriet Samuel-Gray (Hermia), Aaron Patel (Lysander / Bottom), Rosanna Lindsey (Titania) and Christian Knight (Oberon)
Creative team:
Devised, Directed and Edited by Richard Wilson
Choreography – Annabel Wotherspoon and Dancers
Cinematographer – Benjamin Ealovega
Audio Producer – Andrew Mellor