Switzerland Orff, Carmina Burana: Cressida Sharp (soprano), Max Emanuel Cencic (countertenor), Russell Braun (baritone), Zürcher Sing-Akademie (chorus master: Florian Helgath), Zürcher Sängerknaben (chorus masters: Konrad von Aarburg and Alphons von Aarburg), Tonhalle Orchestra Zurich / Paavo Järvi (conductor), Tonhalle, Zurich, 23.6.2022. (JR)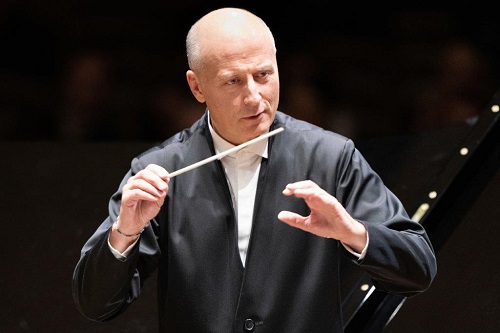 The scheduled German soprano Alice Wunderlin was indisposed late in the day and in stepped a soprano from the chorus, Cressida Sharp. Sharp is no everyday chorus singer, she studied at the Junior Royal Academy of Music, then went on to a Classics degree and choral scholarship at Cambridge. Her concert calendar reveals that she will perform under Thomas Hengelbrock in July, and both the Royal Philharmonic Orchestra and Vasily Petrenko and the Orchestre Révolutionnaire et Romantique under Sir John Eliot Gardiner in August. You can hear her at the BBC Proms on September 7th in the Missa Solemnis. Not only did Sharp save the day for this concert, she was its star. More detail later in this review.
I always think that attending a performance of Carmina Burana is rather a guilty pleasure. Any really serious music lover ought not to appreciate or enjoy it; many conductors, particularly of religious works, will understandably shy away from it. And yet. It is nigh impossible not to be swept away by the physicality and joyfulness of the piece. It is a work which has broad appeal and was the perfect choice to conclude the Tonhalle Orchestra's first full season after the pandemic. It should have guaranteed a full house, but oddly did not. The original idea was to stage one performance in the open air but the municipal authorities, sadly, put the kibosh on that idea claiming the stage could not take the weight of the number of performers required.
It has to be said that there are lingering doubts about the composer's political leanings. The work was written in the 1930s, in Munich; Orff (a quarter Jewish), according to his daughter, took an opportunistic view of the Hitler regime. The Nazis first described the work as a 'Bavarian n****r work' but by 1944 Hitler himself had added it to his private list of 'works blessed by God'.
As to the origins of the work, Orff in 1934 stumbled across an antiquarian catalogue in a bookshop in Würzburg. In the catalogue he found a work which attracted him magically, mystically: 'Carmina Burana, Latin and German songs from the 13th century from the monastery at Benediktbeuren (Bavaria)'. There were 254 songs, Orff chose two dozen of them and set to work. A few days later, he had already completed three of them.
The Zürcher Sing-Akademie were on top form, I counted 60 of them. Volume was never an issue; and they kept up with Paavo Järvi's unflagging tempi. The basses were sonorous, the altos mellow in 'Chume, chum, geselle min'. Diction in Latin, old German, old French was always clear and audible. Thankfully, the orchestra management provided everyone with a thick programme containing all of the text and a translation (into German).
The orchestra seemed to enjoy the piece; especially the brass and percussion section (Christian Hartmann on timpani having his work cut out in 'O Fortuna'.) Sabine Poyé Morel was the standout flute soloist.
The soloist who has most to sing is the baritone and in this performance lyric baritone Canadian Russell Braun (who sang in a recent War Requiem at the Tonhalle) impressed throughout across the vocal range, from falsetto to deepest bass in 'Dies, nox et omnia'. I would have liked more audible pain from the surreal roasted swan: countertenor Max Emanuel Cencic's voice was not quite strangulated enough for my taste.
Back to Cressida Sharp. Sharp tried hard not to look nervous at the start, but soon relaxed and we revelled in her glorious tone. Her rendition of 'stetit puella' was simply lovely, with no problem on the highest notes. We waited for 'Dulcissime' and were not disappointed: her top D rang out, clear as a bell. At the end, her fellow chorus singers were the first to burst into applause and stamped the floor. Paavo Järvi turned to her at once and gave her a big hug.
The well-trained boys' choir, the Zürcher Sängerknaben, sang well and audibly. Their trainers are an established local father and son team, Konrad and Alphons von Aarburg.
I pondered during the concert whether Orff is really a 'one-hit wonder' but see that Teodor Currentzis is performing Orff's De Temporum Fine Comoedia at the Salzburg Festival (along with Bluebeard's Castle) in July and August; it is not a work I know but will now seek it out. Karajan recorded it with his top forces, so must have thought highly of it.
There was plenty of action for the tuba player, British Simon Styles, who now retires from the orchestra after many years' service: he (and his blog from the tours) will be greatly missed.
John Rhodes