United States Wennäkoski, Bates, Dvořák: Daniil Trifonov (piano), San Francisco Symphony / Ruth Reinhardt (conductor). Davies Symphony Hall, San Francisco, 2.6.2022. (HS)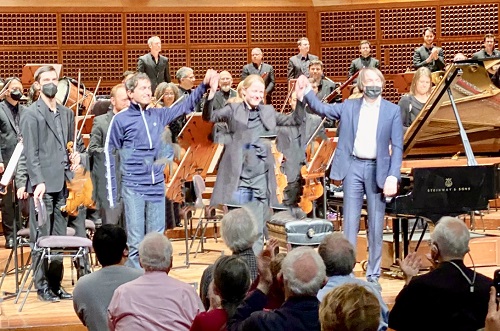 Lotta Wennäkoski – Om fotspår och ljus ('Of Footprints and Light')
Mason Bates – Piano Concerto
Dvořák – Symphony No.5 in F major
Composer Mason Bates has a long history with San Francisco Symphony, including a recording of recent works: Liquid Interface, Alternative Energy and the SFS-commissioned The B-Sides. An opera, The (R)evolution of Steve Jobs, which debuted in 2017 at Santa Fe Opera, comes to San Francisco Opera in 2023.
Bates's new piano concerto is made of different stuff, with no hint of electronics, a mainstay of the Bay Area composer's work. It still grabs an audience by the lapels and doesn't let go for 25 minutes, and it makes a dazzling vehicle for Daniil Trifonov. It shows off the pianist's virtuosity first and foremost, but also captures a listener's attention with jazzy rhythms, ear-catching tunes, harmonies that range from pungent to soothing and a number of big climaxes.
A co-commission by this orchestra and the Philadelphia Orchestra, it debuted in January under Yannick Nézet-Séguin in Philadelphia, and has since been played by the Israel Philharmonic and the New Jersey Symphony. This was the West Coast premiere.
Impressively, Trifonov played Bates's complex music without a score. The soloist hardly rests, carrying the storyline from the beginning. After a few scene-setting measures by the orchestra, the opening movement begins with a four-part keyboard chorale that develops into a lively dance tune. Give-and-take between the soloist and an orchestra brings colors of strumming strings and percussion (a Renaissance drum that looked and sounded like a bodrum, several arrays of triangles of various sizes, a vibraphone and wood blocks).
A brilliant brass fanfare creates a bridge with the second movement, which contains some of the most potent music in the piece. It suggests depths that the jollier outer movements may not. The piano starts with slow-moving music reminiscent of some of Rachmaninoff's more introspective preludes (or maybe the piano version of Isle of the Dead). The orchestra responds with happier music in the major key, but the pianist remains in gloomy minor.
It takes almost the entire movement, but the orchestra finally lifts the soloist's spirits. Against a final resting chord, the piano introduces a syncopated rhythm on a single note. The orchestra picks it up, expands upon it, and we are off on a signature Bates romp driven by dance-club rhythms and a series of juicy climaxes.
In his introduction to the piece on Thursday, Bates told the audience that his inspiration derives from his first tastes of classical music – keyboard music by Bach and heart-on-sleeve high-Romantic composers from Chopin to Rachmaninoff. In isolation in 2020 during the first months of the pandemic, he listened to recordings of all stripes while writing the concerto. Renaissance madrigals filter through his own musical palette into the first movement, and his brooding isolation at that time can be felt in this expressive slow movement.
Bates makes great use of Trifonov's formidable technique. There seems to be nothing he cannot play, whether sprinkling delicate filigrees from the top end of the keyboard or building edifices of sound without tipping into clangor. Rhythms that shift from three- to four-, five- and six-beat patterns came through naturally in this performance.
Credit guest conductor Ruth Reinhardt for getting the orchestra on the same page for all this. In her San Francisco Symphony debut, a precise baton technique and a feel for the rhythms were apparent. She showed a canny touch with the various crescendos to climaxes, and kept keen balances within the orchestra and with the soloist.
Those attributes were less apparent in the second half of the concert – Antonín Dvořák's Symphony No.5 in F major. This early score paints pictures of nature and rises to its own series of climaxes. Rather than creating distinctive moments, Reinhardt's rhythmically precise but ultimately unsubtle performance reached the same volume at every climax, and repetitions lacked changes in nuance. Balances and textures within the orchestra often smudged. It did not make a strong case for hearing this otherwise endearing work more often.
The opening piece by Finnish composer Lotta Wennäkoski came through more clearly. Reinhardt brought out the slices of melody in Om fotspår och ljus and found balance in the soft percussion elements and hazy harmonies in this 11-minute tone poem. It debuted in 2019 under conductor Susanna Mälkki, part of the 'Helsinki Variations' series commissioned by the Helsinki Philharmonic to derive new works from music written by earlier Helsinki-based composers. The melodies by Ida Moberg (who studied with Sibelius) came through nicely, making for a pleasant diversion of an opener.
Harvey Steiman