Spain Arthur Honegger's Jeanne d'Arc au Bûcher & Claude Debussy's La Damoiselle élue: Pequeños Cantores JORCAM (chorus director: Ana González); Chorus (chorus director: Andrés Máspero) and Orchestra of Teatro Real / Juanjo Mena (conductor). Teatro Real, Madrid, 16.6.2022. (JMI)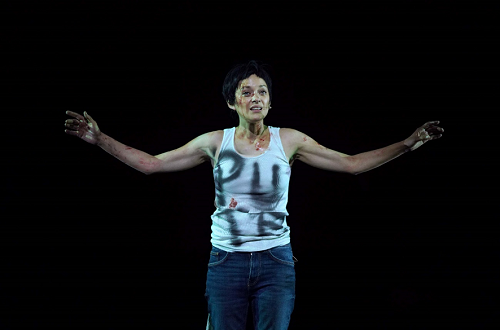 Production: 
Director – Alex Ollé
Sets – Alfons Flores
Costumes – Lluc Castells
Video – Franc Alou
Lighting – Joachim Klein
Casts:
Jeanne d'Arc au Bûcher
Jeanne – Marion Cotillard
Père Dominique – Sébastien Dutrieux
Vierge – Sylvia Schwartz
Marguerite – Elena Copons
Catherine – Enkelejda Shkosa
Porcus and others – Charles Workman
La Damoiselle élue
Damoiselle – Camilla Tilling
Narrator – Enkelejda Shkosa
This season, the Teatro Real is offering a curious double program which consists of two little-known works that their composers did not want to call operas. Jeanne d'Arc aux Bûcher, a dramatic oratorio by the French-based Swiss composer Arthur Honegger, was premiered in Paris in 1938. It is relatively short and was preceded here by another work in the form of a prologue: the cantata La Damoiselle élue by Claude Debussy, which is one of his first works. It also had its premiere in Paris, in this case in 1893.
Jeanne d'Arc au Bûcher calls for a big orchestra that includes the ondes Martenot, an instrument of which Honegger was a pioneer: its invention only took place in 1928. The work deals with the trial and death at the stake of Joan of Arc, and its real protagonist is the chorus, which makes truly relevant interventions throughout the performance. The main characters, Joan of Arc herself and Père Dominique, are both spoken roles and, therefore, entrusted to actors.
This is a new production, and the direction is by Alex Ollé of La Fura del Baus. The attractive set design is on two levels: the lower one, where the trial and sentence of the saint takes place, and the upper one, where the condemned woman sees the apparitions of the Virgin and Saints. What especially stands out is the stage direction: Alex Ollé does a great job with the chorus which, as I mentioned above, is really the protagonist of the opera. There are certain excesses, including the fact that several members of the men's choir and some soloists show off their genitals, which are obviously artificial.
Conductor Juanjo Mena led an outstanding performance by the orchestra. I have to say that I liked him even more in the prologue, La Damoiselle élue.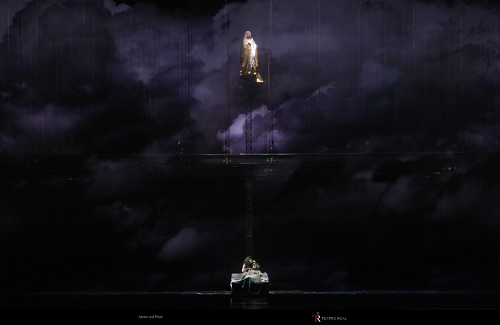 Joan of Arc and Père Dominique were performed by French actress Marion Cotillard and Belgian actor Sébastien Dutrieux. Both are consummate performers, with Marion Cotillard standing out in a moving rendition of Joan of Arc. The solo singers become secondary characters, with rather reduced roles, and all did well.
I have to say that I was not familiar with the Claude Debussy work that led off the program. It seemed to me musically very interesting, delicate and attractive, and left me wanting it to continue – but Debussy put an end to it too soon.
There are two characters in the opera/cantata, and they were sung by soprano Camilla Tilling and mezzo-soprano Enkelejda Shkosa. Camilla Tilling has an attractive voice and sang with gusto. Enkelejda Shkosa was correct in the role of the Narrator.
José M. Irurzun