United Kingdom Handel, Acis and Galatea HWV49: Dunedin Consort / John Butt (conductor), Wigmore Hall, London, 24.6.2022. (AK)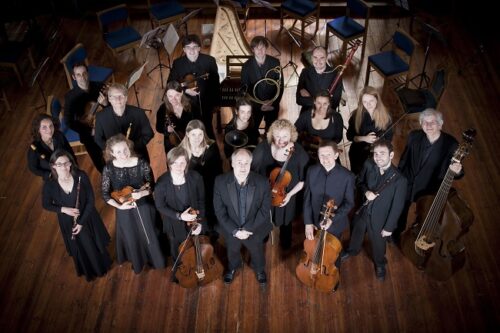 John Butt – director, harpsichord
Nicholas Mulroy – Acis
Rachel Redmond – Galatea
Anthony Gregory – Damon
Nicholas Scott – Coridon
Christopher Purves – Polyphemus
The story of Acis and Galatea was set by Handel in several versions. First came the three-voice Italian serenata Aci, Galatea e Polifemo, written in Rome in 1708. Ten years later, in 1718, Handel composed the five-voice English Acis and Galatea for James Brydges' Cannons (a palace near Edgware in Middlesex). Further variations of this setting followed in 1732 and 1739 respectively, with varying lengths and stage directions.
For their excellent Wigmore Hall concert, John Butt and his Dunedin Consort opted for the first English version as presumably performed at the Cannons in 1718.
Wigmore Hall proved to be the ideal venue for Handel's 'serenata, or pastoral entertainment' for the five solo singers (who also acted as the chorus) and eleven instrumentalists (including director John Butt on the harpsichord). Space on the stage seemed sufficient, I did not feel any sense of overcrowding.
Wigmore's cupola over the stage, admittedly designed at least a century and half after Acis and Galatea was first performed, added extra dimensions with its paintings of the Soul of Music, Genius of Harmony, Love, Psyche and Divine Mystery. There is no shortage of love in the libretto (by John Gay and others); not only do Galatea and Acis love each other but Polyphemus is also deeply in love with Galatea. On conclusion, Acis' turning into a fountain may be seen as a divine mystery, while Handel's music surely provides the soul of music and the genius of harmony.
It was very helpful to be greeted at the entrance hall by staff with free printed programmes which contained the full libretto, cast list and an informative article by Handel expert Suzanne Aspden. I was slightly confused by what must have been typos in the list of instrumentalists, specifying oboes (in plural) and recorders (in plural) next to the names of both players of those instruments. In fact, there were two recorders /two oboes (recorders and oboes played by the same players), one bassoon and seven string players participating.
The lighting in the Hall was perfect: the stage was fully lit; the auditorium was semi-lit, allowing comfortable reading of the libretto (or writing notes if one so wished). Such lighting diminished the psychological distance between performers and the audience, thus perhaps unintentionally honouring the painting of Psyche in the cupola above the stage.
Attending a concert given by John Butt means not only joyous entertainment but also passive participation in a masterclass for baroque structure and style. I was totally comfortable with all tempi chosen; there might be other tempi also serving well Handel's music, but in this hall with these number of performers all tempi felt perfect. John Butt does not use a baton; he alternates between only conducting (like in the opening Sinfonia) and playing the harpsichord while also directing. For conducting he uses both of his arms as well as all ten of his fingers; his fingers opening partially or fully to convey musical messages, clearly understood by his performers.
Butt's singers are excellent, all of them in perfect harmony with Handel as well as with Butt's direction. Christopher Purves (Polyphemus) gave style, humour, passion and top-class acting within the confinement of space. He seemed to have galvanised his colleagues to use body and facial language to up the dramatic side of the pastoral entertainment. Purvis used his extensive operatic experience to create his character as flesh and blood. Polyphemus' first entry into the plot ('I rage, I melt, I burn' in the second act) left no doubt about his anger, yet without any vocal blemish. His subsequent aria ('O ruddier than the cherry') could not have been more entertaining, his rolling his 'r' in the middle section ('Ripe as the melting cluster') could not have been more virtuoso. On conclusion of the aria the audience broke into a huge applause, although presumably we were not meant to be clapping until the end of the act.
There was one other spontaneous outburst of audience applause, again rewarding Purves, this time after Polyphemus' unscripted dialogue with Coridon ('Would you gain the tender creature'): Purves joined the violins – in a mocking countertenor tone – when they repeated the melody of Coridon's single-word phrases (softly, gently). Purves was luxury casting and the audience fully appreciated it.
Christopher Purves set the standard and his four colleagues rose to it. Nicholas Mulroy (Acis) gave a particularly fine performance with his admirable use of baroque style, with allowing the all-important rests between phrases, with seemingly effortless melismas and credible acting. Mulroy's interaction with Purves gave another layer to the Acis-Polyphemus relationship. Polyphemus' desperate decision to kill Acis and the subsequent demise of Acis has never been more moving for me, or more beautiful.
Agnes Kory