United States Breaking Convention: Programs 1 and 2: Nicole Cabell (soprano), Iveta Apkalna (organ), Cleveland Orchestra / Franz Welser-Möst (conductor). Mandel Concert Hall at Severance Music Center, Cleveland, Ohio, 27 and 28.5.2022. (MSJ)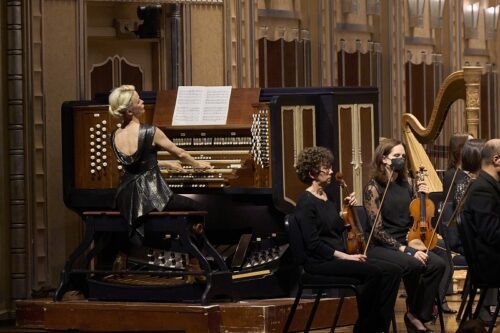 Program 1:
Reinvere – Norilsk, the Daffodils
Walker – Lilacs
Gubaidulina – The Light of the End
Program 2:
Shostakovich – Passacaglia for Lady Macbeth of the Mtsensk District (solo organ)
Gubaidulina – Light and Darkness (solo organ)
Glass – Finale from Act III of Satyagraha
Walker – Sinfonia No.4, 'Strands'
Barber – Toccata Festiva
The orchestral concerts that took place between the Cleveland Orchestra's season-closing festival performances of Verdi's Otello were entitled 'Breaking Convention', something that the programs themselves memorably did. The sense of discovery in these concerts was breathtaking.
Folklore has an ancient tradition of other worlds, whether in spiritual terms of heaven and other versions of paradise, or in the earthly frame of a person witnessing a haunting or being taken away by the faeries. Such things don't always have to be taken literally. Rather, they are often a way of finding the words to describe entry into a different plane of perception. It is a world that invisibly coexists alongside that which we call reality, but it cannot be easily accessed.
One of the most tremendous powers of music is that it can open portals into those otherworldly spaces. It doesn't happen all that often because, let us face it, our grim world of work and productivity doesn't allow much time for escape. But at its best, a concert experience can open one of the doors, and these concerts were remarkable for doing it twice on subsequent evenings, in between the harrowing performances of Otello.
The opera provided the idea of breaking convention – the tragic hero is an African Moor working in the Caucasian kingdom of Venice – and Otello's breaking of the social norms of his day has much to do with his downfall. These programs took a wider view of the idea of breaking conventions, including composers and/or works that do so.
The connective link between the two programs was the presence of compositions by George Walker and Sofia Gubaidulina. Walker started in mid-twentieth century American populism but intellectually worked his way towards atonal yet expressive abstraction. Gubaidulina was a protégé of Russian composer Dmitri Shostakovich who encouraged her explorations of liminal spaces moving towards otherworldly visions.
It was helpful to hear a movement from Walker's First String Quartet in the pre-concert program staged in Rheinberger Chamber Hall on the lower level of Severance Music Center by members of the orchestra. That program, played both nights, also included delightful and intriguing works by African American composers Brian R. Nabors, Dolores White, Melika Fitzhugh, H. Leslie Adams and William Grant Still. The chamber hall is a lovely space with fine acoustics, and the orchestra members brought the same precision and flair they normally deploy to this under-performed music.
The Walker quartet movement was a hymnlike piece very much in the mid-twentieth-century populist style, though even here one can sense a thoughtfulness to melodic and harmonic thinking that keeps early Walker from sounding like an imitation of anyone else. As the decades ticked by, Walker built on his mastery of traditional forms and knowledge of a wide range of musical styles, but he began taking all this in a less tonal direction. His 1995 Lilacs, performed Friday evening with exquisite poise by soprano Nicole Cabell, won the Pulitzer Prize for music. It sets parts of Walt Whitman's poem 'When Lilacs Last in the Dooryard Bloom'd', a piece also famously set by Paul Hindemith and Roger Sessions. Both of their works are large and declamatory, using Whitman's lament for Abraham Lincoln by proxy for Franklin D. Roosevelt (Hindemith) and Martin Luther King, Jr. (Sessions).
Walker's setting was a commission from the Boston Symphony designed to honor the memory of black tenor Roland Hayes who, like Walker himself, was a trailblazer among African Americans in classical music. Walker draws intense lyricism from Whitman's words, evoking Hayes's art. The piece subtly quotes one of Hayes's signature spirituals, bringing a tonal layer to the predominately atonal but richly expressive music. Cabell was a late substitution for the ailing Latonia Moore, but if anyone had fears about lack of preparation time, they would have been completely blown away by Cabell's utter assurance in this music. She conveyed not merely the notes but the thoughts behind the notes.
If one were to seek a key to understanding Walker's music, his Sinfonia No.4 is the perfect place to start. The piece combines his characteristic lyrical atonalism with layers of African American spirituals, quoted not in a nostalgic way but in a startling and challenging way. The piece will be released soon on an all-Walker album from the Cleveland Orchestra, and their in-depth exploration with Franz Welser-Möst in recent years is demonstrating the uncompromising greatness of this previously underrated composer. This performance was urgent and focused, bringing clarity and direction to Walker's complicated but deeply felt strands.
Sofia Gubaidulina's The Light of the End swept through Mandel Hall like a force of nature. Cloudy textures pierced by fractal flourishes in the strings built to craggy, brass-driven peaks. Perhaps any composer could write with that sort of framework, but only Gubaidulina can make it sound so compelling and inevitable that you find yourself perched on the edge of your seat. A huge part of the piece's drama is derived from the clash between the strings playing in standard tempered tuning and the brass playing in natural tuning.
Tempered tuning is a process where the natural harmonic series is slightly adjusted in order to make it easy to play in any key, and to transition from one key to a more distant one and still sound reasonably in tune. This was the innovation that led to the wide-ranging explorations of classical music's Shakespeare, Johann Sebastian Bach. But it is true that some of the pure sweetness of natural tuning was lost in this ironing out of the tonal spectrum. In music that doesn't require advanced key changes, natural tuning can increase the sweetness of the harmony. Most classical music since Bach depends on tempered tuning although exceptions exist, such as the natural horn prologue and epilogue of Benjamin Britten's Serenade for Tenor, Horn and Orchestra.
Gubaidulina made this conflict of tuning systems the central focus of The Light of the End, with tension building to an almost unbearable level in an otherwise lyrical passage that pits natural-tuned horn and tuba against a cello playing in tempered tuning. The soloists played masterfully, as did the entire orchestra, led with intense sweep by Welser-Möst. I hope a recording of this performance emerges in the future on the orchestra's TCO label.
The whispering sounds that close The Light of the End were similar to the sounds that closed Estonian composer Jüri Reinvere's Norilsk, the Daffodils. It is a bleak lullaby which accompanies the sound of a pre-recorded voice reciting a poem in Finnish that evokes a mother soothing her dying child in the Russian labor camp of Norilsk, a place where many people of the Baltic states were sent to work in the Soviet Union in the mid-twentieth century. The daffodils of the title are not just flowers but also the plumes of poisonous steam in the icy air of Norilsk, where tens of thousands of people died from working in or near nickel-smelting plants. The piece was icy and haunting, given with poised clarity by Welser-Möst and the orchestra. Reinvere was present to receive the audience's applause for his 2012 work.
Gubaidulina's piece in the second program, Light and Darkness, dates from over 25 years earlier. It was part of a set of solo organ works presented by Latvian organist Iveta Apkalna. Though the work of a younger Gubaidulina, the piece also explores otherworldly states, ranging from barely sounded pitches to wild, arm-slammed tone clusters. Again, this is music that can drop your jaw and leave you shaken. Unlike the de rigueur modernists advocating serialism or spectralism, Gubaidulina has always listened to her muse and gone where the music required, which can be anywhere from delicate sweetness to piercing howls. Apkalna played like a sorcerer, demonstrating once and for all the greatness of Severance Music Center's E. F. Skinner pipe organ.
A word about that. This was the first time I had heard the organ at Severance played with one of the decorative facades at the rear of the stage removed. It was possible because the middle of the three facades, which cover the actual ranks of organ pipes, had been removed in order to provide an entrance to the platform used by the singers in the opera presentation. This opening allowed the sound of the organ to roar forth in all its colorful glory, and Apkalna made extensive use of its various stops to get maximum contrast. It demonstrated that the facades, pretty though they are, mute the organ's sound terribly. Finally, it was possible to get the tummy-wobbling bass pedal tones that organ music requires.
Programming a set of three solo organ works is unexpected, but it was a brilliant choice. And Iveta Apkalna was a brilliant presence, somehow declaring her mastery of the unwieldy instrument as she walked on stage, even before touching the keys. Apkalna can afford to enter with that assurance because she can deliver the goods. In addition to the alternately blistering and haunting Gubaidulina, she performed the brooding passacaglia from Shostakovich's Lady Macbeth of the Mtsensk District, and an unhurried, hypnotic arrangement of the finale from Act III of Satyagraha by Philip Glass (a composer who doesn't get performed enough in Cleveland). I suspect I am not alone in stating that I would be delighted to see Apkalna to return to Cleveland for a full solo recital on the organ, sans facades, of course. I suspect she would be eager to do so, as she took time during her solo bows to gesture to the organ pipes and applaud them herself.
Apkalna returned at the end of the program to join with the orchestra for Samuel Barber's Toccata Festiva, and his place in this festival could be noted in two ways. For one, during a time of aggressive experimentalism Barber was a contrary, at times reactionary, composer, who certainly broke the conventions of 1960 when this piece premiered. And two, he was a gay man who did not attempt to disguise it with a marriage of convenience, something which earned him enemies. His later works acknowledge the modernism of the times with greater complexity and layering, which are typical of the Toccata Festiva which could really be billed as an organ concerto. Barber probably only defaulted to the toccata designation because of the work's wild tempo and texture changes, which include two organ cadenzas, one for the pedals alone. Apkalna looked like she might dance off into the next orchestral tutti, so fast did her feet move.
It was a brilliant demonstration of everything that was so remarkable about these concerts. The festival itself was truly a triumphant close to the orchestra's season, and one of the most impressive achievements yet in Welser-Möst's twenty years in Cleveland.
Mark Sebastian Jordan