United Kingdom Oti Mabuse – I Am Here: Southend Cliffs Pavilion, Essex, 5.6.2022. (JPr)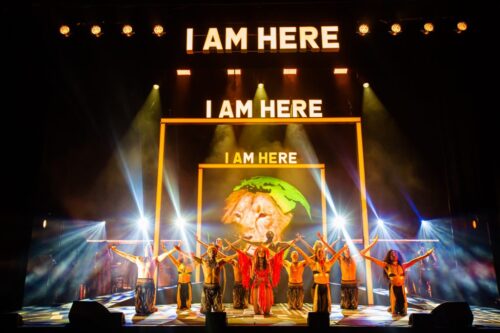 Dancers – Anya Ferdinand, Chelsea Hogg, Marius Iepure, Mlinde Kulashi, Andrew Lyle-Pinnock, Grace Proctor, Tonye Scott-Obene, Zinzile Tshuma, Ricardo Walker, Steven Woods, Sasha Woodward
Singers – Natalia Brown, Nic Vani
Musicians – Paul Schofield (MD), Lewis Andrews, Steve Hynes, Rich Watson
Costumes – Alexandra Stewart
Set and Lighting design – Andrew Exeter
Sound design – Dan Samson
Video design – Ben Bull
Musical director – Paul Schofield
A bit like London buses – and in an equally good way – when one dance show involving Strictly Come Dancing stars past or present has come and gone at Southend's Cliffs Pavilion then another comes in for one night not long after. Following Aljaž and Janette and before Here Come The Boys (with Nadiya Bychkova) and Strictly Presents: Keeep Dancing!, it was Oti Mabuse in her show, I Am Here. She has just left BBC TV's Strictly Come Dancing after seven successful years where she became a fan favourite. There is probably not a show on TV Oti hasn't now graced at some time or other and most recently she was clearly the best thing about ITV's Romeo and Duet which she hosted (though I hope Oti will forgive me that I gave up on it after one episode). Coming soon in August to the Cliffs Pavilion is The Cher Show, a new touring musical that Oti is choreographing and former Strictly judge Arlene Phillips is directing.
More significantly in relation to this show is that Oti has been back to her homeland to film BBC One's forthcoming Oti's South African Odyssey, as I Am Here – which is a translation of her name from the original Setswana (Tswana) language – is all about Oti's journey. The 'J word' is often used on Strictly and other aspirational reality shows but Oti's is one of the brightest and best, as well as most inspiring. I AM HERE is blazoned – often multiple times – above a set that relies on bright lighting, graphics and video images on the screen at the back to give atmosphere to the story we see and hear unfold. Oti tells us about her life but in reverse, so we begin with Strictly, 'Some of you might remember me from a little BBC Saturday night show' before adding and milking the 'Ahh' she got panto-style from 'Sadly my time on the show is over'. Her Strictly Samba followed but soon we were onto her life in Germany (cue Nena's 99 Luftballons) where she moved to further her career and found the love of her life (and who takes half her money, her words not mine!), Romanian Marius Iepure. Anticipating The Cher Show there a lengthy homage to her love of musicals.
It was high energy stuff but the evening became much more personal after the interval when we were reminded of how life was – and previously had been – in South Africa in 1990 when Oti was born. That was the year that President F.W. de Klerk lifted the bans on the African National Congress and similar parties of the country's Black majority, released Nelson Mandela from prison, and signalled the official start to ending Apartheid. There was still some almost insurmountable problems Oti had to face during her early life and this time of regime change. She was unable to join her local dance school because of her colour and she was not allowed to travel much anywhere. In the end, after studying Civil Engineering, she realised that dance was her calling and – as we knew earlier – she followed older sister Motsi to Germany.
One fact she told us was how South Africa still has Woolworths amongst its many other attractions! (Another memorable quip had been how she owed her curves to eating lots of Fish and Chips when she was competing in Blackpool!) Talking of her upbringing she was able to pay fulsome tribute to the many strong women who had helped her along her life's path (when we heard Alicia Keys's feminist anthem Girl on Fire). Top of this list were her sisters, Motsi (now a Strictly judge), middle sister Phelmelo, and their mother Dudu (who we endearingly heard from on video). Oti said 'I am the way I am because of my mum.' The tribute to her niece, Tlhogi, who died recently brought a tear to the eye. With respect to Oti's struggle perhaps this section does get a little preachy but everything ended rumbustiously with a dance lesson for the audience who were now on their feet in the Cliffs Pavilion whooping and hollering. It's not a particularly long show but everyone clearly had a great time if those I overheard were anything to go by.
Most of what we heard from Oti was pre-recorded and on the screen. However, given the energy Oti and her ten dancers put into the mash-ups of Jive, Samba, Rumba, Paso Doble, South African traditional dance and its more modern forms such as Pantsula and Kwaito, amongst much else, time offstage must have been welcome for all; as well as allowing them to change into their next colourful costumes. They were backed up by four wonderfully accomplished musicians – and live music is such a treat for a show like this – and Natalia Brown and Nic Vani were an integral part of I Am Here and didn't just sing in the background.
Everyone will have their personal highlights when they see I Am Here, amongst mine, was Oti waltzing with her husband, Marius, against a starry sky and shooting star. Then there was the musicals medley including Chicago, West Side Story, Singin' in the Rain, Dreamgirls, Hairspray, The Tina Turner Musical and much more besides. (It featured Marius attempting the infamous Dirty Dancing lift with one of the girls and though he was unsuccessful with this first attempt, he pulled it off when repeated with Oti near the end of the show.) Memorable too was the South African celebration with Toto's Africa perfectly matched by some spirited dancing. Nic Vani virtuosically was able to add Khoisan click consonants to his performance and Shakira's Waka Waka (This Time for Africa) drove us on to the rousing end of the evening. Legs blurred as everyone was jiving to Ike and Tina Turner's River Deep, Mountain High before Oti got everyone up and at it for Jennifer Lopez's Let's Get Loud with its Cha Cha Chaaaa vibe.
Jim Pritchard
For more about Oti Mabuse's I Am Here tour click here.