United Kingdom Nevill Holt Opera 2022 [2] – Rossini,  The Barber of Seville: Soloists, Royal Northern Sinfonia / Dinis Sousa (conductor). Market Harborough, Leicestershire, 23.6.2022. (CP)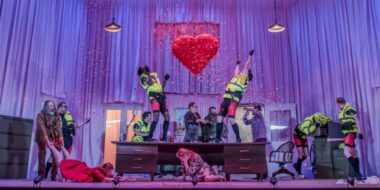 Production
Director and Movement director – Anna Morrissey
Designer – Alex Berry
Lighting designer – Jamie Platt
Cast
Count Almaviva – Liam Bonthrone
Figaro – Michel de Souza
Rosina – Sarah Champion
Dr Bartolo – Grant Doyle
Don Basilio – Andri Björn Róbertson
Berta – Janis Kelly
Fiorello – Malachy Frame
Ambrogio – William Diggle
Police Officer – William Kyle
Notary – Tom Deazley
Nothing excites an audience more quickly than Royal Northern Sinfonia's Michael O'Donnell in his delivery of a beautifully played oboe solo at the start of Rossini's overture to his witty The Barber of Seville. Verdi considered Rossini's Barber to be the best comic opera ever composed. Indeed, Barber is a classic and shows no sign of moving from that position. Director, Anna Morrissey, fondly remembered for her joyful take on Britten's ambiguous fantasy, A Midsummer's Night Dream has a strong team supporting her in creating the pandemonium which gives Rossini the reputation as a consummate musical mimic. What fun that team must have had whilst creating some of this summer's most outrageously amusing and entertaining moments f one of the world's most popular operas, still regarded as the quintessential opera buffa. Morrissey provides Count Almaviva (Liam Bonthrone) with every opportunity he needs to succeed in his courtship of Rosina (Sarah Champion), with Figaro (Michel de Souza) achieving notable success in tricking her guardian Dr Bartolo (Grant Doyle).
The variety of numbers of the first act, many of which have become operatic favourites, gives the opera its popularity. The versatility of de Souza as singer and actor is remarkable. His electrifying entry aria, 'Largo al factotum della città' ('I am the factotum of the city'), showed how capable he is of playing a wide range of roles. Many will remember him as the domineering, interfering Giorgio Germont for Nevill Holt's 2019 La traviata. As Figaro he shows his many-sided versatility in abundance, as well as his significant virtuoso skills. Champion makes an immediate impact with the invitingness of her cavatina 'Una voce poco fa' ('I heard a voice a moment ago') as she appears on the balcony of her guardian's house. Bonthrone, in disguise as Lindoro, benefits from some very skilful playing by guitarist Tom Ellis for his instantly recognised, 'Se il mio nome saper voi bramate' ('If you wish to know my name'). His disguises become more and more elaborate and soon his roles include a tipsy military officer before appearing as an eighteenth-century Liberace (Don Alonso). With Champion slithering across the top of a grand piano and Count Almaviva/Lindoro/Don Alonso at the keyboard, Morrissey creates a most memorable moment in this year's Nevill Holt season.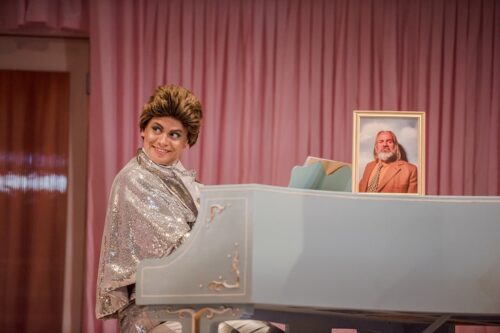 Long before this, the design and lighting team have managed to create that pandemonium which the storylines require. Lindoro's arrival in a box manoeuvred by a motley band sets the tone in which bribery seems to be a necessity. Two barber chairs, highly amusing haircuts and some more deliberate bribery creates a sense of growing chaos. With the Royal Northern Sinfonia under Dinis Sousa in confident mood, the pace of the action seldom slows as 'chaos without casualty' seems to succeed. At the end of Act I, with Dr Bartolo's efforts to win Rosina's hand being thwarted at every turn by Figaro, the police arrive in force to apprehend Count Almaviva in military officer disguise: police as never seen before with red shorts, black socks, yellow helmets – a double helmet in one case – who in turn will be thwarted when their paperwork is proven to be redundant. William Kyle's Police Officer makes the very most of this creatively crafted scene.
Many attempts are made to disparage Count Almaviva, notably by Don Basilio (Andri Björn Róbertson). His aria, 'La callunia é un veticello' ('Slander is a little breeze'), is seized upon by the designer team as the opportunity for slanderous printed headlines to be floated from on high, amongst them 'Count Almaviva embroiled in groping scandal' and 'Almaviva: what a sleezer'. Confusion reigns as the several attempts at slander are launched; this becomes a highly effective portrayal of several people talking at once! Thankfully, he survives, and the mayhem increases, but not before the housekeeper, Berta (Janis Kelly), makes the first of her most entertaining appearances. Brilliantly cast, she has many highlights in Act II. Office furniture is replaced by the piano lounge. Rosina's music teacher Don Alonso (as Liberace) coaches his charge whilst Dr Bartolo offers his own version of the arias. The distraction scene of the shaving of Dr Bartolo contained many of the elements of commedia dell'arte.
This NHO creative team has engineered an excitingly good production; the singing is fine, the music support is excellent and the cameos from Janis Kelly, as well as Malachy Frame as Almaviva's servant, Fiorello, are memorable. This is an NHO hit and a very, very welcome and pleasant surprise.
Clive Peacock