Austria Bellini, I puritani: Soloists, Chorus and Orchestra of Vienna State Opera / Francesco Lanzillotta (conductor). Livestreamed (directed by Dominik Kepczynski) from Vienna State Opera, 2.6.2022. (JPr)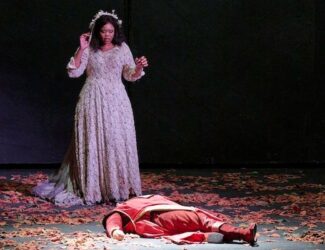 Production:
Production – John Dew
Sets – Heinz Balthes
Costumes – José Manuel Vazquez
Chorus director – Martin Schebesta
Cast:
Sir Giorgio Valton – Roberto Tagliavini
Lord Arturo Talbo – John Osborn
Sir Riccardo Forth – Adam Plachetka
Elvira – Pretty Yende
Lord Gualtiero Valton – Ilja Kazakov
Sir Bruno Roberton – Carlos Osuna
Enriquetta di Francia – Margaret Plummer
The first of two recent livestreams from Vienna State Opera was I puritiani earlier in June in the 69th performance of the 1994 John Dew production (the only one ever in Vienna so far). This was Bellini's last opera and was premiered in January 1835 and the composer died at only 33 later in September that year.
It is an opera where not a lot happens while taking a long time doing what there is and it is not a work I am convinced I had seen and heard before until now. It is set in the 1640s during the English Civil War – but do not expect a Roundheads and Cavaliers history lesson – though we do begin in a Puritan stronghold near Plymouth. In a plot that mirrors Donizetti's Lucia di Lammermoor (also premiered in 1835), Elvira, the daughter of Lord Gualtiero Valton, is resisting the attentions of Riccardo, her father's choice of husband, because she is actually in love with Arturo who is a Royalist and on the wrong side of the conflict. Her well-meaning uncle, Sir Giorgio Valton, persuades her father to accept Elvira's choice and he relents agreeing to her marriage to Arturo.
So far so good until Arturo discovers Queen Enriquetta, widow of the executed King Charles I, is being held captive and he is determined to save her from possibly the same fate. With the help of a bridal veil and some mistaken identity shenanigans – think Verdi's later Un ballo in maschera – when confronted with Riccardo, Arturo and the queen make their escape. Elvira believes she has been abandoned by the unfaithful Arturo and loses her reason in typical Romantic opera fashion. She only regains it when reunited with Arturo near the end of the opera. However Arturo is sentenced to death because of his actions and is only saved by the announcement that the Royalists have been defeated and Oliver Cromwell has pardoned all prisoners. For once, all live happily ever after … but more of this later.
There is very little historical accuracy in Dew's staging either, which looks impressively modern given that is over a quarter of a century old. Heinz Balthes's designs are mostly dark with several headless statues across the back at the start with the heads lying to the side of the stage. It is not too difficult to guess what this signifies particularly since during the Act I prelude see Charles on his way to the scaffold and his head is brought back on which visibly disturbs Elvira who has witnessed this. Manuel Vazquez's costumes for the Puritans are equally as dark as the set, while Arturo stands out in red, as does Elvira in her white wedding dress for most of the latter half of the opera.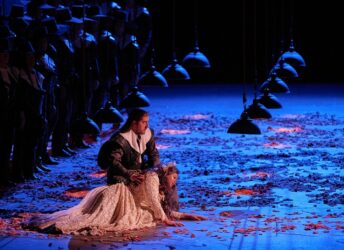 What we see is a variation on a theme over three acts with one or two more intriguing moments. Firstly, I wondered why when Riccardo challenged Arturo, they seemed to be wielding Samurai-like swords. Then at the end of this first act, Dew has those witnessing Elvira's descent into madness swirling about as if she is caught at the centre of a mental maelstrom. Even better are all the hanging lights at the end of their cables creating the trees of the forest where Arturo returns to Elvira for the final time beginning with his troubadour's song (that clearly inspired Verdi when he was composing Il trovatore). And then there was Dew's surprise end when (spoiler alert) as all concerned exclaim their happiness, Riccardo stabs and kills Arturo.
As ever, comments on what was heard are tempered by the fact that I was listening through loudspeakers. For me there was very impressive singing and playing, the latter is a given considering it is the Vienna State Opera Orchestra (aka Vienna Philharmonic). Francesco Lanzillotta conducted vigorously, stylishly but with sympathy for his singers to ensure they were never swamped by the orchestra. More importantly Lanzillotta clearly revealed an idiomatic mastery of Italian bel canto. He was well supported by the Vienna State Opera Chorus who sang with vitality and resonance.
Pretty Yende was in stunning form as Elvira and was almost as compelling as an actor as she was with her coloratura singing. Her delusional state during her pivotal mad scene – almost scenes – in this opera seemed all too real. This vulnerability and emotional turmoil was frequently revealed in the runs and roulades Bellini demanded from his Elvira which Yende made an extension of her vocal lines rather than as just showy-offy displays of remarkable vocal technique, which hers is of course. John Osborn as her lover Arturo was vocally Yende's equal if not dramatically and there never seemed to be much chemistry between the two. Osborn also negotiated Bellini's perilously high-lying phrases with consummate ease with his sweet, lyrical voice. To his credit he did hit the famous high F (above high C) in 'Credeasi, misera' in the last act, but – and no real fault of Osborn's I guess? – it sounded like he just sang it because he knew he could.
Apart from Roberto Tagliavini employing his wonderfully rich, cavernous bass voice to great effect and showing the caring nature and humanity of Giorgio, Elvira's uncle, most of the other characters are largely underwritten and make little impact though Adam Plachetka as Riccardo, Ilja Kazakov as Gorgio, Elvira's father, and Margaret Plummer as the queen, all did well with the little Bellini's allows them.
Jim Pritchard