United States Stucky, Adams, Sibelius: Víkingur Ólafsson (piano), San Francisco Symphony / Esa-Pekka Salonen (conductor). Davies Symphony Hall, San Francisco, 23.6.2022. (HS)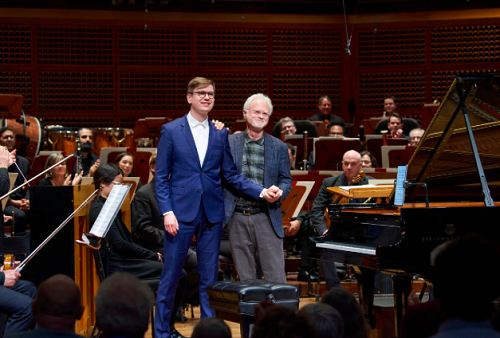 Steven Stucky – Radical Light
John Adams – Must the Devil Have All the Good Tunes?
Sibelius – Symphony No.5 in E-flat major
Steven Stucky and John Adams have more in common with Jean Sibelius than one might think. That notion emerged from a cannily assembled program of maximalist music from the three composers, all of whom somehow managed to reference music of the past in what was for them decidedly modern terms.
And, by the way, they all delivered magnificent sound pictures in the final subscription program of San Francisco Symphony's 2021-22 season on Thursday in Davies Symphony Hall.
Music director Esa-Pekka Salonen drew on his own Finnish heritage, anchoring the program with the Sibelius Symphony No.5 (completed in 1915) and pairing it with a first half of works by two giants of American classical music of the late twentieth and early twenty-first centuries.
Just as Sibelius created his idiosyncratic forms and harmonies with music rooted in traditional Scandinavian styles, Adams' fondness for American pop music and jazz puts his own spin on composers with a penchant for referencing the devil with his 2018 piano concerto, Must the Devil Have All the Good Tunes? And, in a nice circle-back to tie the program together, it was Sibelius' Symphony No.7 and its seamless arc made from differing material that inspired Stucky's Radical Light, the late composer's 2007 essay doing exactly that, except in his own musical language.
The orchestra, Salonen and piano soloist Víkingur Ólafsson rendered the music with passion and dedication.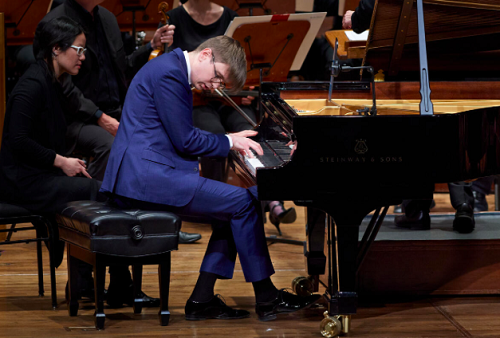 Radical Light opens with hazy threads that gradually interlock in a series of episodes. Over 16 minutes the harmonies can get dense with pungent clusters and dissonances, but they eventually reach a resolution. Somehow, they find a way to provide the impetus for the next one. Salonen, who conducted the première of this work during his tenure at the Los Angeles Philharmonic, encouraged careful attention to dynamics and sonic textures and moved things along at a leisurely pace that never seemed to dawdle. Each little episode showed its own personality but fit into the composer's intended arc.
Must the Devil Have All the Good Tunes? debuted in 2018, also with the Los Angeles Philharmonic. Gustavo Dudamel conducted then, and Yuja Wang played the solo part which bubbles over with the sort of technical demands that Wang can do so well. Finnish virtuoso Víkingur Ólafsson handled the rapid-fire widespread chords in both hands well enough, even if not quite with Yuja's ping and precision, and kept Adams' rhythms swaying and sashaying along with the orchestra.
The fast outer movements make the most obvious references to Devil music. Adams puts his own American spin on the tarantella-like rhythms in Liszt's Totentanz (and even quotes a fragment of the music). The opening salvo, marked 'Gritty, funky, but in strict tempo,' borrows from jazz and blues figures to drive the momentum, underlined with an electric bass (played by principal bass Scott Pingel) and a slightly out-of-tune 'honky-tonk' upright (deftly played by San Francisco-based pianist Elizabeth Dorman) that often shadows the soloist.
The closest thing to a cadenza, which in a standard concerto gives soloists a moment in the sun by themselves, comes in the soft, wistful melodic line of the slower second movement which Ólafsson carried with charm and character. The music then transitions without pause into the finale, subtitled 'Obsession', revving up the rhythms again. It's not exactly a toccata, but the soloist hardly gets a chance to stop. The breathless pace persists until the final pages, where several consecutive phrases end on tenuous held notes before diving in again to a final crunch.
After all that dazzling tumult, Ólafsson offered beautiful delicacy in a sublimely shaped and tender rendering of Béla Bartók's Three Hungarian Folk Songs from Csík.
Under Salonen's sure hand, the Sibelius symphony emerged with all of its richness and vigor. The opening measures, which suggest mountain valleys with a series of horn calls and woodwind flutters, settled comfortably and irresistibly into steadier rhythms and clearer intent. It all gained momentum until the movement's final phrases landed with such urgency it drew applause.
The second movement caught the wings of a subtler rhythm, established nicely by the low strings and accented gently by timpanist Edward Stephan. The finale, with its broad expansions of the opening horn themes in various iterations by the brass section, created a wonderful sense of magnificence. The final punctuations of crisp unisons in the orchestra topped things off with thrilling precision, Salonen pacing them with just the right hesitations between.
Harvey Steiman